How buying travel became 'reversed': Andy Stark, Global Travel Group
Andy Stark has been the GM of the Global Travel Group since December 2012 and has been working in the travel industry over 30 years. As such, he's as qualified as anyone to tell you how to become a (better) travel agent; I caught up with him in Orlando to learn more.
Technology and travel agents
We start by discussing the changing state of the industry and agree that, in the last decade there has been a real step change in communication and technology.
"For a B2B business, technology is mainly for enabling processes and capturing data; in some cases, it's all about the boring stuff," he starts. "The agent remains the most important thing in travel from a transactional point of view. A relationship with a customer, and an agent's skill base and knowledge – that's what the consumer is happy to pay for."
The reversal of buying travel
Stark goes on to say that this human interaction perhaps plays a bigger role than ever in the industry, thanks largely to social media. Now, it's easier than ever to get a real, unpolished, opinion about a destination.
"People are more than happy to search through Facebook to see somebody sat by a pool by a beach, being honest and frank about the destination," he adds. "A snapshot on a mobile phone means more than a corporate, polished advertisement."
"That's what I want to see, now where is the hotel and how do I get there?"
Stark explains that the process of buying travel has effectively done a 180: "It used to be a case of 'We know a hotel, we know we can get to the airport, so that's A and B and we'll see XYZ while we're there'. Now,  instead, we say, 'That's what I want to see, now where is the hotel and how do I get there?' – the industry has reversed."
Stark, of course, agrees that mindset of the traditional traveller, who just wants to check into a hotel and switch off, still exists, noting that the Maldives is a prime example of this and that the "the hotel is the most important thing you look at" for these consumers.
Here, the holiday is all about the product that's on the island but for many younger travellers nowadays he states the hotel is almost a secondary thought – 'just a bed for the night'. When selling these two types of travel, he advises that you should lead with the experiences for the younger travellers and the hotel product for older travellers.
Career advice
For someone coming into the industry, Stark encourages people to get a really strong understanding of the 'entry level' of travel. "It's about knowledge of the product, destination, airlines – and how the industry works. Naturally, this is an ongoing process so you need to be committed to understanding what makes the industry tick. Spread your knowledge around different sectors such as leisure, adventure, business and cruise.
"A rounded, practical understanding of what it takes to sell holidays"
"Experience for yourself the front line. If you want to progress in the industry, you need a rounded, practical understanding of what it takes to sell holidays," he suggests. "Talk to clients and give customer service – be a travel agent!"
Then, when it progressing your career, he recommends moving around as much as you can, even if that means going to different companies. "Hop around!" he continues. "It's not uncommon and not adversely looked at, especially not nowadays." Indeed, he recommends taking new opportunities, if only to experience different business cultures.
Doing this at the front line, he says, will "equip you really well for the industry as it will get you an awful lot of respect". It is easy to see what he means;  it's always easier to drive the train if you've already known how the engine works.
Communication and personality
Continuing the theme, I ask him "What makes a good colleague?" and he instantly replies "For me, it's personality."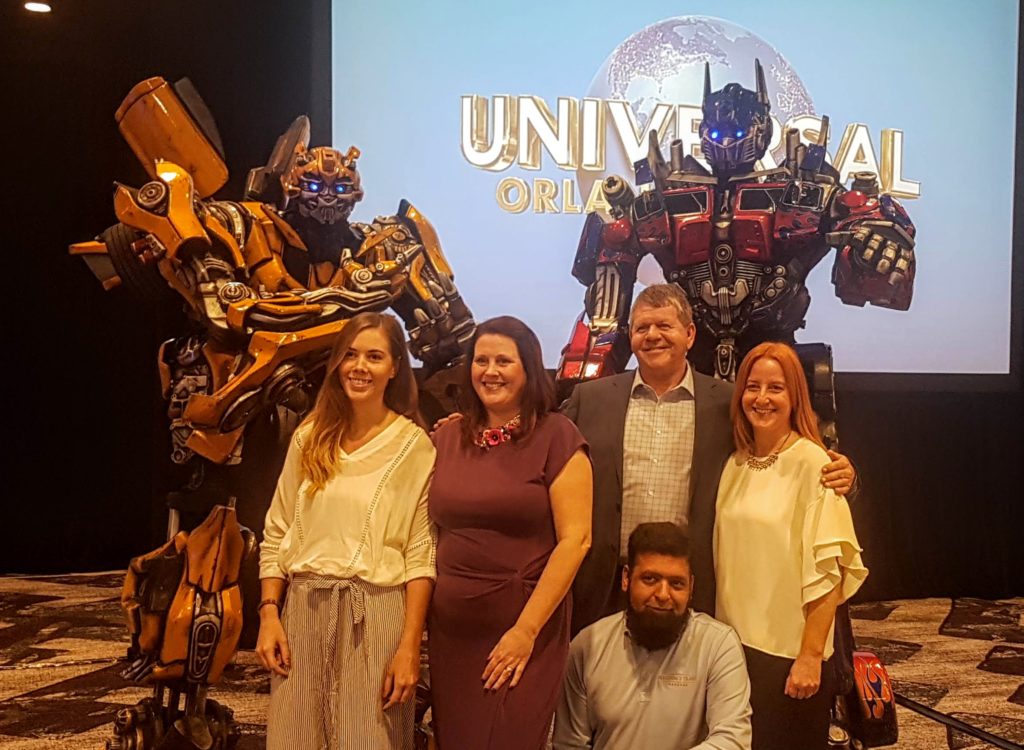 He explains that the Global Travel Group has the capability to develop a person's qualifications and experience but this will mean nothing if they do not fit into the organisation.
A connection or a relationship is what matters, he tells me. "If you want to go into technical role such as finance, IT or accountancy, of course, the appropriate background would be useful – but in travel, you have to be an all-rounder," he says.
"We're not just bean counters! In my organisation, even if you're an accountant, you're still going to be talking to the agents, to the members. The same goes for IT guys – they will always be on the phone talking to the members. You've always got to have really great communications skills," he explains.
Joining the GTG
Outside of the advertisement to bring in new members, joining the Global Travel Group has "got to be a great fit for both parties" he tells me, noting that "understanding our culture is really important".
"If necessary there's got to be a frank conversation to say 'This won't work for me with my business right now'," Stark says and he states he will understand because he doesn't want people "joining our organisation under false illusions!"
"I'm not the Oracle!"
When it comes to his own staff, he mentions they need to be self-starters because "there is no particular hierarchy within the team itself". He clarifies that when a decision needs to be made, he is naturally the guy doing so, but his team have to come to him with suggestions for solutions first. "I'm not the Oracle!" he says, "My experience means that I will often have a good idea of what they are doing but I would rather encourage them to find their own way."
In closing, he says that most importantly, to be able to work with this team you have to share their values: "Things, of course, are going to go wrong – that's the nature of the business but it's how you cooperate and deal with it. Expectations have got to be right," he adds, making it clear that there is a lot of hard work involved – "long hours, massive commitments, peaks and troughs".
He concludes with the realism, humour and honesty that has got him where he is today: "If someone joins us expecting to jump in a Bentley in 12 months, that's not the deal!"
Here at TD, we put our best efforts to provide the latest and most valuable content to our readers. It is a true labour of love - where we work hundreds of hours each month - to make sure we offer meaningful content. If you value what we do, please consider a donation of any amount.
This would mean the world to us! Thank you and click here to proceed!