"People jump on planes nowadays like we used to get into taxis"
We talk to Coetzer Deysel, GM of Anantara Dhigu, Anantara Veli and Naladhu Private Island, Maldives

South African Coetzer Deysel has opened and managed five-star properties in Thailand, China and now the Maldives, as the general manager of Anantara Dhigu, Anantara Veli and Naladhu Private Island. When I learned he was visiting London, we caught up for a coffee to discuss his career, his plans for the Anantara resorts, tourism trends and ecotourism. Coetzer speaks:
Joining Anantara
This is my first project with Anantara; I came across the brand when I was working for one of Starwood's W Hotels in Koh Samui in 2008. The chairman of Minor group – an amazingly dynamic American-born Thai guy, named William Heinecke – owned the Four Seasons there at the time so he came to look at the W. I was offered a job but I said, 'Thanks but no thanks'; I think I was just too young to work with him. In hindsight, I'm glad I didn't join then, as now I enjoy our relationship so much.
By 2016, I had spent five years in China – namely, Shanghai and Hainan – and my wife and I were ready for a new challenge. Not everybody gets the chance to live in the Maldives so we thought 'Why not?!' and I joined – two and a half years ago now.
The Anantara environment is great to work in. If you come forward with an idea and a good reason behind it, William [Heinecke] will make it happen; he's always looking for what's next and he's always pushing you to try something. If you've got an idea, just try it! It if it doesn't work, that's fine; learn from it and move on.
I'm looking after three properties in the Maldives: Dhigu, our family property; Veli, which is adults only; and our private island Naladhu, which just has 20 houses. For Dhigu and Veli, guests can use the facilities on both islands at certain times and between them, there is a huge lagoon which is probably one of the best lagoons in the Maldives.
We also have seven different restaurants, which is rare. Most properties would have two or maybe three, so if you stay a week you're going to have to visit each restaurant at least twice. With seven different resort restaurants, each night you can have a different dining experience. The Maldives focuses on three things: the water, the beach and the food so this ticks a few boxes!
Future upgrades
For Anantara Dhigu, our USD 2.5 million refurbishment is planned for Q3 2018. We'll start that and finish before the high season in Q4. That's for all 70 Beach Villas on Dhigu; the last time they had a full update was about six years ago – this is not that long ago and, maintenance-wise I don't think they need a refurbishment, but we want to make it more contemporary. People's conception of design has changed in the last five years and we want to stay on trend.
We are also looking at streamlining the check-in process. The hotel is a speedboat ride away from the airport  [Velana International Airport in Male] but often there's a 20- to 30-minute wait in the private lounge at the airport. Then, when the guest arrives at the resort, they need to check in.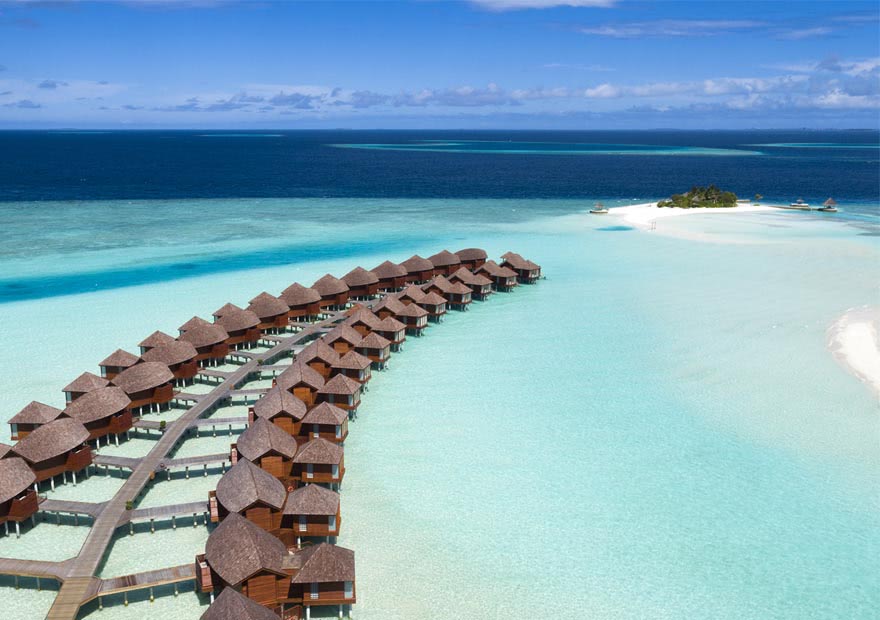 We're working to move check-in to the airport, so by the time the guest arrives, there's no need to check in at reception. We will convert the space into a lounge where our front of house team can focus on talking about the experiences a guest can have while staying with us.
Another focus for us is environmental friendliness, such as with coral rehabilitation. Marine biologists visit us for two to three times a year and we have started coral nurseries. You take broken coral and you tie it on suspended ropes in deep water; in six months they grow and you can replant them.
Anantara has also already implemented a zero plastic straws policy and we are putting in a drinking water bottling plant so that we can move away from plastic bottles. Still and sparkling water will be available, in the rooms and the bars, in sanitised glass water bottles.
Digital transformation of travel; direct vs. agents
These days decisions happen much quicker than they did 10 years ago. For instance, in the Maldives 10 years ago, once a quarter we would have a re-forecast of our budget; now I do it twice a month.
That's because, back then, people locked in their holidays a year in advance, but nowadays, in the last week of the month I pick up business to the Maldives for that week. People jump on planes nowadays like we used to get into taxis. You need to be quick and agile.
"You prefer a direct booking because you're able to speak to a guest a lot sooner… OTA commissions are worth it because of their reach"
This is of course because of digital. Ten years ago, digital bookings were about 10% of our business. Now it can be almost 50%. Agents, wholesalers and operators are still one of our biggest drivers; we average about 60-70% across my portfolio. Most of the people that come to the Maldives are of the age where they have had a travel agent for a number of years, but the numbers are changing all the time.
As a hotel company, you prefer a direct booking because you're able to speak to a guest a lot sooner. As soon as you have their email address, you can get in touch and ask, 'What can I do for you to get your holiday ready?'. This allows you to tailor the experience even before the guest arrives.
OTA commissions are worth it because of their reach to raise brand awareness. Through an agent booking, the first time you have contact with a guest is only when they arrive, but they offer exposure to a lot of markets – for example in the GCC which is especially useful for us.
The changing travel experience
For me, the Maldives should be on everybody's bucket list. In Europe, you can travel through seven countries and see something that reminds you of another country. But in the Maldives, every island is a different experience.
With all the development and competing properties, the Maldives has become a lot more accessible, which I am very happy about because I love for people to experience this country and that suits Anantara's culture which is called nahm jai which is Thai for 'water from the heart'.
This means that you open yourself to the people around you – especially in terms of hospitality. The phrase comes from an old tradition in Thailand where outside every house there is a pot of water and a cushion for sleeping. Any traveller can go to your porch and rest and drink your water. That genuine hospitality, where everyone is welcome, is part of our culture.
On the other hand, when I worked in the Maldives 10 years ago, for the W Hotel in the Maldives, I liked that the place was an aspiration of a destination. Not everybody could go – maybe it's the snob in me! Obviously, development is going to continue in the Maldives which from the point of view of the traveller is great so more people have the chance to experience it.
I hope the government manages the environmental impact properly. If so, there are obvious benefits – not just in terms of tourism revenue but in terms of development work for India and Sri Lanka. The government in the Maldives has actually lowered the percentage of local staff that has to work at a property because there is such demand from neighbouring countries.
You used to have to employ 50% Maldivians but that's now 40% because there are too many resorts opening up staff and there are not enough people! Our resort is still at 50% Maldivian, as well as 25% Bangladeshi, 20% Sri Lankan, plus some from India and 22 other nationalities. For the immediate region, it's a huge positive impact.
Career advice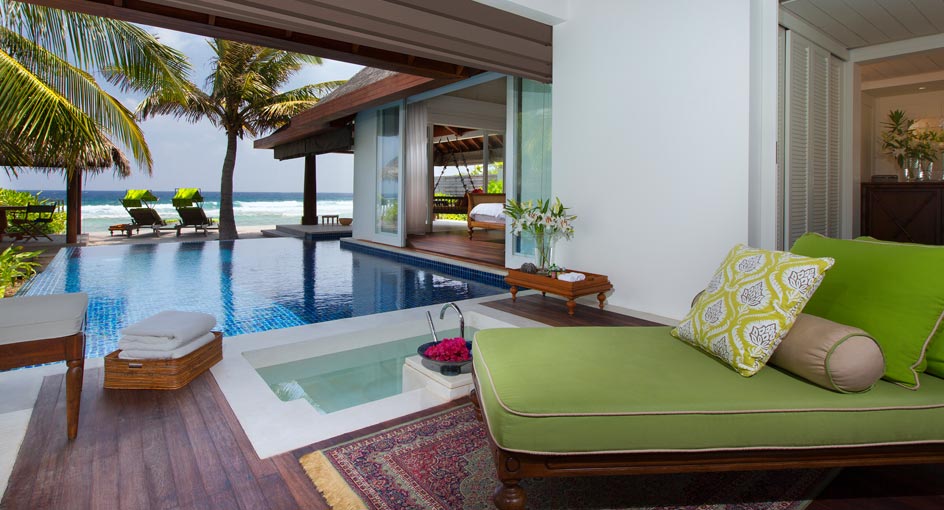 For anyone looking to become a GM of a five-star hotel brand, the advice I would give is to do it easier than I did! My background is a safari guide in South Africa before I went into lodge management, without formal hotel management training. I met some people, who were staying with me, who gave me a chance at Starwood and that's when the hospitality career started.
"If you don't come with the right attitude, it's pointless"
An employee who is following Ascent – our fast-track career programme for high potential individuals – asked a similar question, and I told him that, except for very specific positions such as executive chef or in the spa, it's all about attitude. Just have the right attitude to take on anything – that's something that no training or degree is going to teach you.
Most of the skills in the operation of a hotel can be taught on the ground, but if you don't come with the right attitude, it's pointless. You should never think, 'This is actually not my job'. Just take on what's in front of you and help to get it done. Be willing for anything.