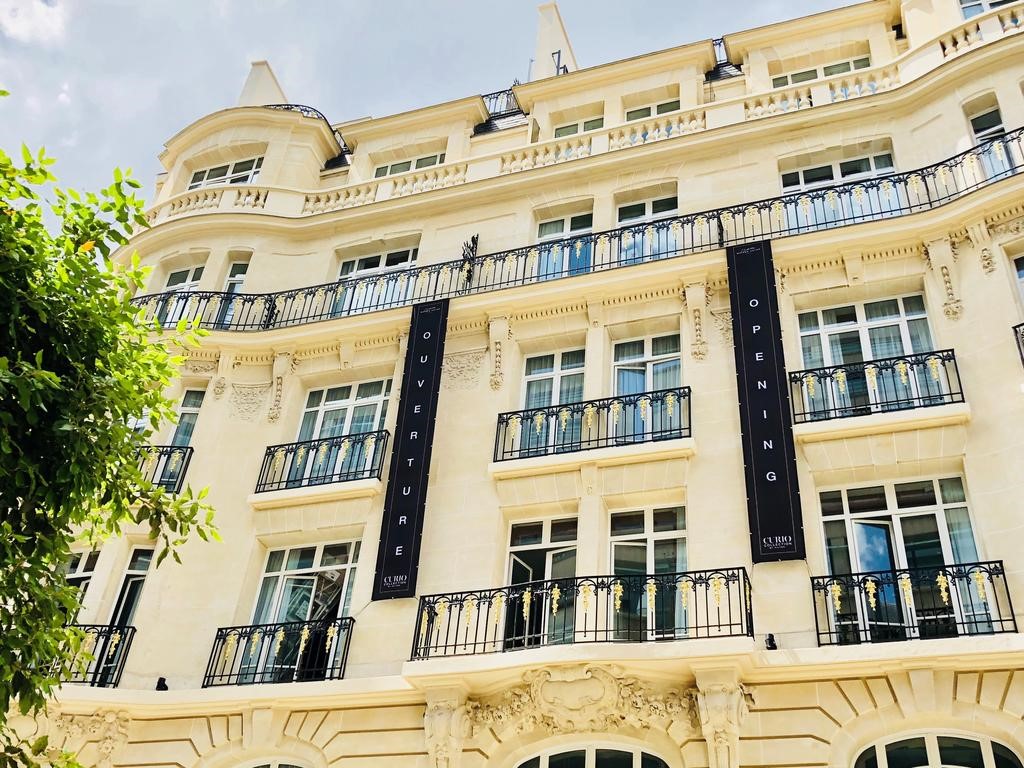 Parisian hotel, Maison Astor Paris, has joined the Curio Collection by Hilton portfolio, a collection of more than 50 upper upscale, one-of-a-kind hotels and resorts.
The hotel has a rich history with roots stemming back to the States. John Jacob Astor IV, a member of the prominent Astor family, was born and raised in the opulence of the New Yorker's aristocracy; a circle he felt he would never fit in.
He and his wife moved to the French capital and established their residence at the hotel in 1907. However, the couple did not call the residence home for long as they met their heartbreaking end aboard the RMS Titanic just a few years later.
Dressed by the Parisian Studio Marc Hertrich & Nicolas Adnet (MHNA), Maison Astor Paris is just steps from haute-couture shops and a short metro ride from the Eiffel tower. It sits on a quiet street between the Opera Garnier and the Champs-Elysées.
"Great addition to our growing portfolio of world-class hotels in Europe"
"We are delighted to welcome this Curio Collection hotel in Paris, a city which is seeing record tourism numbers, exceeding 23 million hotel arrivals for the first time ever in 2017," said Mark Nogal, global head, Curio Collection by Hilton.
"With its elevated, apartment-inspired accommodations and convenient location, Maison Astor Paris provides the ideal base for visitors to explore all that the French capital has to offer, and is a great addition to our growing portfolio of world-class hotels in Europe, with hotels located in major destinations, including Barcelona, Reykjavik, Hamburg, Siena and more."
Facilities
The hotel's 131 guest rooms and suites take inspiration from classic Parisian apartments, featuring large windows, French balconies and high ceilings. All rooms offer complimentary WiFi, an HDTV, work space and Nespresso machine. Suites offer options such as an ornamental fireplace, terrace, private bedroom, rooftop views and a duplex-style layout.
A culinary crossing between Paris and New York City, the hotel's fine dining restaurant, Salle à Manger, sits under a bright glass roof offering French dishes made from local, organic ingredients. Guests can enjoy cocktails at the speakeasy-style bar and room service is available 24/7.
The hotel offers two meeting spaces, equipped with TV screens and LCD projectors: The Travel Study can host up to ten people and Kitty's Library can host up to 30 people. The hotel also has a 24/7 concierge service, Clef d'Or, and 24/7 fitness centre.
"Distinctly Parisian, yet one-of-a-kind hotel"
"Our team warmly invites guests to feel at home at our distinctly Parisian, yet one-of-a-kind hotel," said Morgan Mondoloni, general manager. "The hotel will provide an experience in itself to curious travelers from across the globe, with its rich legacy dating back over a hundred years, unparalleled service and modern amenities."
Maison Astor Paris, Curio Collection by Hilton is also part of Hilton Honors, the guest loyalty program for Hilton's 14 hotel brands. Members who book directly have access to instant benefits, including a flexible payment slider that allows members to choose nearly any combination of Points and money to book a stay, an exclusive member discount, free standard Wi-Fi and the Hilton Honors mobile app.