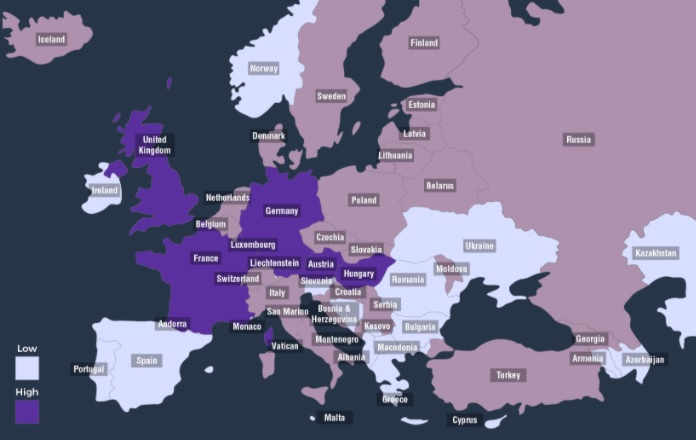 Gina Kyricaou is the most senior member of staff at Cyplon Holidays, with over 30 years of service. In this article she visualises some of the most crucial aspects of European holidays – this is a redacted version of her recent blog post, published here with permission.
While the cold weather continues to reign supreme in the UK, many of us are eagerly awaiting the summer by starting to plan our holiday. While summer is traditionally the time that many of us plan our annual getaway, the travel market has expanded to allow holidaymakers to explore the world all year round, and in fact, many destinations are best visited at other times of the year.
Whether you're looking for a destination that is sunny in April, a low-cost deal in the peak of summer, or a place where there is still plenty for holidaymakers to enjoy in the winter, our new Travel Pocket GIFbooks are a handy tool for planning your perfect holiday. These GIFbooks showcase weather conditions, prices, events and other important factors for every European country through each month of the year, at a glance. Have a look and start planning your next escape:
Temperature
When deciding where to visit and when, one of the first considerations for most of us is the weather – particularly the temperature. Many holidaymakers query where they can find late summer or spring sunshine, while others look for where they can enjoy slightly cooler and comfortable temperatures in the midst of summer. For example, some travellers may prefer Cyprus during the peak summer heat, while the middling temperatures through March-May would be a better time for others to visit. Whether you're looking for the ultimate sun-soaked European escape or prefer a cooler climate, our GIF of the average temperatures for each month should help you find your ideal getaway.
Rainfall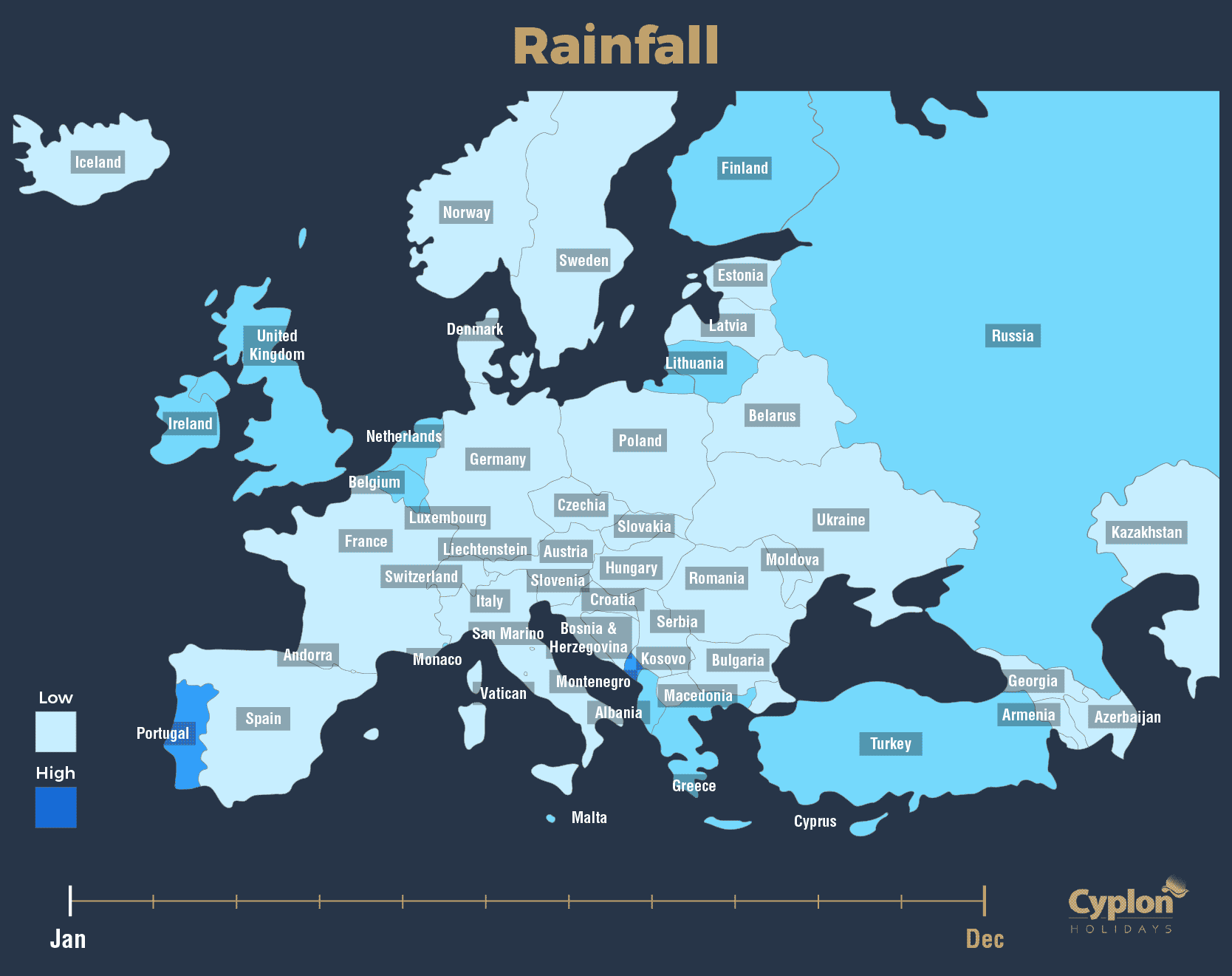 Another key weather consideration when planning a holiday is levels of rainfall. Some destinations can be warm but suffer from heavy rain. Russia, for example, experiences greater rainfall in the summer, so it may best to visit here in the spring. If your ideal holiday involves lazy days of lounging in the sun you're best planning your travel around the months where rainfall is at its lowest. We analysed the average rainfall across Europe for each month of the year to help you out.
Flight Price
Of course, for many of us finding a great value deal plays a big role in deciding where and when to travel, and some destinations fluctuate widely in price through the year. One of the biggest cost factors when planning a holiday is the cost of actually getting there, and if you know the best months to snap up a bargain flight you can make great savings on your overall holiday cost. Have a look at our guide to the cheapest months for finding flights below and start searching for that great value getaway.
Hotel Price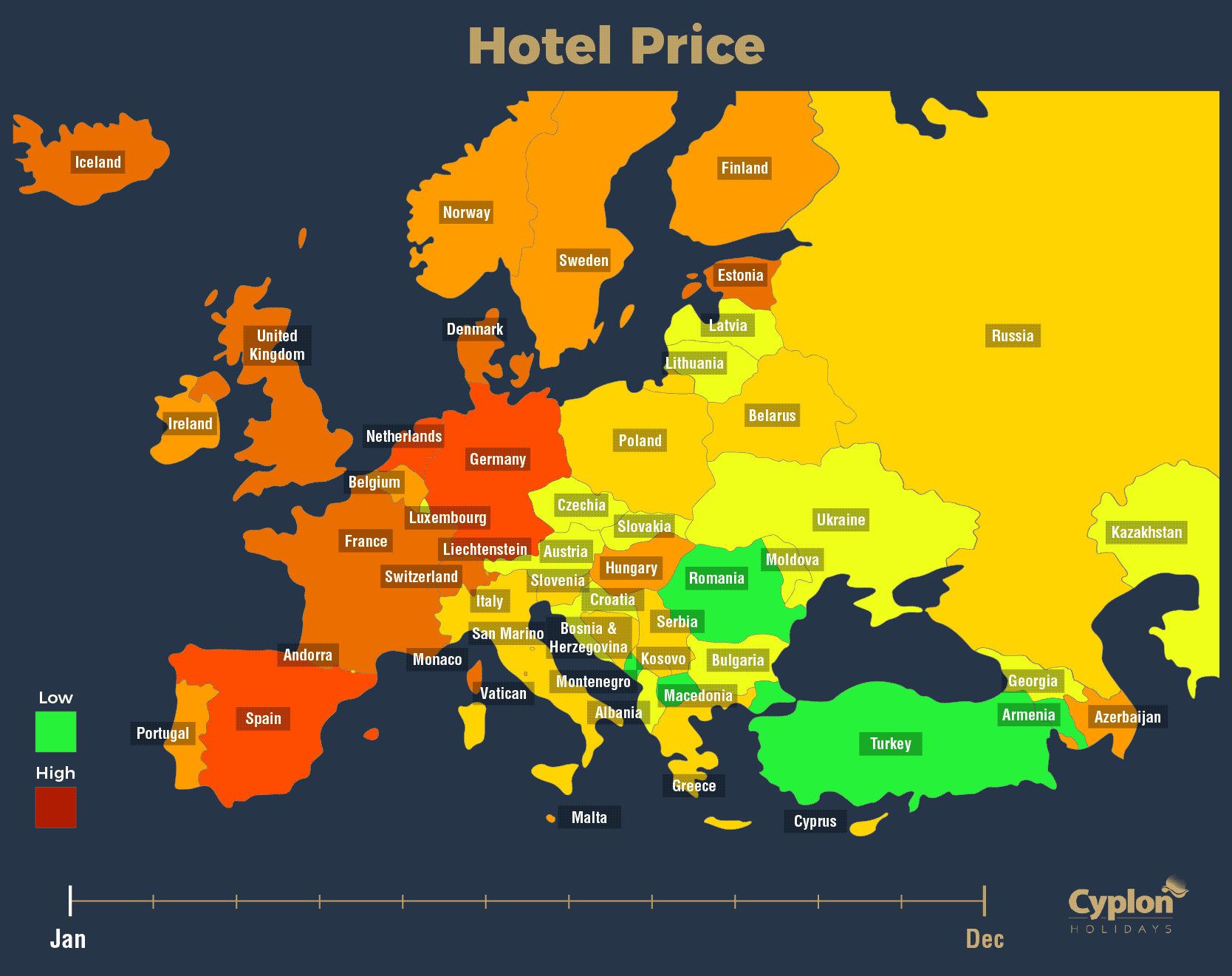 Of course, the other sizeable cost factor when booking a holiday is the cost of accommodation. While we wouldn't want to skimp on quality or other important considerations such as location, there are other ways to help find a great value hotel stay. One of the best ways to cut hotel costs is to travel during the months where hotels stays are cheaper. If saving on hotel costs is an important factor in where and when you choose to travel, have a look at our guide below to find the best value months for hotels across Europe.
Peak Season
Peak season is another key consideration for many travellers when planning a holiday. For some, peak season is the preferable time to travel – all tourist amenities will be open, the streets will be buzzing with other holidaymakers and the bars and restaurants will be filled with atmosphere.
For others, off-peak is the best time to visit for a more authentic experience, where you can have the streets to yourself and spend more time living among the locals. Either way, our guide to peak and off-peak seasons around Europe will help you plan to best time for your holiday.
Events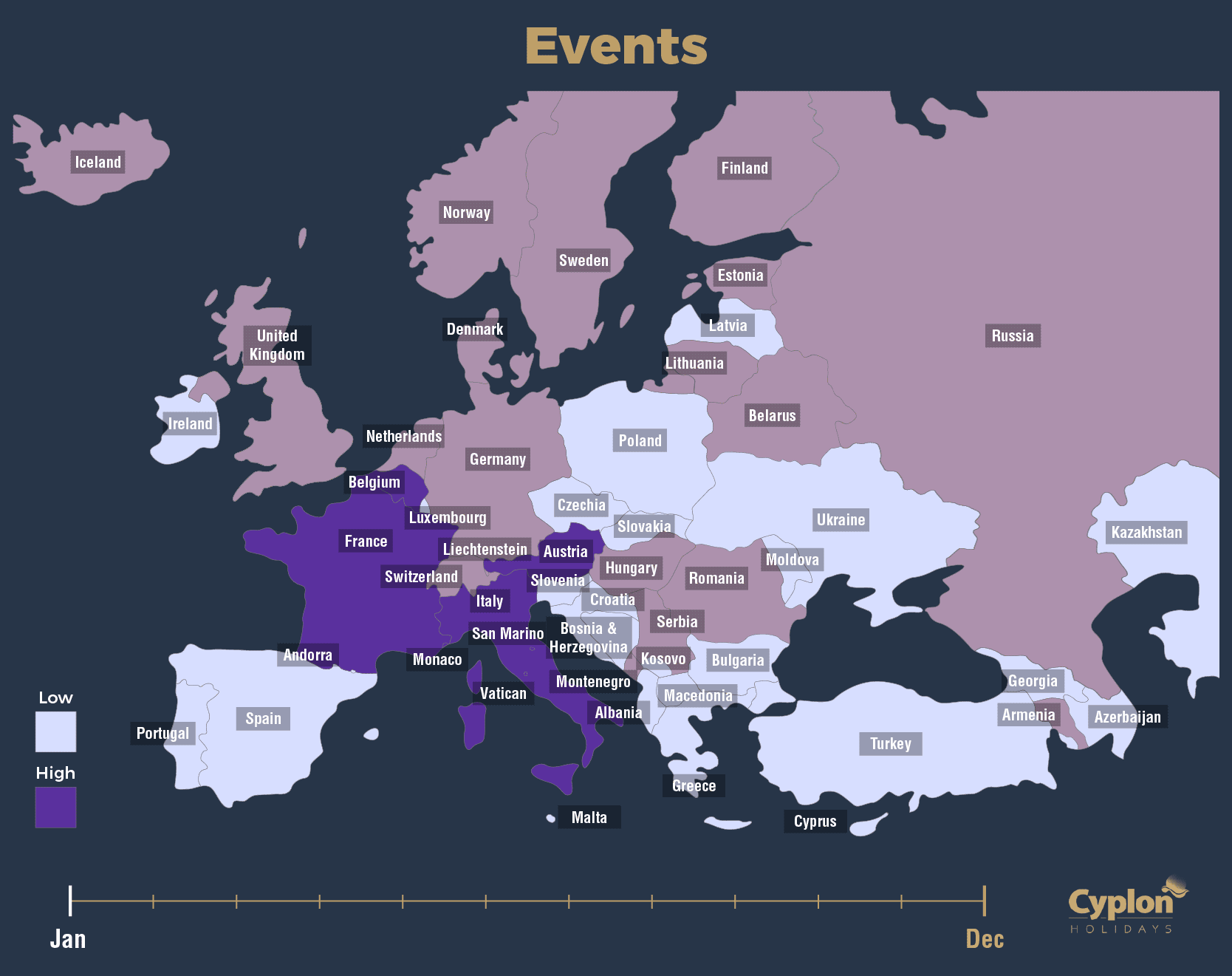 If you're the type of traveller who likes to be on-the-go through your holiday – whether attending music concerts, food festivals or art exhibitions – you'll want to plan in your visit during the most active months of the year. For many countries the summer months are when local celebrations and festivities pop up, however there are also plenty of places where events are ongoing all year, or where the cities and towns really come alive in the winter months with Christmas and New Year celebrations – such as in Italy where the winter season is filled with Epiphany events and the Venice carnival. Have a look at our guide below to find the best times to visit if you're looking for a fun-packed calendar of local events during your stay.
Methodology
To create our GIFBooks we analysed a variety of online data for every country in Europe through each month of the year. To establish temperature and rainfall averages we utilised trusted online weather resources and used the capital city of each country as our base city.
For flight and hotel prices, we utilised trusted price comparison sites. Again we used the capital city of each country as our base city. For flight price, we used the lowest available return flight for each month, while for the hotel we utilised an average price.
To create our peak season and events GIFs we scoured trusted travel resources as well as tourism boards and local event calendars.