IHG launches AI rooms in Greater China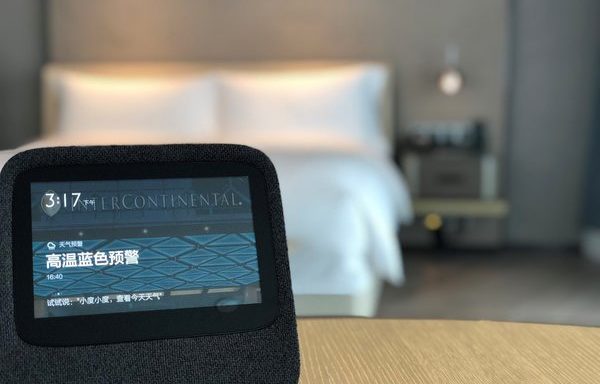 IHG has collaborated with Baidu to introduce Smart Rooms, powered by artificial intelligence, with the aim to improve and redefine customer hotel experience in China's hospitality industry.
From now on, guests staying at InterContinental Beijing Sanlitun and InterContinental Guangzhou Exhibition Centre will be among the first to try the AI Smart Rooms. A total of 100 AI-powered Club InterContinental suites will be available at InterContinental hotels in gateway cities and key destinations across China within the year.
Customised for InterContinental Hotels & Resorts, the AI solution is developed by Baidu's DuerOS platform, after IHG and Baidu inkeing a strategic partnership on AI development last November. The platform integrates AI technology with hotel operations, and this is supported by hardware upgrade and cloud service. Unlike traditional guest rooms, the newly launched AI Smart Room will embrace voice control technology to deliver a more natural human-computer interactive experience.
Guests will be able to freely switch settings between work and leisure modes. This solution will also further fine-tune the current backstage management system, including customising information and resetting devices, making hotel management a simpler task.
"More efficient operation and management services"
Lin Wang, vice president of marketing, IHG Greater China, said: "We are thrilled to be pioneering in the hospitality industry, and exploring the various possibilities of future experience with our guests. Millennials are particularly sensitive to technology, often seeking new things to try. The AI Smart Room will undoubtedly be extremely attractive for them, paving the way for a new level of modernisation and consumer satisfaction.
"We will continue to make use of cutting-edge technology in hotel service and facilities in the future, and we hope this will further strengthen customer awareness and appreciation of smart technology. Meanwhile, we will provide more efficient operation and management services to our hotel owners."
"DuerOS continues to empower partners of various industries"
Jing Kun, general manager of Smart Living Group, Baidu, added: "With its well-rounded service functions, DuerOS continues to empower partners of various industries, and contributes to ecological data sharing. It is an honour to work with InterContinental Hotels & Resorts, a world renowned luxury hotel brand with over 70 years of history, and to jointly launch our solution for intelligent hospitality. This presents an exciting and dynamic change to future user experience."