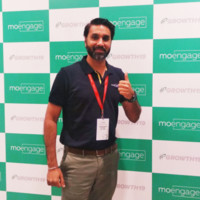 Jitender Panihar
Karnataka, India
Full Name:
Jitender Panihar
Gender:
Male
Nationality:
Indian
Languages:
English,Hindi
Location:
Bengaluru, Karnataka, India
---
About Jitender Panihar
Jitender is a PolyMath – Management Consultant, People & Talent professional, Thought Leader, Cricketer, Passionate Speaker and Explorer!
Professionally He is delivering change and transformations with multi industry exposure across Indian & APAC geographies. Fast, Agile and proven leadership in Strategy & Business, Human Resource Management, Advisory and Leadership Development.
Achievements:
✓Awarded as HR Rising Star of the Year 2018 by HR Association of India
✓Recognised as Top 100 HR Minds in India 2018 by World HRD Congress
✓ Recognised as Top 100 Training & Development Minds in India 2018 by World HRD Congress
✓ Awarded Certificate of Excellence 2017 by Government of Rajasthan for HRM
✓ Cleared world's one of the toughest selection Services Selection Board ( SSB) 2005 in maiden attempt
✓Cleared Pilot Aptitude Battery Test (PABT) and Instrumentation & Battery Test (INSB) 2005 – Once in a Lifetime Appearance
✓Won Best Emerging HR Strategy 2017 for Healthkart by BW BusinessWorld
✓HealthKart featured as 'Top 10 Culture to Work for' 2016 by Culture Canvas project by Jombay
✓HealthKart ranked as 'Top 50 startups to work for' 2017 by Silicon India Magazine
✓HealthKart ranked in 'Top 6 startups' 2015 by YourStory
Industries Worked : Oil and Gas, BFSI, Manufacturing, Automotive, Healthcare, E-commerce startup, Services and Hospitality
Specialities : HR Strategy, Change Management and Turnaround/Transformation programs, Strategic Value Creation and Program Management, Organisation Design and Restructuring, HR Transformation, Leadership Development, Talent Management, Leadership Alignment & HR Business Partnership
Global Head - People and Culture
Jan 2019 - Present • 3 years 7 months
Building & Leading People function @MoEngage. The vision is to build a global SaaS organisation which attracts the best technology talent and providing them a culture in solving next gen tech complexities MoEngage is a Series C funded Marketing Analytics company. Backed by Helion Ventures, Matrix Partners and Exfinity Ventures, having offices in Bengaluru, Jakarta, Berlin & San Francisco. MoEngage reaches 200+ Mn users each day while delivering 12bn+ interactions every month.
---
STAY UPDATED WITH THE LATEST TRAVEL NEWS, JOBS & EVENTS!
Join over 180,000 travel agents, professionals and executives subscribed to our daily newsletter.
You can unsubscribe at any time