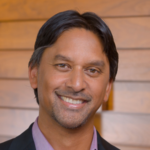 Full Name:
Russell Pereira
Gender:
Male
Nationality:
American
Languages:
English
Location:
California, USA
---
About Russell Pereira
Russell Pereira is an architect of two things for organizations: better business results and creating great places to work for up to 10 years in a row. He works with boards and senior leaders of a company to accelerate the development of people managers and their teams, more effectively than they could on their own or by more traditional approaches. Russell does this by leveraging almost 20 years of high-performance, training and coaching experience that's been battle-tested and refined across multiple industries, geographies and company sizes. You can learn more and connect with Russell here.
Some quick snippets of what clients say:
– "He has helped us build out a stronger and more confident group of managers. He was also instrumental in helping them navigate the day-to-day management issues of our acquisition by Google." – CEO Testimonial, Victoria Ransom of Wildfire (acquired by Google)
– "His coaching skills are one of the reasons we were selected as the 10th best place to work in Australia." – CEO testimonial, John Hoffman of Altis Consulting (Best Places to Work in Australia for 10 years in a row)
– "I've had countless individuals tell me how much they've gained (both personally and professionally) from Russell's presence at our company, and I myself am included on that list." – CEO testimonial, Matthew Monahan of inflection.
– "I can honestly say that this has been the best training course that I have ever completed in my banking career" – Branch Manager, Commonwealth Bank of Australia
– "Most useful course at Qantas" – Cabin Crew Manager, Qantas Airways
– "I have seen concrete improvements from this course (such as) more accountability from my team, better expectations, less emotion." – Sales Manager, Google
– "I feel more comfortable going into tough conversations with my team, and the easy ones are more effective." – Sales Manager, Google.
– "His training and coaching over the last month helped me improve my key conversations with clients, resulting in a recent proposal win." – Senior Consultant, Altis Consulting.
– "Russ has an incredible way of helping people and teams change their behavior. Work with him if you have the opportunity." VP Customer Service, Inflection.
TD Learning & Development Director
Apr 2020 - Present • 3 months
Head of all learning & Development projects across all TD channels
---
Leadership and Organisational Development
Jan 2006 - Present • 14 years 6 months
Helping driven leaders deliver on strategic imperatives by building strong people managers and teams. Clients include: ✔ Altis Consulting. External company coach and trainer for 11 years. Delivering custom-developed soft skills training and coaching to all employees and managers across Australia, New Zealand, Asia, and Europe. Key Result: Altis is now one of only 4 companies nationwide to be ranked in the top 50 "Best Places to Work" for 10 consecutive years. ✔ Google (in its Wildfire

...

division). Trained and coached all people managers during hyper-growth period, to build their competencies and confidence as well as coaching them through their acquisition by Google. "I can't recommend Russell Pereira highly enough…Wildfire has been going through massive changes…I heard glowing reviews from Russell's initial training, but his real strength was in his ability to coach our managers…the actual feedback from managers reflects this." → Victoria Ransom, Wildfire CEO ✔ Others: Pixar Studios, Dignity Health, Kiva, Zappos (Amazon)

Read more
---
STAY UPDATED WITH THE LATEST TRAVEL NEWS, JOBS & EVENTS!
Join over 180,000 travel agents, professionals and executives subscribed to our daily newsletter.
You can unsubscribe at any time