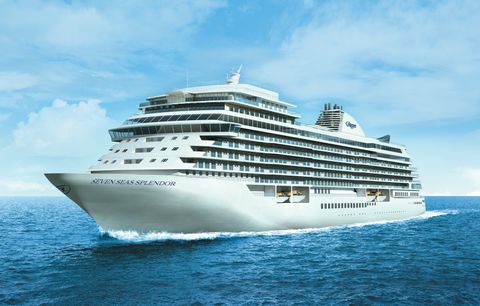 Regent Seven Seas Cruises has announced the name of its new Explorer-class ship, scheduled for delivery in the first quarter of 2020.
"The naming of a ship is an important milestone in maritime tradition and it is my pleasure to announce that the name of Regent Seven Seas Cruises' new ship to launch in 2020 is Seven Seas Splendor," said Jason Montague, president and chief executive officer of Regent Seven Seas Cruises.
"The extraordinary demand for Seven Seas Explorer has reinforced our decision to expand our fleet and Seven Seas Splendor will offer guests a fifth option that will provide unforgettable experiences in the world's most compelling destinations, with the incredibly high standards of luxury and service that lure guests back again and again."
As part of the naming process, Regent Seven Seas Cruises sought suggestions from travel agents, guests and employees in a sweepstakes held in September. Seven Seas Splendor was chosen from nearly 2,600 unique names from more than 14,000 submissions.
The new all-suite, all-balcony ship will have a gross tonnage of 55,254 and capacity of 750 guests. Regent Seven Seas Cruises is currently undergoing a $125 million fleetwide refurbishment.