The beginning of America's Musical Journey: We talk to Brand USA's CMO
For this week's podcast, I spoke to Tom Garzilli – CMO, Brand USA about the company's new mega-project, America's Music Journey.
Garzilli speaks:
I'm the chief marketing officer at Brand USA; I've been here for five and a half years and it's the best job in travel. I've been in the travel industry pretty much my whole life; I grew up in it and been working full-time in it for 40 years.
I began many, many years ago as a tour operator and ultimately got into my own kind of Destination Marketing Organisation (DMO) which led me to this great opportunity at Brand USA. My dad was in the hotel business when I was in my single digits and I used to travel with him and ended up getting into the tour operator retail-wholesale travel business. I followed into that and then eventually got more engaged in the destination marketing partner side.
The launch event
We're going to be having our London premiere of America's Musical Journey, our giant screen film which will be talking about some of America's music following some of our icons and also some unknown talents. Our primary storyteller is Aloe Blacc, a great singer-songwriter, and it's narrated by Morgan Freeman.
We're really proud of this, our second giant screen film following the National Parks Adventure, narrated by Robert Redford. We see giant screen documentaries as one of the most immersive ways to tell a story, particularly of the vast diversity that the United States offers to people who want to travel. It's fascinating both in concept and in scale.
"Our main mission is to increase international inbound tourism into the United States"
When you think about Brand USA, our main mission is to increase international inbound tourism into the United States. You know America and our story: 50 states, five territories – a huge and diverse place and there's a lot of stories to be told. It requires us to be finding every kind of means to tell our stories. Our multi-screen strategy covers from mobile to giant screen and everything in between and so we know we're telling stories at every level for every type.
We want to be where every consumer wants us to be – with the stories they want in the means that they want it – these are huge projects.
The concept behind the project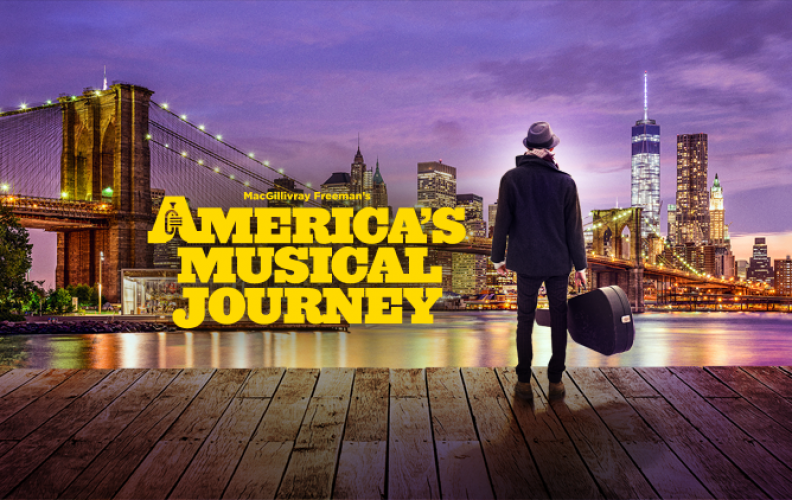 We decided very early on when I joined Brand USA, the idea of a giant screen project; we would need to do at least two if not more. In fact, we are going to be doing a third as well soon.
We thought about music first because we felt it was a great way to tell the story of the US cities and its culture through the universal language of music. 2016 marked 100 years of the National Park Service so we decided to do the first film, the Great Outdoors, to take advantage of that. 
"We need to be doing big innovative things"
In March 2013, when I first joined brand USA, we immediately got into doing that. My boss, CEO Chris Thompson, was quite generous in giving me the opportunity to pursue that crazy idea. He knew me a while so he knew I wasn't completely crazy! Because he knows we need to be doing big innovative things.
We have some great states and cities who do a great job at promoting their places around the world and so our job really is to be innovative and to add value to what they're doing and to find different ways for us to be telling our stories. Our partners, Expedia and Air Canada are very supportive of doing this. Of course, music is the universal language and it helps with our vision.
"They don't want advertising – they want stories"
While we are a DMO and we do all the things DMOs around the world do, as you would expect, we also see ourselves – especially when it comes to talking to the consumer – thinking like an entertainment company because people want authentic content. They don't want advertising – they want stories.
We are trying to be, at every stage, telling stories and being entertaining at the same time, as destination marketers have a great advantage in this space. Because with most buyers, that commercial message is kind of pushed in there somewhere – you really don't have to do that – your story is the product.
America's Musical Journey is celebrating Great American Music but it's also celebrating the places where Great American Music was born – how these places help inform the type of music – so it's kind of a cultural relationship that individual places have with their music. How long a film like this takes to produce, through the years from deciding on the story to getting the film out in theatres – is the special nature of these films.
Because they are primarily shown in museums and science centres, they're not commercial releases that come out for a weekend. These films have very long shelf lives and both America's Musical Journey and National Parks Adventure will be out in the market for many years.
It's a long tail in terms of getting it out at the theatres and then we do a lot of theatre takeovers in cities where we want to have them ultimately. They are streaming National Parks and has been out for a while, so America's Musical Journey will be following that same path. It will grow around the world that eventually will go into streaming.
The films are about 40 minutes in length; you see many places but you're primarily seeing New Orleans, Chicago, New York, Nashville, Memphis, Miami and Washington DC at the dynamic close. Aloe Blacc's music is in there and also some well-known icons.
Blacc is from Laguna Beach California; he was one of a couple of storytellers we thought about. He's such a genuine, great, person and very talented and he became a very compelling part of the film – more than originally intended. He is actually working on a new song throughout the film and is trying to add some of the flavours of each of these places to the song and then at the end – you kind of your kind of hear that as well. The song is My Story and it has a little of every place you visited throughout the film.
The film had it's of European premiere in Paris and it's opened in Spain and a few other countries in Europe; its Asian Premiere was at the Beijing International Film Festival and won the Audience Choice award, and it will continue to be released in countries around the world over the next year.