Uber launches feature to let businesses pick up tab on your next trip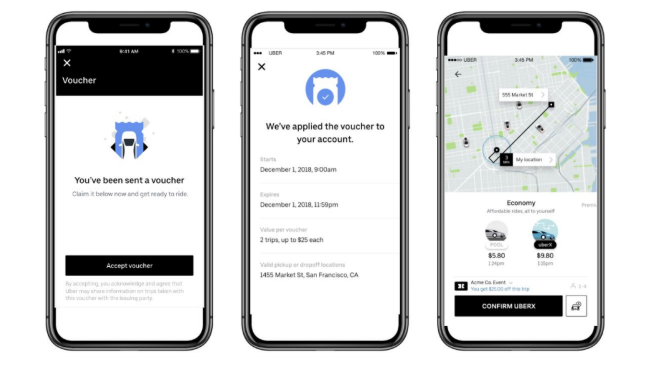 Uber is launching a way for businesses to pay the fare on your next Uber trip. The new feature, Vouchers, makes it easy for businesses to cover trips to attract new clients or support loyalty and service for existing customers.
Businesses with an Uber account can easily create Vouchers and send them to customers via email, social media and mobile messaging. Customers can then open the link and automatically add the Voucher to their Uber app, until it expires. Vouchers can be applied for specific days of the week, times, pick-up and drop-off locations. Perfect for businesses that are looking to offer trips to an event or as part of a promotion or loyalty programme.
"An additional growth lever for businesses"
Ronnie Gurion, global head of Uber for Business said: "With the international launch of this feature, Uber's goal is to unlock an additional growth lever for businesses by creating an innovative way to bring customers to their door or wherever they need to go.
"As companies look for new technology and novel ways to engage with consumers, Vouchers provide a perk that businesses know their customers will use."
The launch of Vouchers in the UK follows a pilot in the US with more than 100 partners, including TGI Friday's, Live Nation, the Golden State Warriors, MGM Resorts, Sprint, Freshworks and Unibail-Rodamco-Westfield. Some examples include:
With more online services delivering to your doorstep, retailers are adopting innovative ways to offer convenience, facilitate personal interactions and differentiate from the competition. Westfield malls, for instance, are using Vouchers to help provide their guests and visitors best-in-class customer service, including convenient and hassle-free transport.
TGI Friday's already has used Vouchers to promote dine-in experiences by removing barriers to get to their physical location. They are now partnering with the Uber platform for both Eats delivery and trips for their customers.
LiveNation has used Vouchers to provide a way for venues to bundle their offers, or provide a loyalty perk, and make it easier for consumers to attend events and improve their overall experience.
● The Golden State Warriors (NBA team) sees Vouchers as providing an appealing way for venues to bundle their offers, or provide a loyalty perk, and make it easier for consumers to attend events and improve their overall experience.
● For MGM Resorts, Vouchers offers a consumer-friendly way to travel between their various properties, restaurants and shows. The global reach of Uber's brand means that MGM can rely on Uber Vouchers to offer trips to local or international customers regardless of where travellers call home.
● Sprint's Accessibility team, offers Uber Vouchers to blind and low vision customers who switch or upgrade their plan with Sprint. Given the importance more mobility options have for this group of customers, Sprint believes this offering drives positive outcomes that can differentiate their brand.
Businesses can sign-up for Vouchers by visiting uber.com/vouchers. U4B's Guest Services team is available to support businesses as they use and integrate this new offering.