Wendy Wu celebrates record-breaking year with The Complete Collection
UK-based Asia travel specialist, Wendy Wu Tours, has announced The Complete Collection 2019-2020 along with its biggest all-time revenue figure, marking the operator's most successful year in its 20-year history.
According to Wendy Wu Tours, forward bookings are up year-on-year for 2019. With this success, the operator launched a collection of travel experiences called The Complete Collection, featuring the best destinations across Asia and South America.
The new offer is the operator's first-ever combined collection of holidays and largest collection to date. Furthermore, Wendy Wu is also offering business class upgrades across all departures from GBP 199 per person and free VIP door-to-door home transfers. Business class upgrades are with Air China and Cathay Pacific, subject to availability and booked before 30 September 2018.
"The best in our 20-year history"
Commenting on Wendy Wu's outstanding year and the launch of its new collection, John Warr, global sales director, said: "We've seen outstanding growth across Asia making 2018 a record-breaking year for revenue and passenger numbers, the best in our 20-year history!
"Bookings have soared, largely driven by our superior business class upgrades and VIP home transfers which are incredibly popular with our agents and customers. We've seen a substantial spike in travel to Japan, India and South America this year as well as considerable growth in Solo travel."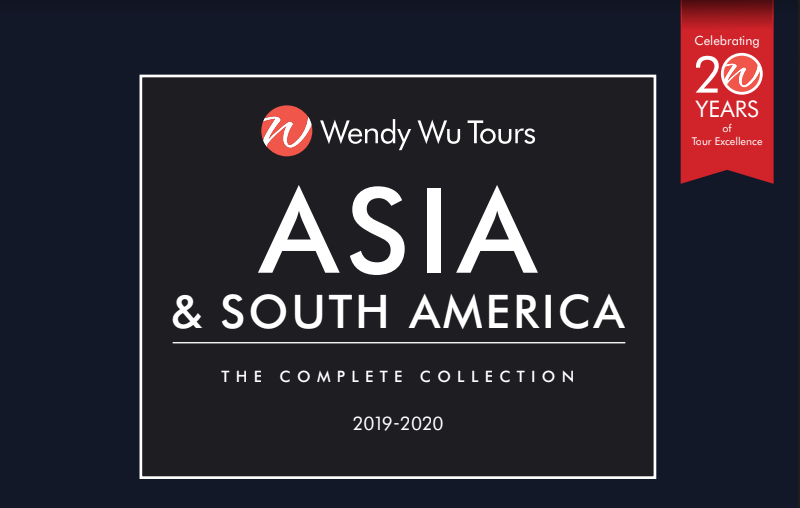 Wendy Wu also launched individual collections for China, India, Japan and Southeast Asia as well as expanding their range of tour styles which now include Classic – a tour featuring classic sights at a leisurely pace; Go Beyond – designed for those who want to venture off the beaten track; Private Tours – a personal tour with the benefit of a personal guide, and for the first time, a new Solo Tours – exclusively for customers travelling solo that comes with a private room and no single supplement to pay.
"It's the ultimate guide to the best in travel"
Warr added: "Over the years our collection has grown exponentially and so for the first time we're launching a new definitive guide called 'The Complete Collection' featuring the best travel experiences across Asia and South America. It's the ultimate guide to the best in travel all compiled in an easy-to-use, informative and stylish format."