5 incredible ways how Qatar Airways weather the COVID-19 pandemic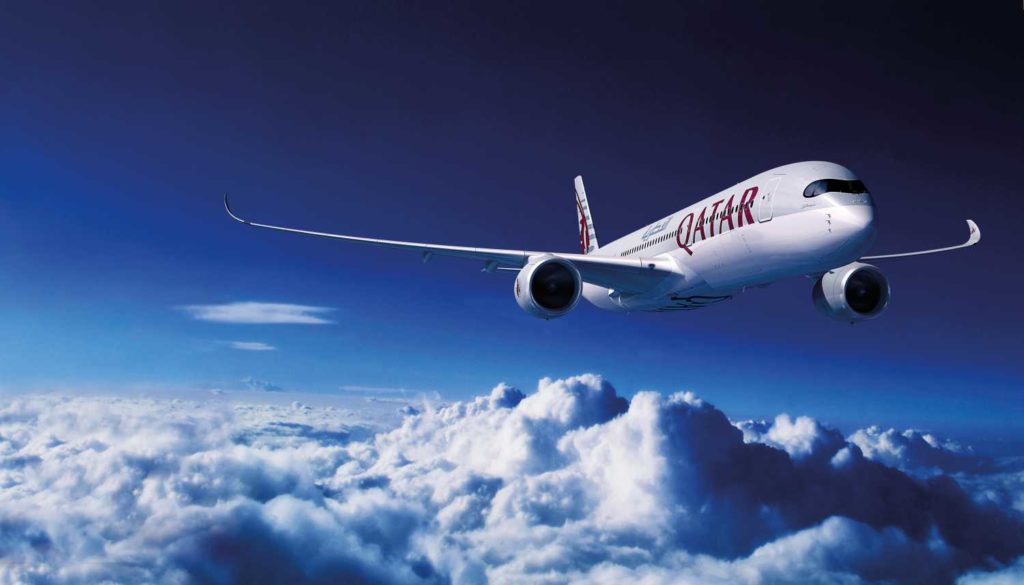 There is no denying that COVID-19 upended the travel industry, especially the aviation sector, due to travel bans and closed borders. During the time that airlines are struggling (some even filed for bankruptcy), one airline chose to embrace the challenge and rise above it.
"This year has been unlike any other, with the COVID-19 pandemic impacting people and businesses all around the world. Aviation has been one of the most affected industries, with a unique set of challenges resulting from a more restrictive travel environment and subdued demand. However, at Qatar Airways we have never shied away from a challenge and I am immensely proud of our response," Qatar Airways GCEO Akbar Al Baker claims proudly.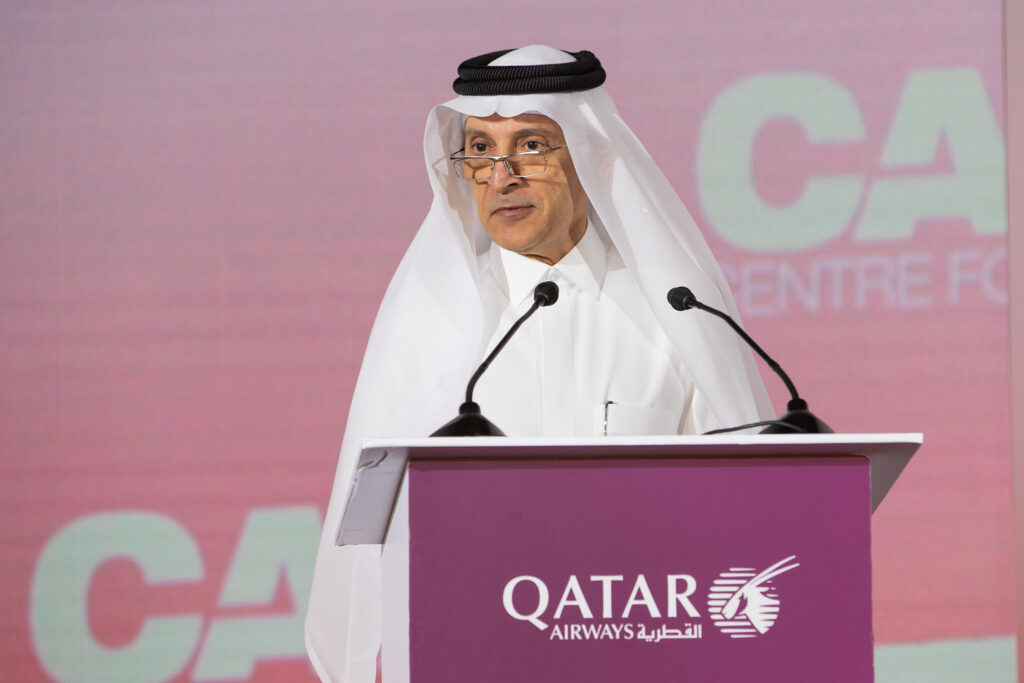 Here are the five ways how Qatar Airways deal with the challenges posed by the COVID-19:
Safety measures from end to end of the passenger journey
The major change heralded by COVID-19 is our attention to health and safety measures. Qatar Airways is one of the first airlines to formulate its COVID-19 protocols. The state airline of Qatar even took it a step further and developed safety measures from end to end of the passenger's journey. From the moment you step in Hamad International Airport, stringent cleaning procedures and social distancing measures are observed throughout the airport.
HIA applied changes – big and small – in its day-to-day operations. All passenger touchpoints are sanitised frequently. Boarding gates and counters are cleaned thoroughly after each flight. HIA also invested in some of the latest technologies to optimise passenger safety such as the UV-C disinfectant robots, which are fully autonomous mobile devices emitting concentrated UV-C light, and are deployed in high passenger flow areas to reduce the spread of pathogens as well as UV disinfection tunnels to sanitise check-in luggage.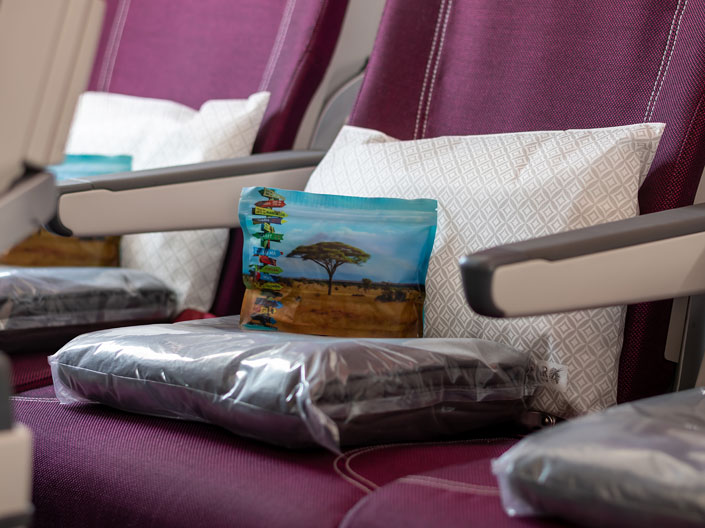 Qatar Airways COVID-19 protocols are also observed in flight. Each passenger receives a complimentary protective kit containing a single-use face mask, large disposable powder-free gloves and an alcohol-based hand sanitiser gel and disposable face shield, while the cabin crew is provided with Personal Protective Equipment (PPE), which is fitted over their uniforms, in addition to safety glasses, gloves and a mask.
Never feel safer on a flight as Qatar Airways follow cleaning and disinfection procedures prescribed by the International Air Transport Association (IATA) and the World Health Organization (WHO). The airline's onboard linen and blankets will continue to be washed, dried and pressed at microbial lethal temperatures, while its headsets are rigorously sanitised after each flight. These items are then sealed into individual packaging by staff wearing hygienic disposable gloves.
Qatar Airways' aircraft also features the most advanced air filtration systems, equipped with industrial-size HEPA filters that remove 99.97% of viral and bacterial contaminants from re-circulated air, providing the most effective protection against infection.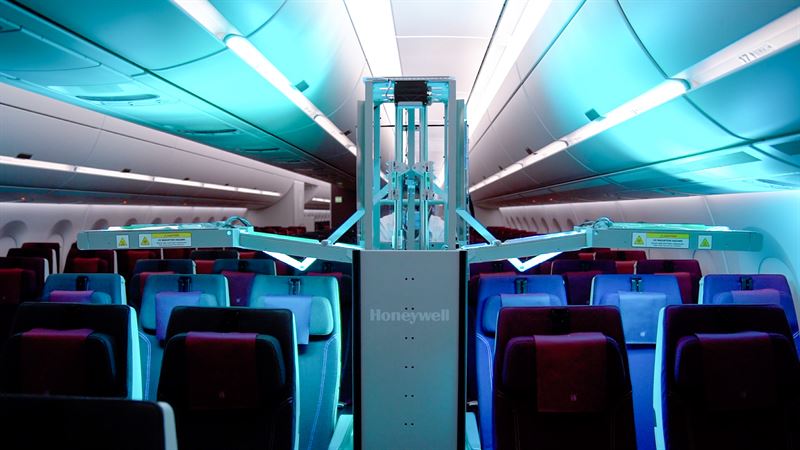 Qatar Airways becomes the first global carrier to operate Honeywell's Ultraviolet (UV) Cabin System, further advancing its hygiene measures onboard. Approximately the size of a beverage cart, the Honeywell UV Cabin System, which is operated by Qatar Aviation Services (QAS), has extendable UV arms that treat aircraft seats, surfaces and cabins without using cleaning chemicals. The Honeywell UV Cabin System will be utilised as an additional step after manual disinfection, to ensure the very highest standards of cleanliness.
Due to these valiant efforts of Qatar Airways and its commitment to safety, the airline was awarded the Diamond Standard, which is the highest level attainable, in the Airline Passenger Experience Association's (APEX) and the prestigious 5-Star COVID-19 Airline Safety Rating by international air transport rating organisation, Skytrax following the assessment of the airline's robust COVID-19 hygiene and safety standards.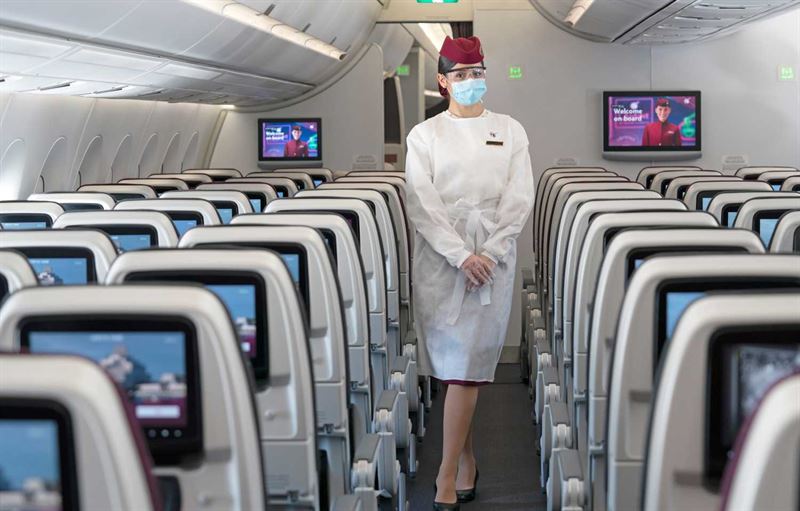 HE Akbar Al Baker said: "As an industry leader, we welcome the further recognition of Qatar Airways' commitment to providing the most rigorous and stringent virus monitoring, detection and COVID-19 safety programme throughout our end-to-end passenger experience, in existence within the global aviation community."
Connecting families and places
Throughout the COVID pandemic, we have seen airlines parked their fleet as countries closed and travellers were advised to stay home. However, Qatar Airways did not stop flying even during the pandemic and remained focused on its fundamental mission of taking people home. The airline continued to fly in key cities to take stranded travellers home.
Working closely with government and companies, Qatar Airways operated repatriation and chartered flights that ferried over 3.1 million passengers. Due to the special circumstances, the airline few to destinations not previously covered in its network.
Investments in customer service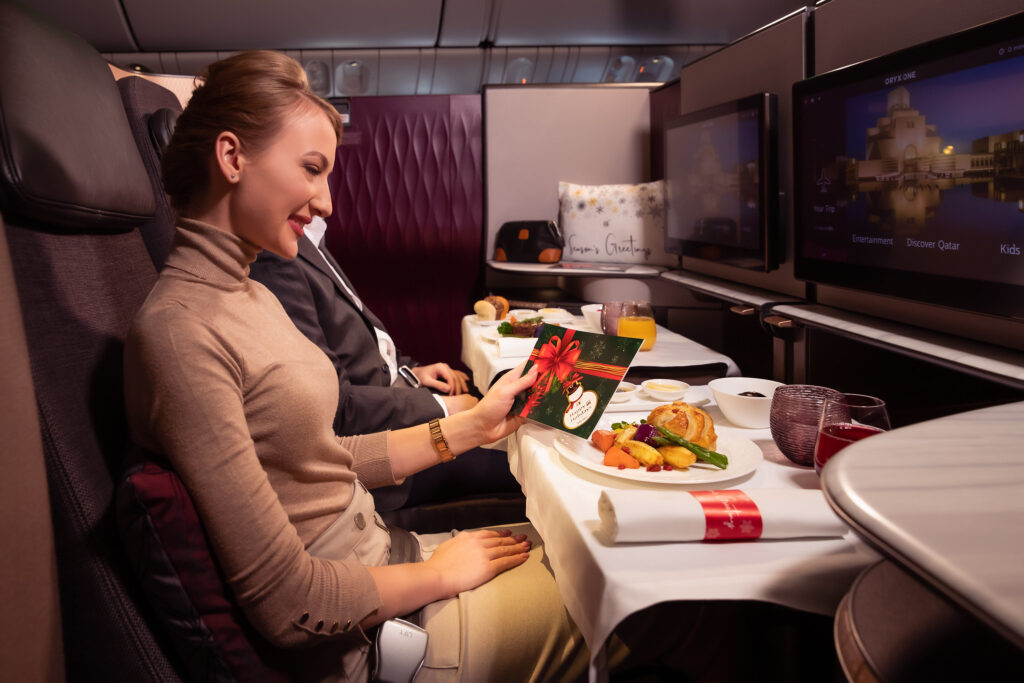 Changes brought by the COVID-19 pandemic should not impede the delivery of optimum customer service. Qatar Airways strives for the perfect marriage of optimum customer service and passenger safety. On board, the airline has continued to deliver its full dining experience, comfort amenities and award-winning service, with enhanced safety measures.
In Business Class, the airline's Dine-on-Demand service is now presented fully covered on a tray with our beverage selection. In Economy Class, Qatar Airways' full dining experience 'Quisine' is available, with food and cutlery served completely sealed as usual on a tray. Gourmet vegan dishes and limited edition menus are also offered at Al Mourjan Lounge at Hamad International Airport (HIA) and on flights. Fly with Qatar Airways and enjoy perks through the Qatar Airways Privilege Club.
Environmental responsibilities
We have heard the indirect environmental effects of COVID-19 such as improvement of air quality, clean beaches and wildlife reappearing in different places as we all paused during lockdown. As the COVID-19 pandemic caught us off guard, sustainability and social responsibility were put at the back burner. Not for Qatar Airways.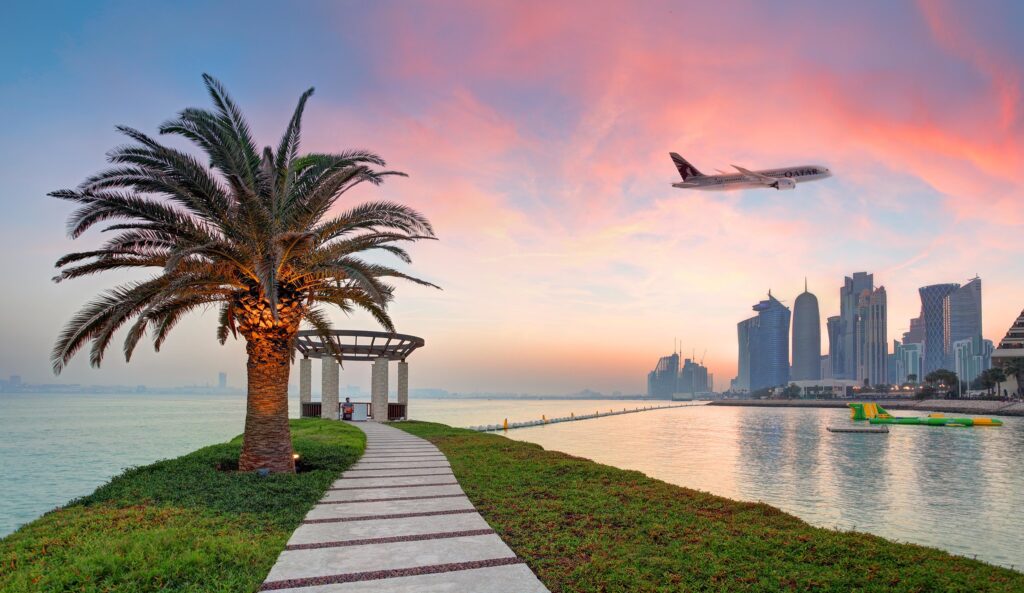 While the focus is to take people home and fly essential cargo, the airline is still mindful of its environmental impacts. The airline grounded its fleet of large Airbus A380s as it unjustifiable to operate large aircraft ferrying few passengers. This reduced carbon emissions greatly. On a typical one-way flight, the airline found the A350 aircraft saved a minimum of 16 tonnes of carbon dioxide per block hour compared to the A380.
In order to spread environmental awareness, Qatar Airways launched a new program that enables passengers to offset carbon emissions by just booking a ticket. Qatar Airways is committed to be carbon neutral by 2050.
Qatar Airways Cargo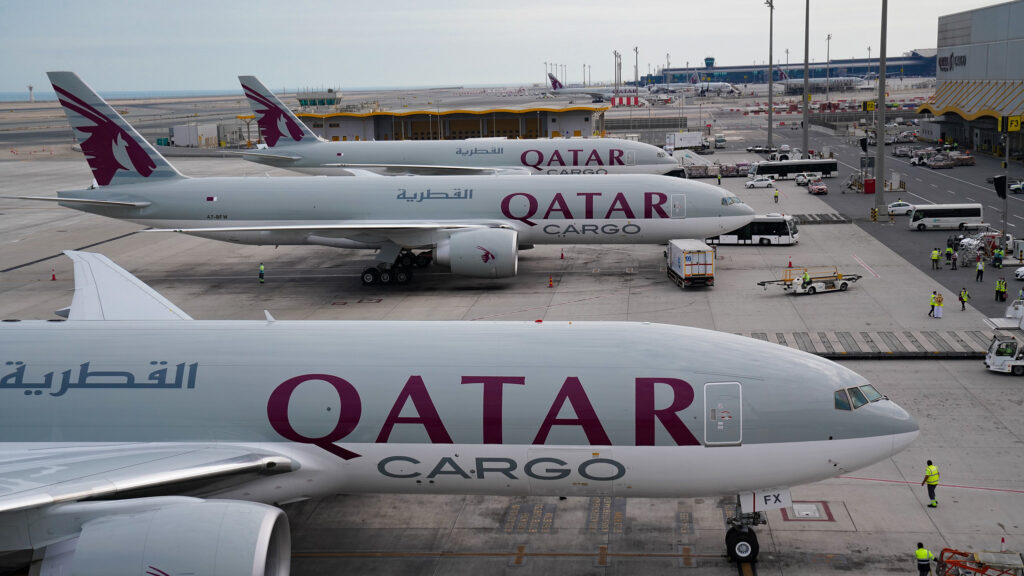 As travellers hit pause on their travel plans, cargo and shipping have become airlines lifeblood. 2020 has seen Qatar Airways Cargo launching freighters to Campinas (Brazil), Santiago (Chile), Bogotá (Colombia) and Osaka (Japan). The airline was awarded 'International Cargo Airline of the Year' at the STAT Trade Times awards event.
The division proved to be resilient during the pandemic, the airline saw the cargo flights grew triple from 60 to 180-200 flights daily to support global supply chains. Working closely with governments and NGOs, Qatar Airways Cargo also transported over 250,000 tonnes of medical and aid supplies globally on both scheduled and charter services.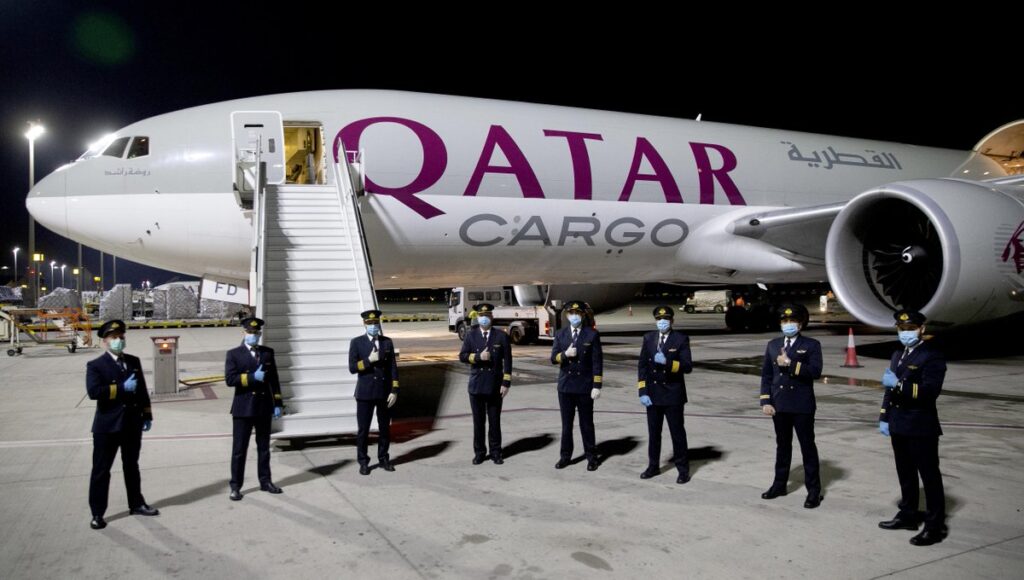 Qatar Airways also strengthened its QR Pharma product offering as it added new sustainable Skycell containers to its range of active containers, which will be essential in transporting medical supplies and vaccines in the near future.
2020 is a year like any other. It is something that the travel industry has never anticipated. One can choose to sulk and wait until this blow over, others can choose to find viable solutions to the challenges. It is definitely not easy, but not also impossible. Qatar Airways COVID-19 protocols serve to increase travellers' confidence to restart travel and tourism and Qatar Airways is ready to welcome you on board!