"We have a role to play": Condor pledges to reduce plastic use by 75%
Condor Ferries is reducing the use of plastic across its fleet which will see one million single use items replaced by compostable and re-usable products this year.
Condor Ferries, which offers a year-round ferry service connecting Jersey, Guernsey, St Mala and the UK, has already introduced a number of vegetable-based cutlery and coffee cups made from 'Vegware' and is investigating further ways to reduce its plastic footprint. Vegware uses renewable, lower carbon or recycled materials and can be composted along with food waste.
Paul Luxon, Condor's CEO, confirmed the company is looking at a number of eco-friendly alternatives so it can reduce the use of plastics by three quarters over the next three years.
"We have a role to play"
Luxon commented: "We fully recognise we have a role to play, so our aim is to lessen plastic in circulation by 75% by 2021. Like most other businesses, we accept there is a way to go to achieve this, but we are making progress in evaluating and testing new items for introduction such as biodegradable water bottles and seaweed packaging, all of which are zero-waste.
"Our passengers too are very aware of environmental issues and I am sure they will welcome the changes we have already made and those in the pipeline."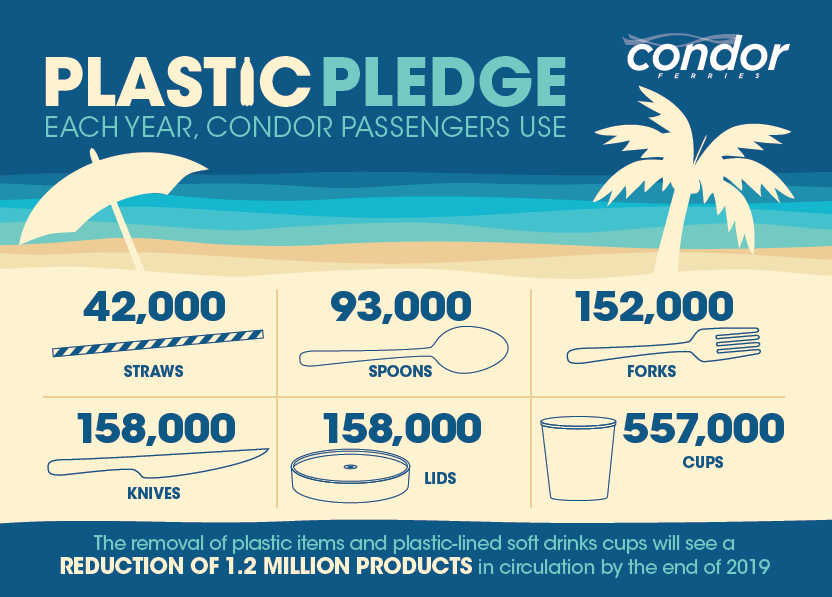 Each year, Condor passengers use 152,000 forks, 158,000 knives, 93,000 spoons and 42,000 straws along with 557,000 cups and 158,000 lids. The removal of plastic items and plastic-lined soft drinks cups will see a reduction of 1.2 million products in circulation by the end of 2019.
Furthermore, aside from installing recycling points onboard its ships and five ports, the company is to sign up to two Channel Islands' initiatives – Plastic Free Jersey and the Keep Guernsey Green Award.