Wellness and sustainability rule the roost this week as cruise companies lure guests with activity managers, family friendly decks and sustainable practices on board.
But first, Asia's newest yacht excursion….
The Vietnamese reverie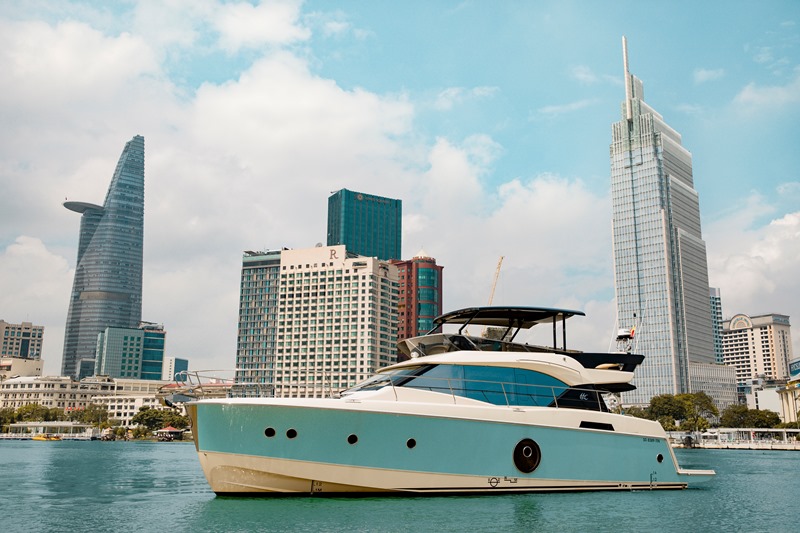 The Reverie Saigon has something to show off this season. It is their latest acquisition, a 60-foot Monte Carlo 6. The weighing anchor with a crew of three and a private butler and a champagne picnic in tow is set to offer its guests a bespoke excursions along the storied Saigon River.
Spacious enough to accommodate 10 guests as it coyly navigates tributaries along mangroves and Vietnamese villages, The Reverie yacht will start off by offering private charters of two-and-a-half, five and eight hours that start at a cool VND 50 million (USD 2140).
The 32-ton yacht is furnished in teak wood and leatherwork with interior living and dining areas. One can also enjoy al fresco dining and explore Ho Chi Minh's skyline on the Monte Carlo 6's characteristic flybridge above (complete with a retractable roof).
On the foredeck are electronically controlled sun loungers complemented by a built-in outdoor sound system with Bluetooth connectivity, while below deck is a master bedroom with ensuite, a fully equipped walk-in kitchen, a separate powder room and a multi-purpose seating area. A built-in outdoor barbeque on the back deck beckons the hire of a private chef.
Viking dreams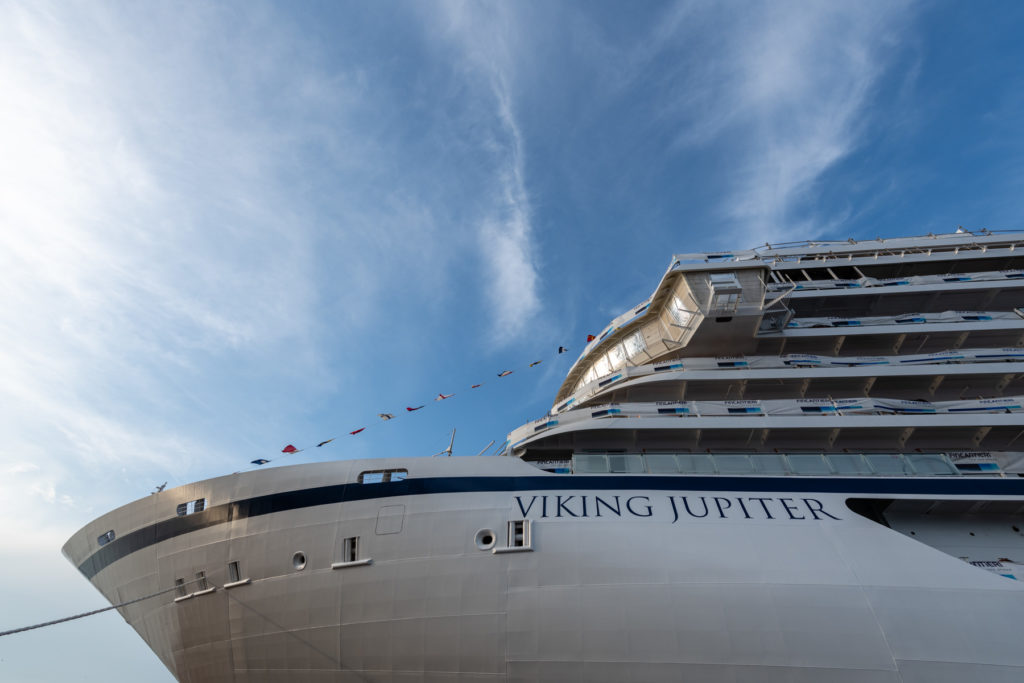 Viking has taken delivery of Viking Jupiter, its sixth ocean ship, at Fincantieri's shipyard in Ancona, Italy.
"Positive response to our approach to ocean cruising"
Torstein Hagen, chairman of Viking, said: "It is always a proud moment when we are able to welcome a new ship to our fleet. Viking Jupiter is our sixth ocean vessel in just four years– a clear sign of the positive response to our approach to ocean cruising. We are different because we focus on the destination, and that resonates with our guests. We are pleased that with continued growth we have the opportunity to introduce even more travellers to the Viking way of exploration."
On 16 February, Viking Jupiter will be the first in Viking's fleet to sail the new Journey to Antiquities itinerary between Athens and Rome offering guests the chance to experience the Mediterranean during the quiet season. During its maiden season, Viking Jupiter will sail itineraries throughout the Mediterranean and then Scandinavia.
Family matters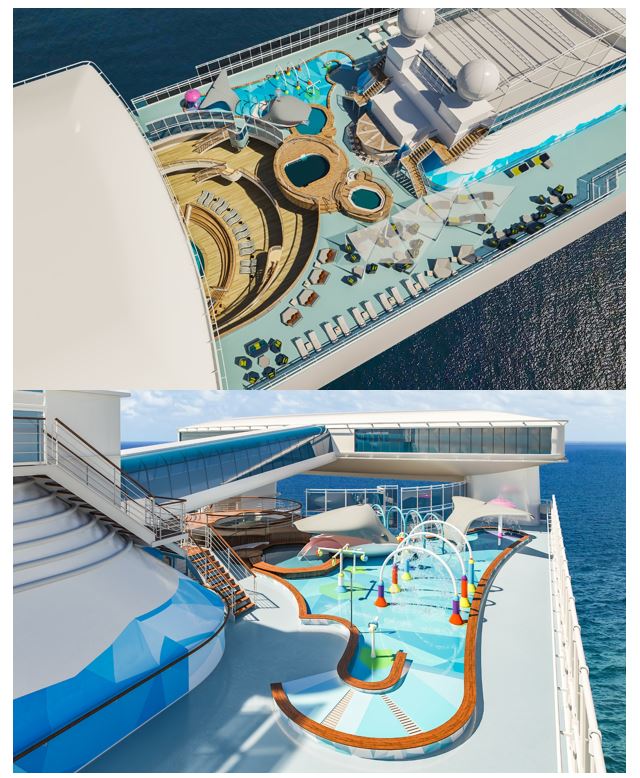 Cruise holidays are family friendly and Princess Cruises has gone one step further to ensure that. It has launched a new family-friendly, interactive top-deck area, The Reef Family Splash Zone, that will open on its 3,140-guest Caribbean Princess ship.
The Reef will comprise:
A water playground with a splash pool, sprays and showers, and an interactive whale feature with water running from its tail
A multi-generational game zone including giant Connect Four and Jenga, with a family-friendly bar serving mocktails and cocktails
An updated pool and Jacuzzi
A variety of new, upgraded seating and furnishings ranging from single sun loungers to outdoor sofas and tables
Improved audio systems and lighting
"Offering fun, engaging and relaxing family holidays"
Tony Roberts, Princess Cruises' vice president UK and Europe, said: "At Princess Cruises we pride ourselves on offering fun, engaging and relaxing family holidays. The Reef will complement the existing line up of family-friendly venues and entertainment available on Caribbean Princess, bringing people of all ages together in one enjoyable top-deck location."
Eco water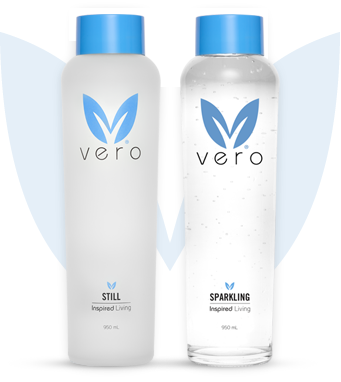 Regent Seven Seas Cruises now offers Vero Still and Sparkling water fleetwide and their reusable bottles reduce plastic waste on their cruises. Vero uses a proprietary five-stage nano-filtration process to reduce impurities, chemicals and imperfections.
The transition from traditional bottled water to Vero Still and Sparkling water will eliminate approximately two million plastic bottles annually across the cruise line's fleet.
"Regent is committed to providing an unrivalled experience that includes serving our guests the very best tasting water on their voyage," said Jason Montague, president and CEO of Regent Seven Seas Cruises. "In addition, the Vero water purification system helps reduce our carbon footprint and sustains our beautiful natural resources."
Active managers
Honouring all those 2019 fitness resolutions, Emerald Waterways has appointed activity managers across its fleet of European Star-Ships. Starting April, each of
these will be responsible for enhancing EmeraldACTIVE on-shore excursions – which include the likes of guided cycle tours, hiking and canoeing experiences – as well as daily on-board classes.
New activities like yoga and pilates sessions, aqua aerobics in the heated indoor pools, and "walk-a-mile" on the Sundeck too are added. But not without the entertainment, as they will liven up evenings with karaoke nights, card tournaments and gameshow-style quizzes.
"The age profile for river cruising continues to fall"
Emerald Waterways head of marketing UK and Global brand curator, David
Winterton, explained: "As well as organising the on-board fitness classes they will act as entertainment managers and coordinate EmeraldACTIVE hiking and cycling excursions.
"The growth in popularity of our EmeraldACTIVE programme is further evidence that the age profile for river cruising continues to fall and our guests are increasingly demanding a more active and adventurous choice of things to do on land and on water."