On our cruise radar this week, Brim Explorer dives deep into the pristine waters of Tromsø, CLIA announces 'new to cruise' guide, Cunard launches a craft beer trio and more. 
First ultra-modern clean tourist vessel
Brim Explorer, the world's first ultra-modern clean tourist vessel has begun taking visitors out into the pristine waters of Tromsø, Norway following an official launch and baptism ceremony.
Hundreds of people gathered to witness the event, taking the opportunity to appreciate the unique hybrid electric vessel, designed specifically to meet growing environmental requirements now and in the future, while allowing tourists to witness the peaceful beauty of the North Norwegian Fjords.
The silent beauty of the region can truly be appreciated when the vessel is propelled by batteries alone, eliminating the noise and vibration of a normal ship engine running on diesel.
"It has been hard work"
"This has been super rewarding even though it has been hard work," said Brim chief executive and co-founder Agnes Arnadottir, explaining the process of being inspired to build a new generation of boats. "We now know every single part, every nut and bolt, on this ship."
Cunard's Dark Revolution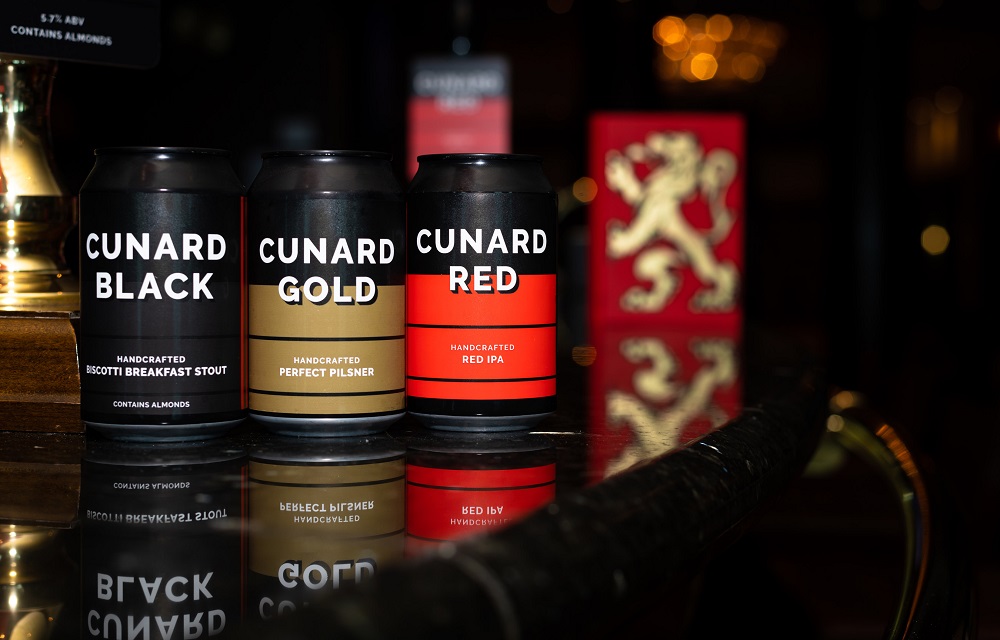 Luxury cruise line Cunard has partnered with microbrewery Dark Revolution to create a trio of craft beers now available exclusively on Cunard's Three Queens.
Cunard Black is a handcrafted Biscotti Breakfast Stout, inspired by Cunard's legacy of world navigation with flavours from around the globe. Cunard Red is a handcrafted IPA with a gentle nod to Cunard's transatlantic crossings, combining American hops and British malts for fruity and citrus flavours and aromas. Cunard Gold is a classic handcrafted Pilsner, with fragrant hops and British malts combining for a German-style Pilsner.
The new craft beers are available on tap, in 12-oz cans and as a Tasting Flight in the Golden Lion Pub on board, joining Cunard's collection of select beverages including the 3 Queens Gin, Cunard Private Label and Cunard Private Reserve wines.
CLIA to launch 'new to cruise' guide
CLIA UK & Ireland will launch its first-ever new to cruise guide for CLIA travel agent members, announced at CLIA Cruise360 Malta. Andy Harmer, CLIA UK & Ireland director, revealed the new to cruise guide will be available from today 30 October 2019 as part of a range of measures to support CLIA travel agents who may be selling cruise for the first time.
The online guide has been produced following research amongst some of CLIA's cruise line and travel agent working groups and will provide agents with key information and facts on the cruise industry, aiming to help those who are new-to-cruise or who want to increase the number of cruises that they sell.
Panama Canal cruises
Panama Canal cruises embark from ports in Florida and California, such as Fort Lauderdale and Los Angeles, as well as from other ports in the US, Canada and Europe, in fall, winter (including popular holiday sailings) and spring. Most itineraries are 10 days or more.
Six of Carnival Corporation's nine cruise line brands offer travellers plenty of options, with more ships sailing through the Panama Canal than any other cruise company. A total of 26 cruise ships from its Carnival Cruise Line, Cunard, Holland America Line, Princess Cruises, Seabourn and P&O Cruises brands are scheduled to do more than 70 partial or full transits in the 2019-2020 season.
Sky Princess begins season in Europe
Sky Princess, the first purpose-built Princess MedallionClass ship, has sailed on her inaugural season in Europe.
Introduced on Sky Princess are new luxury Sky Suites boasting expansive views from the largest balconies at sea. In addition, two new entertainment experiences are offered — Phantom Bridge, a world's first game combining digital and physical elements for the ultimate immersive escape room, and Take Five, the only jazz theatre at sea, celebrating the iconic sounds, culture and history of jazz.
Follow cruise news for the latest updates in the cruise industry.
You may also send press releases via cruise@traveldailymedia.com.