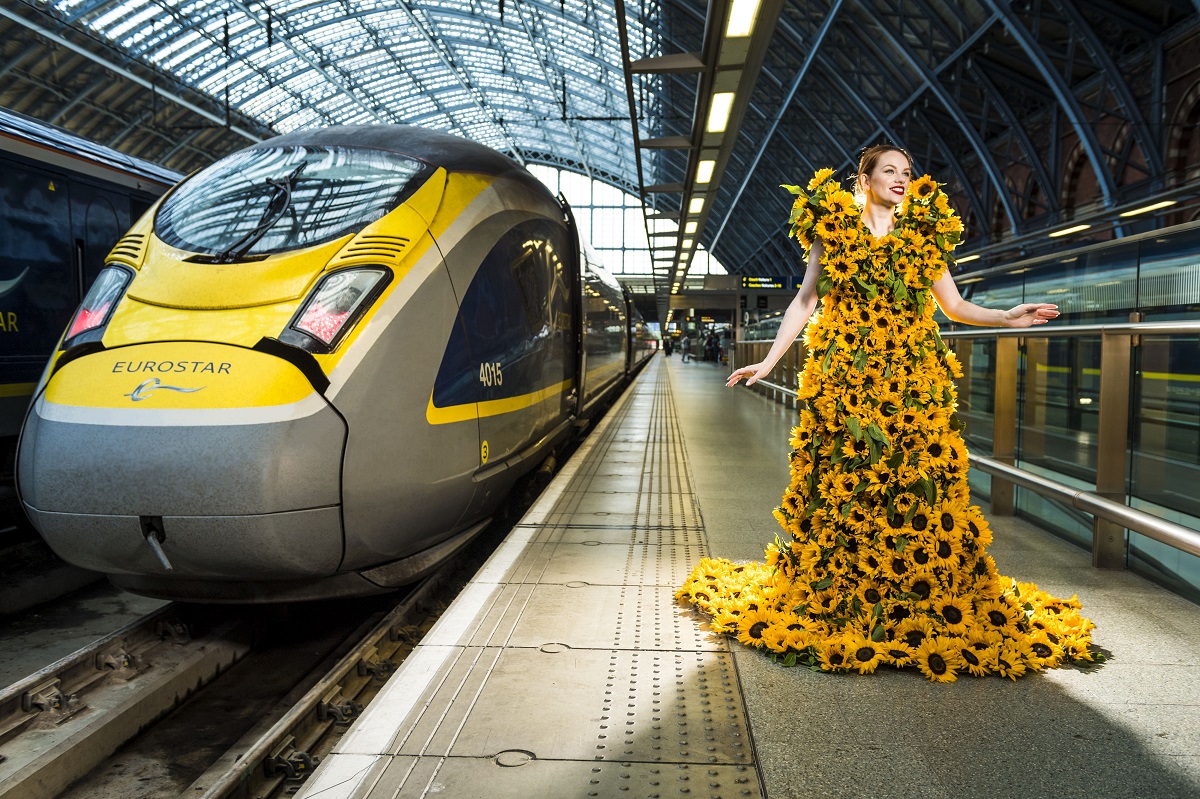 Eurostar has launched a third direct daily service from London to Amsterdam today, 11 June. To mark the introduction of the additional service and the opening of Van Gogh's sunflower exhibition in Amsterdam next week, Eurostar unveiled a specially commissioned gown made entirely of fresh sunflowers.
Inspired by the Dutch masterpiece, celebrity costume-designer Kate Tabor has created a dress to celebrate the "Van Gogh and the Sunflowers" exhibition, which runs from 21 June – 1 September at the Van Gogh Museum, Amsterdam.
Growing demand for Amsterdam service
Since launch in April 2018, over 300,000 passengers have travelled on Eurostar's new route from London to Rotterdam and Amsterdam, which is testament to the ease and comfort of the high-speed rail link between these cities.
Fares start at £35 one-way, with journey times from 3 hours 13 minutes to Rotterdam and 3 hours 52 minutes to Amsterdam.
"Environmentally responsible travel rising up the consumer agenda"
Mike Cooper, chief executive, Eurostar, said: "With environmentally responsible travel rising up the consumer agenda, we're boosting capacity and offering more flexibility with a third daily service."
Environmental benefits
A high-speed rail journey from London to Amsterdam emits 80% less carbon per passenger than the equivalent flight, reinforcing high-speed rail as the most environmentally friendly choice for European short haul travel.
Since the service began, over 16,000 tonnes of carbon dioxide emissions have been saved by passengers choosing high-speed rail over plane, as calculated by Paul Watkiss Associates in 2017, based on DEFRA methodology. This is the equivalent to the amount of CO2 that would be emitted from 1,231 average houses in a year, or running 3,137 cars for a year.
The third daily service will increase capacity on the route to the equivalent of 12 flights per day, further boosting carbon savings (based on Eurostar e320 carrying 450 passengers per train to and from Amsterdam across three services a day, compared to an A320 aeroplane carrying 220 passengers).
Timetable from 11 June 2019
London to Amsterdam
9112
9126
9150
9150
London
depart
07:16
11:04
17:16
17:19
Brussels
arrive
10:12
14:05
20:12
20:12
depart
10:22
14:22
20:22
20:22
Rotterdam
arrive
11:32
15:32
21:32
21:32
Amsterdam
arrive
12:11
16:11
22:11
22:11
Mon to Fri
✓
✓
✓
 
Saturday
✓
✓
 
 
Sunday
 
✓
✓
Amsterdam to Brussels
9119
9145
9145
9161
Amsterdam
depart
07:48
13:46
13:48
17:48
Rotterdam
arrive
08:25
14:25
14:25
18:25
depart
08:28
14:28
14:28
18:28
Brussels
arrive
09:35
15:35
15:35
19:35
Mon to Fri
✓
✓
 
✓
Saturday
✓
 
✓
 
Sunday
 
 
✓
✓