"You don't always have the answers; you sometimes need help" – Jen Atkinson, chairman, ITC Travel Group
What makes a great leader? The ability to conquer daunting challenges, straight-talking, the right mentors to learn from, and humility, according to Jen Atkinson, chairman of ITC Travel Group.We spoke to her to learn more:
TD: What was your background before you came to ITC Travel Group?
JA: I was born and bred in Leeds, and will always be a Yorkshire lass at heart. I dreamed of running my own business; I always wanted to be in the thick of things, taking a leading role and and making it happen.
I began my career after university at a marketing agency and then moved on to work in the property sector, but it wasn't until I joined ITC Travel Group in 2004 as head of marketing that I found somewhere where my entrepreneurial spirit was really satisfied. In 2009, with the UK recession hitting hard, and ITC making a loss, I was appointed to COO.
In the same year, my mentor and ITC's founder, Drew, was diagnosed with cancer and sadly died in the same year. It was a shock to the whole company, which had been under Drew's leadership since 1974, and for myself of course.
"Taking over from Drew was daunting to say the least"
In this context, I had to truly step up to the plate as ITC Travel Group's new CEO. Taking over from Drew was daunting to say the least. As a woman in her thirties it's a big task to take reins of a long-established business from a man in his sixties, let alone a leading character in the northwest travel industry.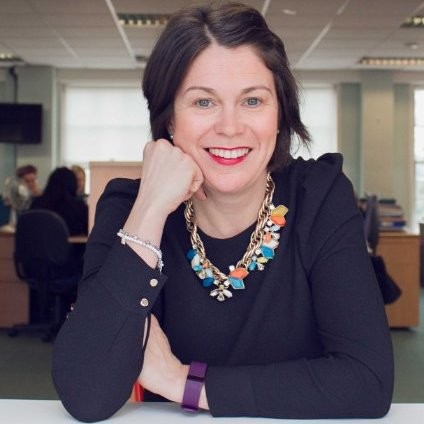 In 2010, I took the company from loss making to a small profit and in August 2014, in partnership with Paul Pindar, I undertook a successful management buyouts of the ITC Travel Group and the Western and Oriental group.
This year I handed the CEO reins over to Mal Barritt, and I have become ITC's Chairman.
How does your background that help you in your role?
Having moved up the company across multiple departments, I have a full understanding of all aspects of the business and what matters to clients. Drew's role as mentor has inspired and pushed me to get where I am today.
My Yorkshire traits of straight-talk, grit and a constant eye on the pennies are a big part of who I am and play a huge role in my success in business. It's given me courage to make those brave decisions.
"Vulnerable leadership"
What challenges have you overcome in your career and how?
I took over ITC at a young age when the UK recession hit hard and made ITC a loss. I had to balance leadership and motherhood to overcome this, which I did through a strategy called 'vulnerable leadership'.
This involves not being afraid to admit that you can get it wrong, that you don't always have the answers, and that you sometimes need help. By recognising the strengths of my staff, and asking for help, this helps build a more confident, empowered staff and a more successful business.
For anyone looking to follow a similar career path to yours, what advice would
you give them?
Be bold, courageous, do not be afraid to ask for help, look for mentors who can teach you things you want to learn more about, invest in people as they're the heart of a business. Women tend to analyse everything, and to them I would say, do not sit on the sidelines, and just get on with it and get stuck in.
What should hopeful candidates include in any job application?
Demonstrate passion, knowledge and personalise applications to the company you're
approaching.