Saga announces Himalayas tour, 65 years on from Sir Edmund Hillary's ascent of Everest
22 May 2018, 06:45 Trek in the foothills of the Himalayas, 65 years on from Sir Edmund Hillary and Sherpa Tenzing Norgay's ascent of Everest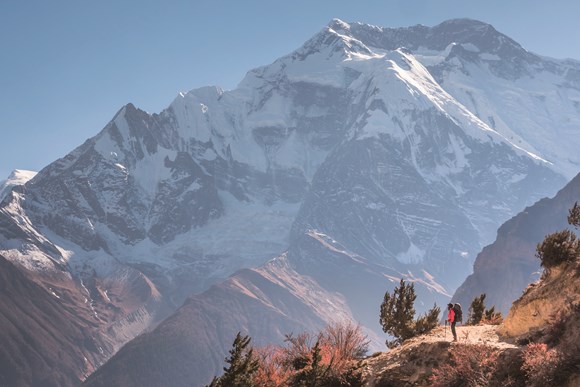 Saga guests won't be the first to tackle the Himalayas, but an exploration of the magical mountain kingdom salutes the conquest of the world's highest peak, 65 years ago this month.
A blessing from a Buddhist lama is one of the highlights during Saga's Trekking in the Himalayas adventure, celebrating the anniversary of the ascent of Everest by Sir Edmund Hillary and Sherpa Tenzing Norgay on May 29, 1953.
While there's no requirement to tackle anything resembling a climb of 29,000 feet, experienced guides are on hand to lead guests in the valleys of the Annapurnas, while the journey also takes in the ancient city of Kathmandu, the town of Pokhara and tiny lowland villages, with overnight stays at lodges.
Itinerary
The tour of Kathmandu, the 'City of Glory', takes in the valley's most sacred shrine, the Buddhist stupa of Swayambhunath, and the lama's blessing takes place in the domed Bouddhanath stupa, followed by a ceremony of music at the Pashupatinath Hindu shrine.
There are opportunities to join a walk through the ancient city of Patan, visiting Patan Durbar Square, temples and the courtyards of the Royal Palace, and Bhaktapur Durbar Square, the best preserved of its kind in the valley.
A road trip to the lakeside city of Pokhara is combined with a stay at the Atithi Resort, where a swimming pool, spa and saunas provide some R&R in preparation for a trek through the foothills of the Annapurna range.
The next day brings a more challenging, uphill hike from the Modi River Valley, with more than 1,000 terraced steps leading to hamlets, paddy fields and forests.
The river continues past cliffs where honey-hunters may be seen scaling the rock face, and the tour then turns to forests filled with rhododendron and orchids, visiting villages along the way, including Pothana – home to many Tibetan traders. A hike along a mountain ridge, a visit to the Gurkha Museum, a boat trip on Fewa Lake and an opportunity for mountain biking conclude the holiday.