Book, bid and win: UpsellGuru enhances up-selling strategy for hoteliers
Contributors are not employed, compensated or governed by TD, opinions and statements are from the contributor directly
A reliable yet underestimated revenue stream for hotels nowadays features ancillary products and services.
Breakfast, airport transfers, room amenities, total room upgrades, lounge access, and even late check-in/early check-out are now part of the game, with once complimentary packages now being turned into choices that guests can avail of at a discount.
UpsellGuru, based in Germany with a satellite office in Malaysia, has become a favourite of boutique chains and independent brands in the luxury hospitality sector for taking advantage of this. Launched in May 2016, it is currently the only pre-arrival upselling management system on the market that allows guests to bid on – as opposed to simply avail – room upgrades and add-on services.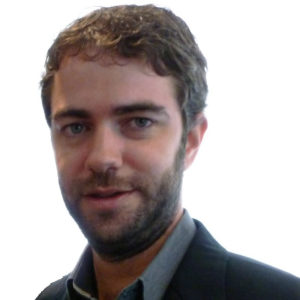 Currently found in more than 100 hotels across Europe and Asia, it runs on an idea already realised in the airline industry.
As co-founder and managing partner Hans Schmidtner explained through a call, "It has become common practice to offer passengers the chance to bid on upgrades to business class or first class based on availability and offer strength.
"We knew that the amount of free upgrades offered by hotels on a daily basis has become a serious issue. But we also understand that guests want to be in full control of their entire journey, making them more price-sensitive than ever. So we thought, why not use the same approach and let guests take the driver's seat in the upgrade process?" he added.
It basically works this way: A traveller books a standard room directly or via an OTA. Days before the traveller arrives at the hotel, UpsellGuru sends an email with the hotel's branding inviting them to trade up for a deluxe room, which usually costs an additional US$60 on top of the price already booked.
The hotel accepts bids between US$25 and US$60 through the system. The traveller then offers their own upgrade price; let's say it's US$45. If the price is right, the traveller pays the US$45 on top of whatever was previously paid for the standard room.
If the hotel denies the offer, the reservation stays unchanged. Pre-booking ancillaries, which cost lower at this stage than if they were bought on-site, is done the same way. The demo video below explains this visually.
Booking upgrades turn into win-win deals
There are advantages to this system besides keeping free upgrades to a manageable level. It helps free up lower room categories to increase occupancy. It also allows hotels to take additional requests like concierge or pre-arrival services, and showcase the ancillaries they deliver well to captured audiences.
All these help boost guest satisfaction along with hotel revenue, which can reach up to US$18,000 a month. This data can be used to predict traveller behaviour and create special packages with dynamic pricing based on guest preferences.
As shown by its website and demo video, UpsellGuru uses straightforward installation, customisation and usage instructions.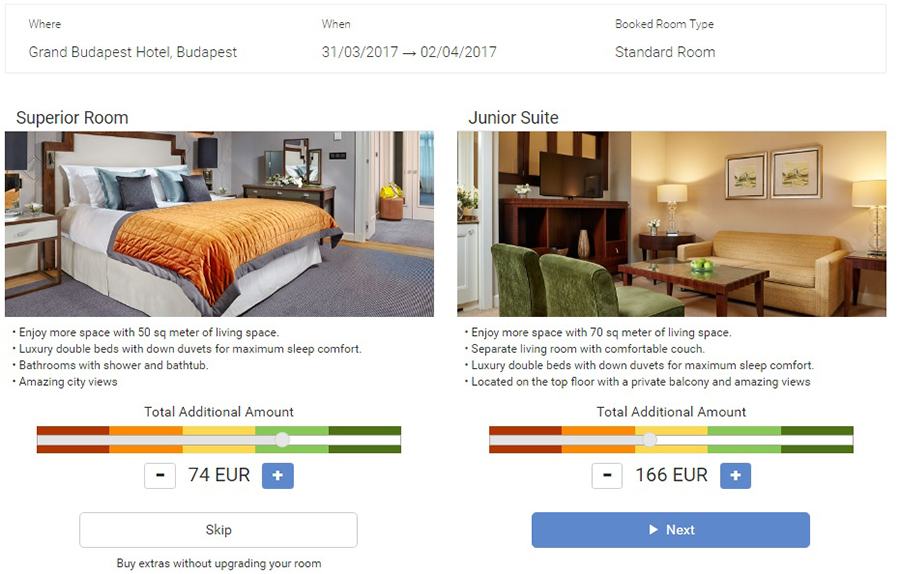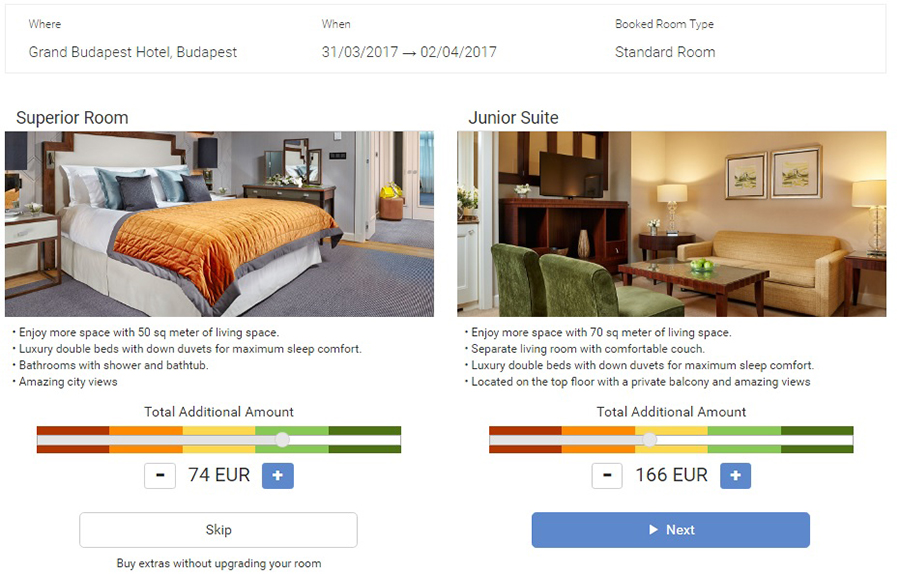 Schmidtner says that its guides are deliberately easy for both hoteliers and guests to follow: "Our product can be quickly set-up to interface with several PMS systems, such as Guestline, Protel, Hetras, and many others. Hoteliers can now automate the up-selling process and focus on providing great service."
What's more, its site has flexible pricing, no set-up fees and no lock-in contracts. "In case our product does not satisfy your needs, you can cancel the agreement with no hard feelings on both our ends," Schmidtner said, before adding, "But you know what, we haven't had that problem with any of our partners yet!"
So what do travellers get out of bidding for upgrades? They now enjoy greater control of their entire stay with the perception that they're getting special treatment. Discounted ancillaries allow them to avail of services or products they never once considered to ask from their hotels.
Just for the fact alone that UpsellGuru places a higher-level room within their reach, guests end up becoming "repeat customers" directly booking with hotels.
UpsellGuru's bid process appeals to price-sensitive millennials, who Schmidtner calls the 'Bid Generation.' "The time was right for us to come up with our software, because a whole group of travellers find excitement in winning bids and add value to their stays on their own terms," he said.
On the industry side, he added, "Our idea came at a time when there were very little hospitality tech players focused on ancillary sales. We've seen many hotels continue to buy into our system because we are still the only ones doing up-selling of upgrades through a bidding process."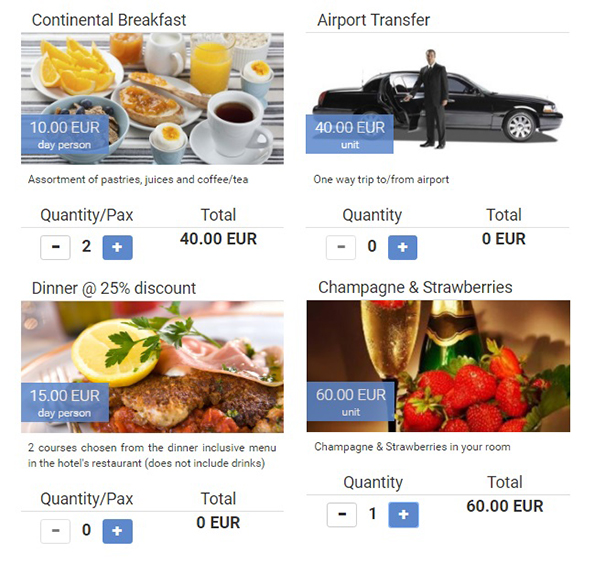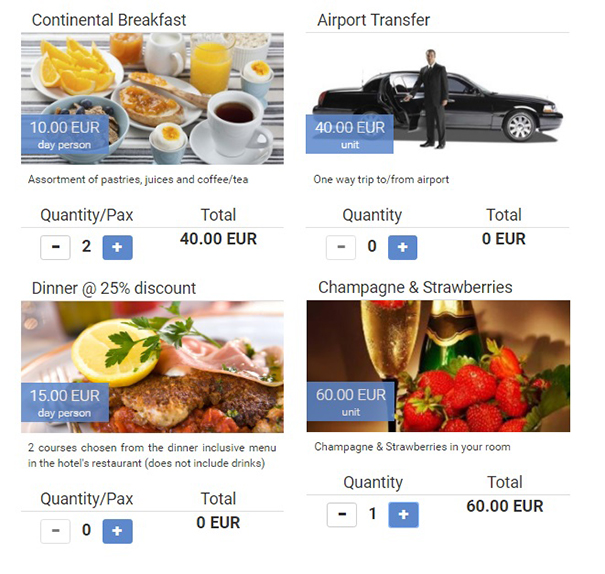 This translates into profitability for the travel tech start-up, although it's hedging its bets on growing faster through venture capital.
"We have been completely self-funded since Day 1, since our first clients signed on," Schmidtner shared. "Now, our drive is to grow organically, which we hope to do by venturing into Australia and the United States while expanding in Europe and Asia."
While the UK is its biggest market – its first client was the Village Hotels chain, with the bespoke ICMI Collection as well as the five-star Cameron House and Belfry Resorts following suit – UpsellGuru is keen to explore setting up more bidding spaces further east and south. Its latest partners include Hotel ICON in Hong Kong and Brady Hotels Central in Melbourne, Australia.