US to lose USD 0.5 billion in Chinese tourism following Trump's trade war
We talk to China travel consultant Michaela Mentasti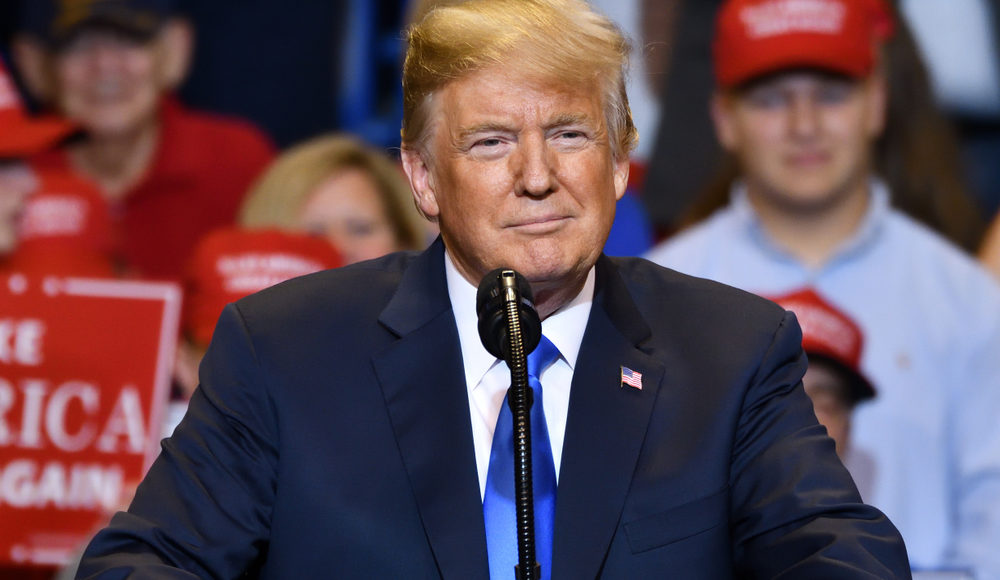 President Trump and his trade war with China have caused a significant slump in Chinese visitors that could cost the American tourism sector dearly this year, according to the latest findings from ForwardKeys.
ForwardKeys CEO and cofounder, Olivier Jager, said: "Our findings strongly suggest that President Trump's trade war has had a significant impact on Chinese tourism to the US. Looking at the year to date, we see a setback in Chinese tourism arrivals of just under 5%."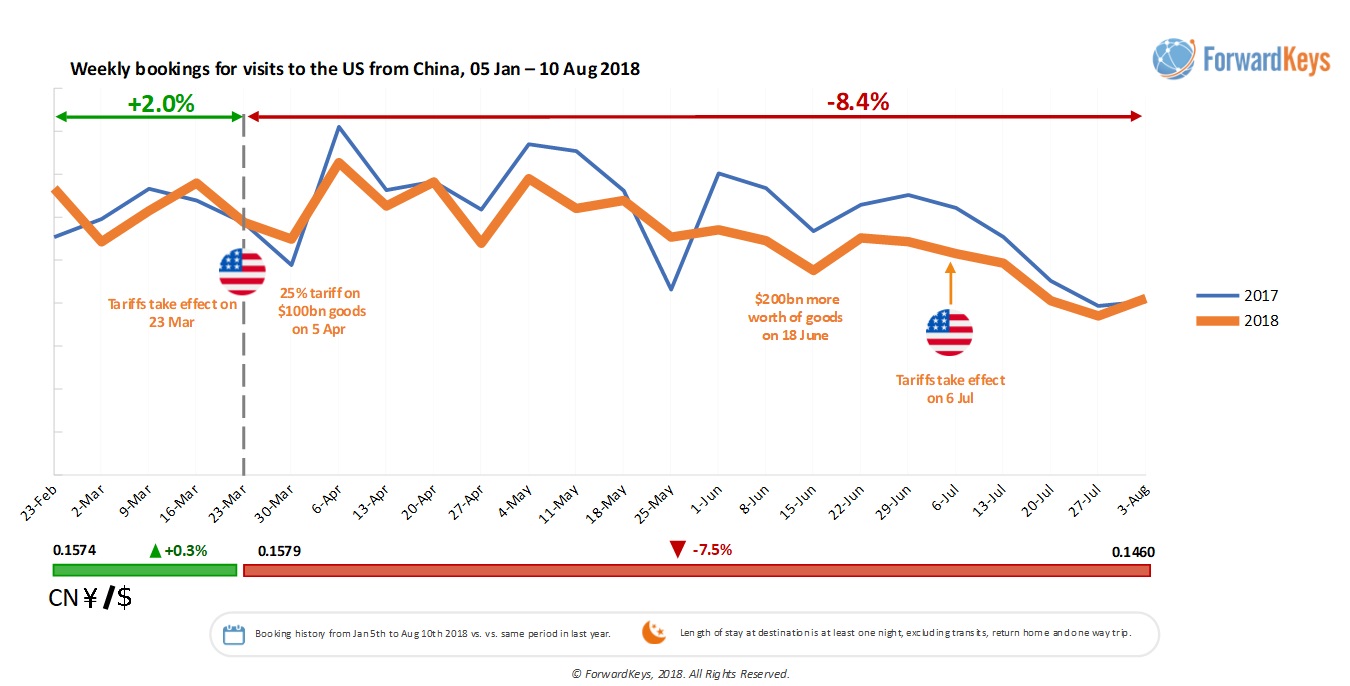 ForwardKeys found that weekly bookings from China to the US are down 8.4% year-on-year for the period from 23 March – when the first tariffs took effect – until August. For context, this figure was up 2% from the last week of February (after the Chinese New Year holiday) until the tariffs were imposed.
---
Chinese outbound bookings to the US are 9.6% behind where they were at the same time last year, whereas Chinese outbound bookings worldwide are ahead by 5.5%.
---
The negative impact on the Chinese currency – which has fallen 7.5% against the US dollar since tariffs were introduced – and warnings from Beijing about US travel security risks, have likely further influenced the trend.
I called Michaela Mentasti, China travel consultant with seven years of experience in Chinese outbound travel, to learn more. She began by highlighting that Chinese travel to the US had already started to diminish last year, before the trade war: "US immigration authorities were forecasting 2% growth for 2017 – which was well below the global average. For example, that figure was 21% for Canada," opens Mentasti.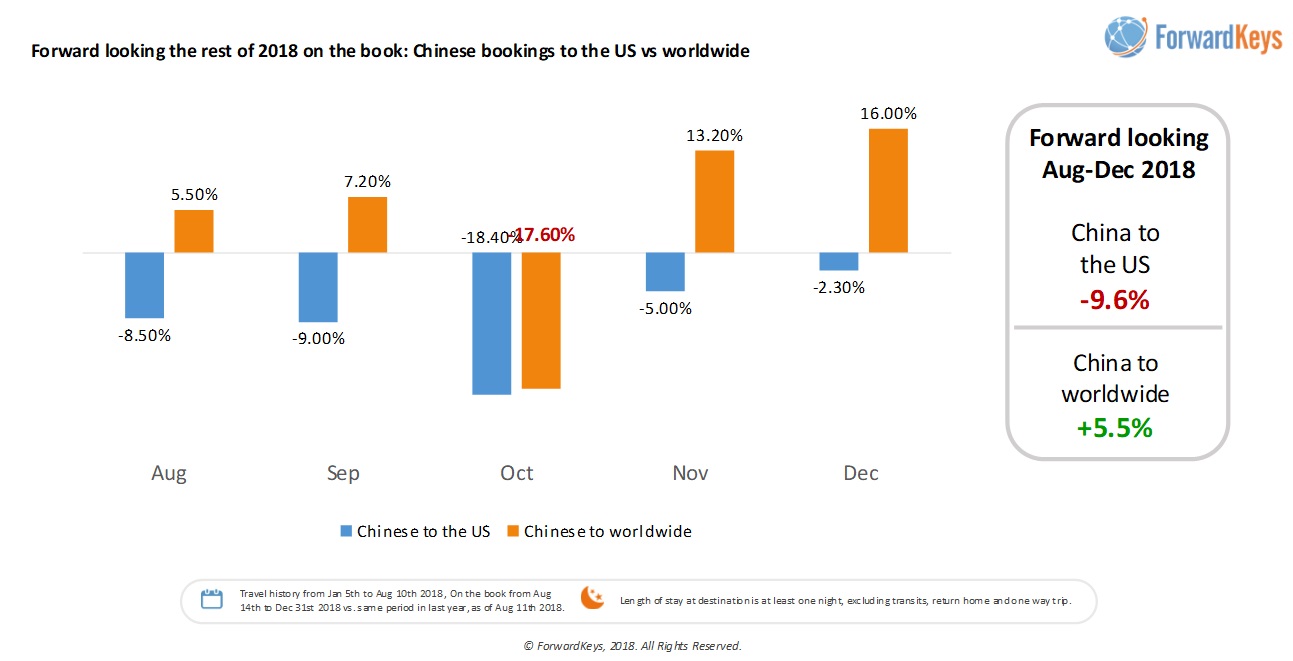 Things could be worse – individuals not nations
Fortunately, this slump appears to be affecting mostly individuals rather than the institutional-level embargo South Korea saw. "I do not think it is just the trade war – I think it is Trump and his rhetoric," adds Mentasti. It could be a lot worse: the reduction was 5% in the US, not 60% like we saw in South Korea and that's because Trump's rhetoric that is resonating with individuals but it's not a governmental move.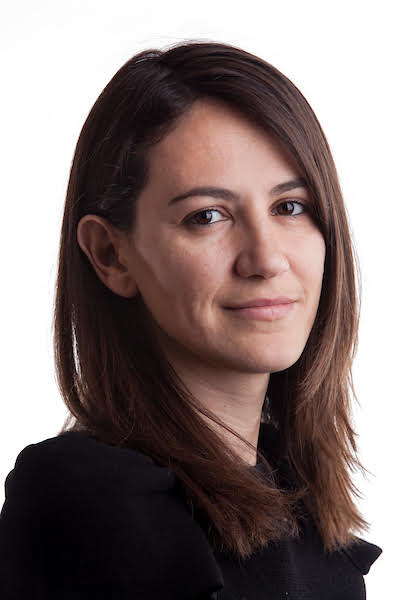 "I don't think the Chinese government wants to kill tourism in America – but this could become a useful bargaining chip in the future."
This thinking is reflected in the opinions of Chinese people already in America. Mentasti continues: "Many of the people I have spoken to in North America do not seem to care about the politics. Chinese people are pragmatic and will move on problems quickly.
"For example in 2016, Chinese tourism to France and Belgium dropped because of fears of terrorism, but bounced back again in 2017."
The hardest hit: group travel
The biggest impact on bookings from China to the US has been in group travel (six or more passengers), currently behind for the rest of 2018 by 34.4% compared to last year. Bookings by free independent travellers (FIT) are behind 3.9%, with leisure travel being worse affected than travel for business or travel to visit friends and relatives.
By way of a benchmark, Chinese bookings for travel to Canada were up 4.8% to the end of July and are currently ahead 8.0% for August to December.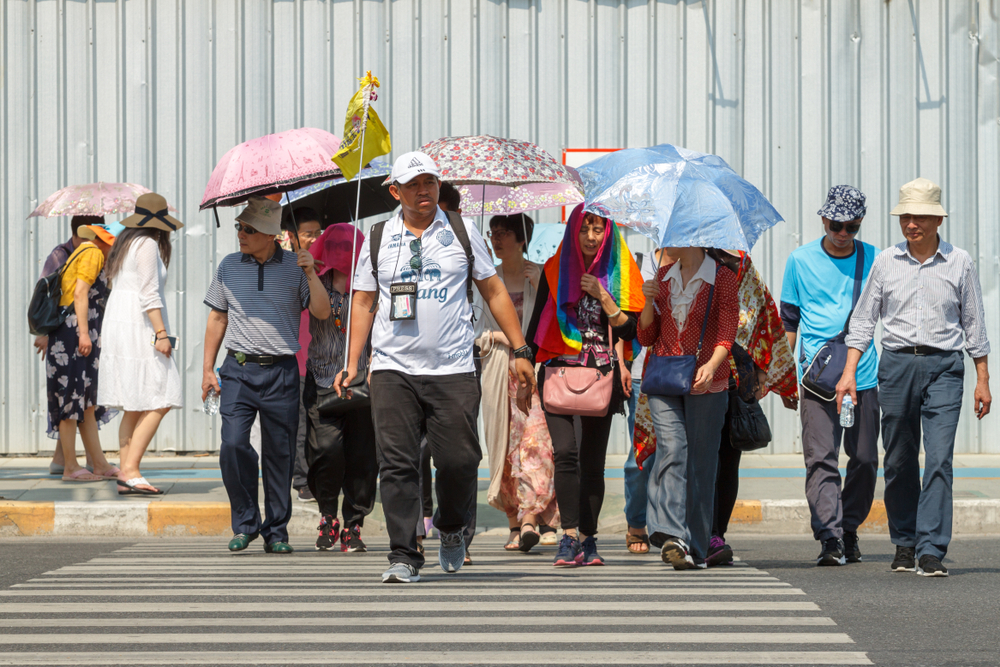 "The biggest drop was group tourism; this does not surprise me as many of the people who partake in group tourism have never been to America so they are more susceptible to rumours," continued Mentasti.
"An important factor here is wealth. Richer families are more likely to have already visited America and so are more comfortable returning. A poll by the Financial Times asked Chinese people if they would be likely to boycott the USA if the trade war worsened and 54% said yes – but the majority were from lower tier cities."
---
United Nations World Tourism Organisation (UNWTO) puts total spending by Chinese tourists abroad at USD 258 bn in 2017; the World Travel & Tourism Council (WTTC) reports that the value of tourism to the US from international visitors in 2017 amounted to USD 200.7 bn, 8.6% of total exports.
---
Consequences and recommendations
Jager added that, if the current trend continues to the end of the year, ForwardKeys estimates that the cost to the US economy "will be north of US$ ½ billion in 2018".
He concluded: "Chinese spending in this sector is significant – it amounts to the largest category of US services exports to China. It is unquestionable that the Chinese appetite for visiting the USA is diminishing, and that is bound to worry the US travel industry."
"Chinese tourism is resilient"
So what can travel companies do to counteract this? "Trumps nationalistic anti-immigration rhetoric is off-putting to visitors but it's important for travel agents and travel companies to distance himself from this," added Mentasti, "Chinese tourism is resilient and in the long term, it will pay off for companies to continue to reach out to potential customers from China."
Travel companies who are worried about the political situation can work to counteract the issues, however. Mentasti concluded: "Focus on the people that they are most likely to still come to America, particularly people who have already strong connections to the country or its residents.
"This includes families with children studying in America, international investors and people who do business in the country. America has the fortune of a large Chinese population here: there are 350,000 Chinese students in the USA."