Under the banner 'Leave Only Footprints', beach-goers are invited to enjoy one of UK's best beaches and to help keep them fabulous by clearing up at the end of the day.
As Bournemouth and Poole continue to welcome hundreds of thousands of people to their beaches in the current heatwave, the two resorts have launched a campaign that aims to encourage residents, visitors and workers to be more environmentally aware, particularly in relation to waste disposal on the seafront.
Among a host of other improvements, over 200 new bins have been added along the ten miles of seafront, increasing capacity by 70% and offering a recycling option at every location. The new bins are colour coded with clear messaging to help people identify the correct place to dispose of their waste – blue for recycling and black for general waste.
As a part of the campaign, discounts are also available on reusable cups in prom-side cafés and kiosks and the Refill Dorset scheme is in operation along the seafront.
"High standards of cleanliness set us apart as a world-class destination"
Councillor Pat Oakley, portfolio holder responsible for tourism in Bournemouth, said: "We're thrilled that so many people are choosing to enjoy the hot weather here in Bournemouth and Poole. Our beaches are second to none and there's never been a better case for British staycations along the South Coast.
"Our high standards of cleanliness set us apart as a world-class destination and cooperation from the public in leaving only footprints on our beaches helps us to remain the UK's best seaside resort."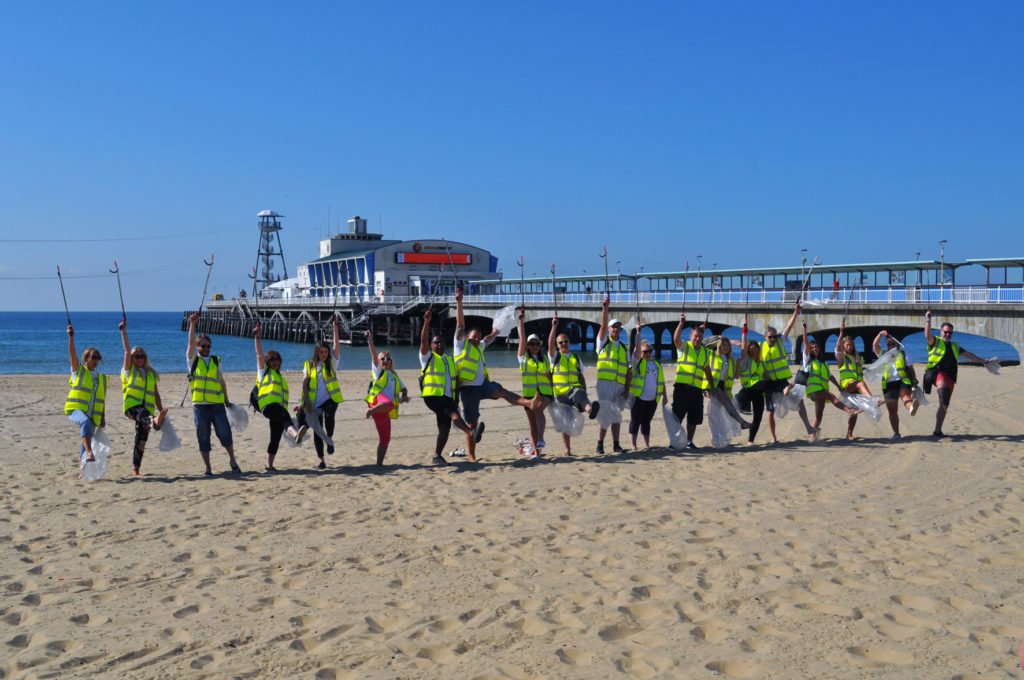 Bournemouth and Poole spends half a million pounds every year to keep their beaches clean. They employ six full-time and 15 seasonal staff members to pick litter, as well as three beach tractors, surf rakes and other tractor-mounted kit.
Around 2000 tons of waste is collected from the seafront each year – 45% of which is recyclable or organic material. The rest is processed for energy with a small percentage sent to landfill. With this simple, local campaign Bournemouth and Poole aim to become greener resorts and be at the forefront of sustainable and eco-friendly tourism.
Andrew Brown, seafront operations manager for Bournemouth and Poole, said: "There's still a lot of work to do but Leave Only Footprints is a kind of consistent, golden thread that runs through all of our endeavours. It's testament to the sense of local pride that other local businesses and organisations are on board with the campaign."