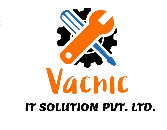 Vacnic IT Solution Pvt. Ltd.
Uttar Pradesh, India
Online Media,
Travel Media
Overview
We Vacnic IT Solution Pvt. Ltd. is the leading Digital Marketing, App Development, and Website Design & Development Company in Delhi NCR/ Noida. We are working in this industry for the last 3 years and are engaged in delivering the best class services to our clients. Our Company has already provided services to 1000+ small, medium and large size businesses. We are a team of Professional & Expert Developers & Marketers who are dedicated towards work and fulfill all your business needs & requirements.
Our Valuable Services Are:-
* Mobile App Development
* Website Development
* Website Designing
* Digital Marketing
* SEO Services
* SMO Services
* Social Media Marketing
* Paid Advertising(PPC)
* eCommerce Marketing
* Game Development
* Domain & Hosting
* Cloud Services
* Logo Designing
Contact Us For More Details.
Company Size:
10 to 50 employees
Head Office:
L2L International, B8 Basement, Sector 2 Noida, Uttar Pradesh, India
Perks & Benefits:

Bonus

Competitive salaries

Flexible hours

Health insurance

Paid sick days

Professional development

Work-from-home
Are you also a team member of Vacnic IT Solution Pvt. Ltd., if so, click HERE to add your profile
STAY UPDATED WITH THE LATEST TRAVEL NEWS, JOBS & EVENTS!
Join over 180,000 travel agents, professionals and executives subscribed to our daily newsletter.
You can unsubscribe at any time