Digital Travel APAC Virtual Summit – 1st June 2021

Every year, travel trends change, but 2021 is shaping up to be one of the most significant years in tourism history. We expect travel to change drastically yet again as the world slowly recovers from COVID-19 with travel bubbles, and perhaps borders, gradually begin to open.
Digital Travel is returning for 2021 on 1st June, online. Packed with the latest developments in all things travel, with the best speaker faculty from the biggest travel brands in Asia as they share what they are doing differently to reposition themselves this travel season.
Sign up for free for this exclusive one-day event with 20+ leading expert speakers delivering case-studies, hosting think-tanks, workshops, roundtables and discussions to help you get an unbiased view of where the future of travel is headed.

Our Expert Speakers Include: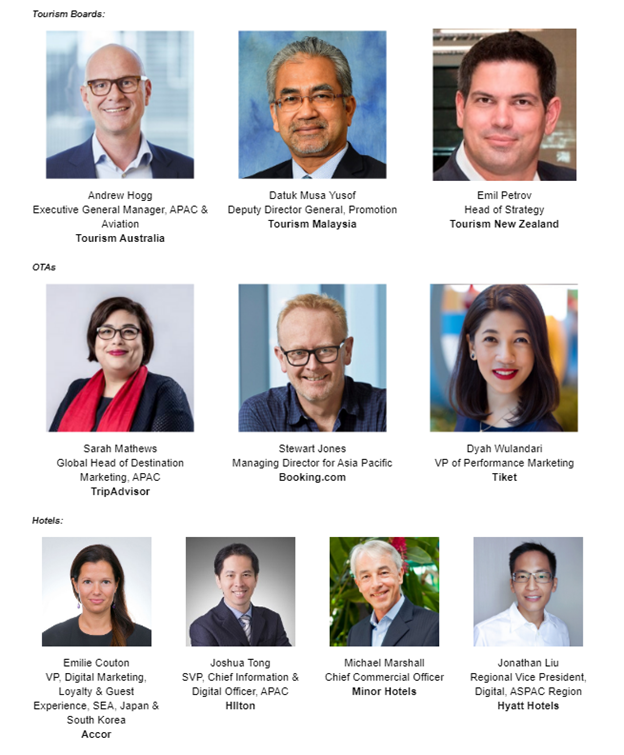 Key Discussion Topics Include:
Latest APAC Travel Insights – "How" and "Why" we travel
What Recovery and Revenge Travel will look like?
Boost economic recovery with Domestic Tourism
Data-led Creative Storytelling to building meaningful Campaigns
Driving Revenue through Social Media
Join us for this once a year opportunity to be a part of the biggest travel community in Asia

*extended only to practicing travel executives.
Sponsoring & Partnership:
There are a limited number of opportunities left to exhibit at Digital Travel Asia Virtual Summit and Expo 2021, for more information on sponsorship and partnering options, please contact sgwbrinfo@wbresearch.com