Did you win two nights of luxury at Wanda Reign Wuhan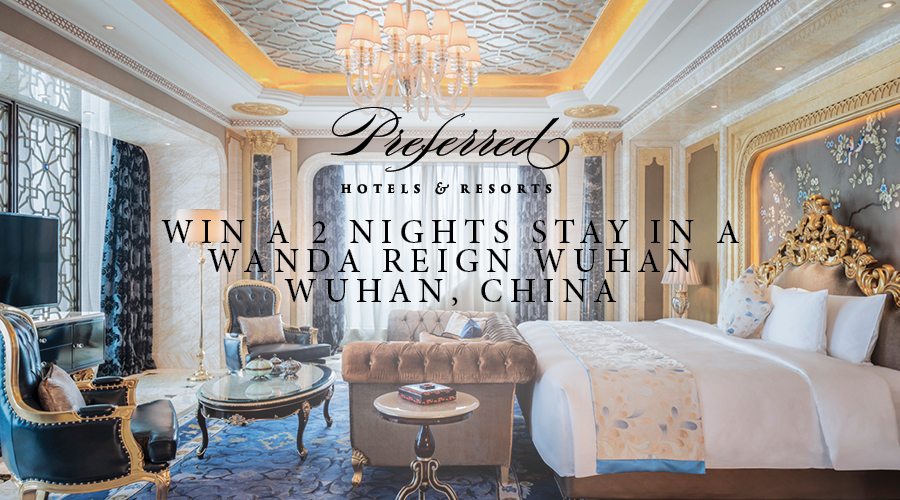 In partnership with TD, Preferred Hotels was giving you the opportunity to enjoy two complimentary nights at the Wanda Reign Wuhan Hotel

Situated in the East Lake Scenic Area of Wuhan, Wanda Reign Wuhan offers beautiful views and is conveniently located in the main shopping district, with Wanda Plaza, Han Show, Wanda Wuhan Movie Park Entertainment and other places of entertainment nearby. It is only 5 minutes' drive to the Hubei Provincial Party Committee offices, Hubei Provincial Government, Wuhan University and Hubei Museum, just 10-15 minutes to the Tower of Yellow Cranes, Hubu Street, Happy Valley and other famous places of interest. It is also not far from Wuhan Tianhe International Airport and the high-speed railway station, and it takes about 30 minutes and 15 minutes respectively to reach these two destinations.

Wanda Reign Wuhan has 413 luxurious rooms and suites and three restaurants with three different cuisines. An international buffet and a la carte are offered at Café Reign; the original flavours of Huaiyang cuisine combined with the essence of Cantonese and local dishes are served in the River Drunk Huaiyang Restaurant; and exquisite and contemporary cuisine incorporating both Japanese and French influences is provided in HE Japanese Restaurant. The work of art in the lobby is titled "Spectacular East Lake", and has a height of 10 metres and a width of 56 metres, and is recorded in the China Records as the largest jade embossment in the world.


To win, all you need to do is answer this question:
Which hotel collection does Wanda Reign Wuhan fall under?
And the winner is –
TangGuan Chua from Headline Marketing Singapore!
A very big congratulations from all of TD!
Terms and conditions
All details must be completed; missing details voids the entry
Entering competition includes a subscription to TD news and promotions
Prize to be won: Certificate for a two-night stay
Competition open from 8 April 2019 until 21 April 2019
Eligible winners will be randomly selected from entries on week of 28th April 2019
Incidentals such as resorts fees, phone, laundry, food & beverage,
fitness center, etc. are not included.
This certificate is subject to room availability.
Certificate cannot be used on separate occasions.
To redeem certificate, recipient must contact Preferred Hotels & Resorts directly in advance.
Hotel stay must be completed prior to December 30th, 2019.
Certificate is for single/double occupancy.
All redemptions are final.
Certificate is non-refundable, non-transferable, and not eligible for resale and has no cash value.