Perfectly placed along a particularly picturesque stretch of coastline on the Thai island of Koh Lanta, famous for its coral-lined, soft sand beaches, lush mangroves and dramatic rainforests is the Pimalai Resort and Spa.
Often overlooked as one of the country's preeminent properties, the Pimalai Resort and Spa has been quietly going about its business — bringing exemplary levels of service and sophisticated luxury to guests who expect the very best — for the last 20 years, developing a reputation for excellence and discretion that is second to none. It's no surprise that is a regular haunt for Royalty, A-list celebs and billionaire businesspeople.
So, when I got the opportunity to spend a weekend there, I, naturally, jumped at the chance.
Stay
Getting to Koh Lanta, though a three-step process, couldn't be easier; simply hop on a plane to Krabi International Airport, followed by swift transfer to a private speed boat, and a 5-minute skip across the water,  before jumping into your final transfer to the hillside paradise that is the Pimalai Resort and Spa!
On arrival you will find that the large resort is spread over two sides of the main road, separated into the Beachside Estate side, with its own pool and beachfront Rak Talay restaurant, and the Hillside Estate, featuring another infinity pool and the Seven Seas restaurant, where breakfast is served with a stunning view.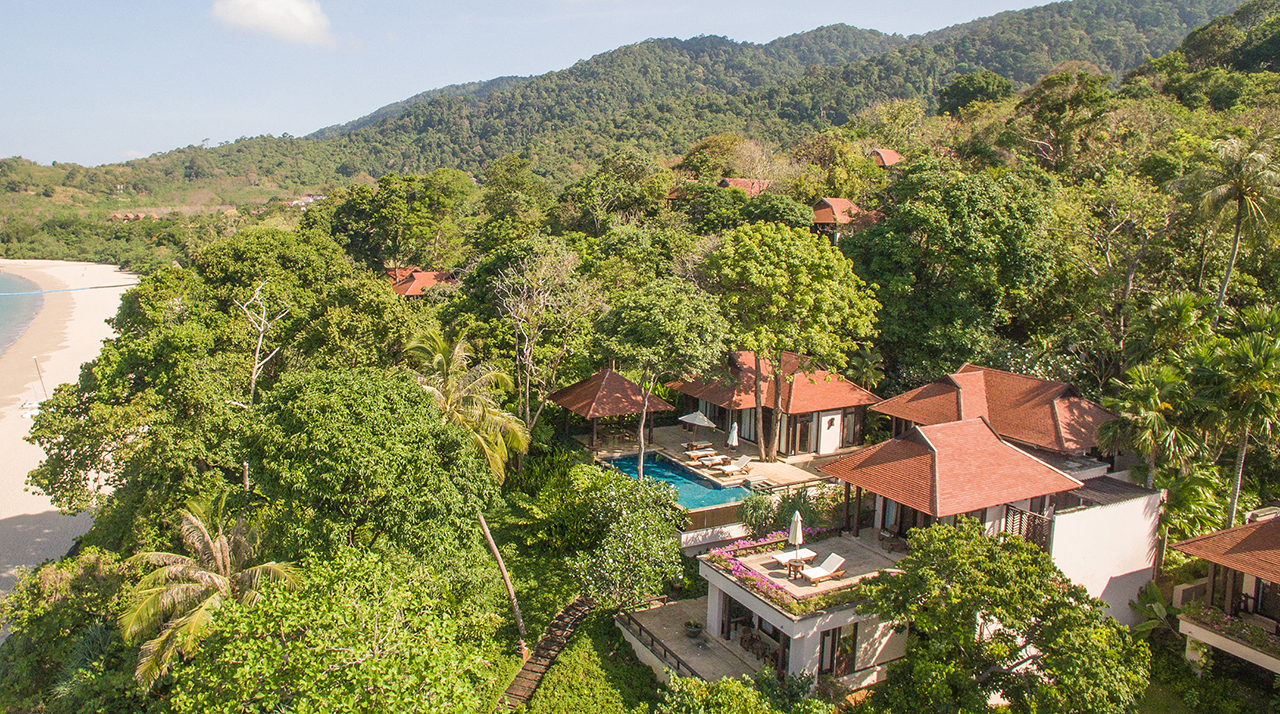 For our trip, my guest and I had the pleasure of three nights in one of the resort's Beach Villas. These congenial and spacious quarters (150sqm), are literally moments from the ocean; and it takes less than 30 seconds to get from the cosiness of your Queen Sized bed to having the sand squelch between your toes in the warm waters of the Andaman Sea.
The design of the room, to my mind, is exactly what I want from a hotel. Featuring design elements, that reflects traditional Thai aesthetics, alongside modern fixtures, fittings and furniture, which creates a stylish, super comfortable and unfussy vibe that gently woos you into submission, as you let go of all your stress and chill out, as you deserve.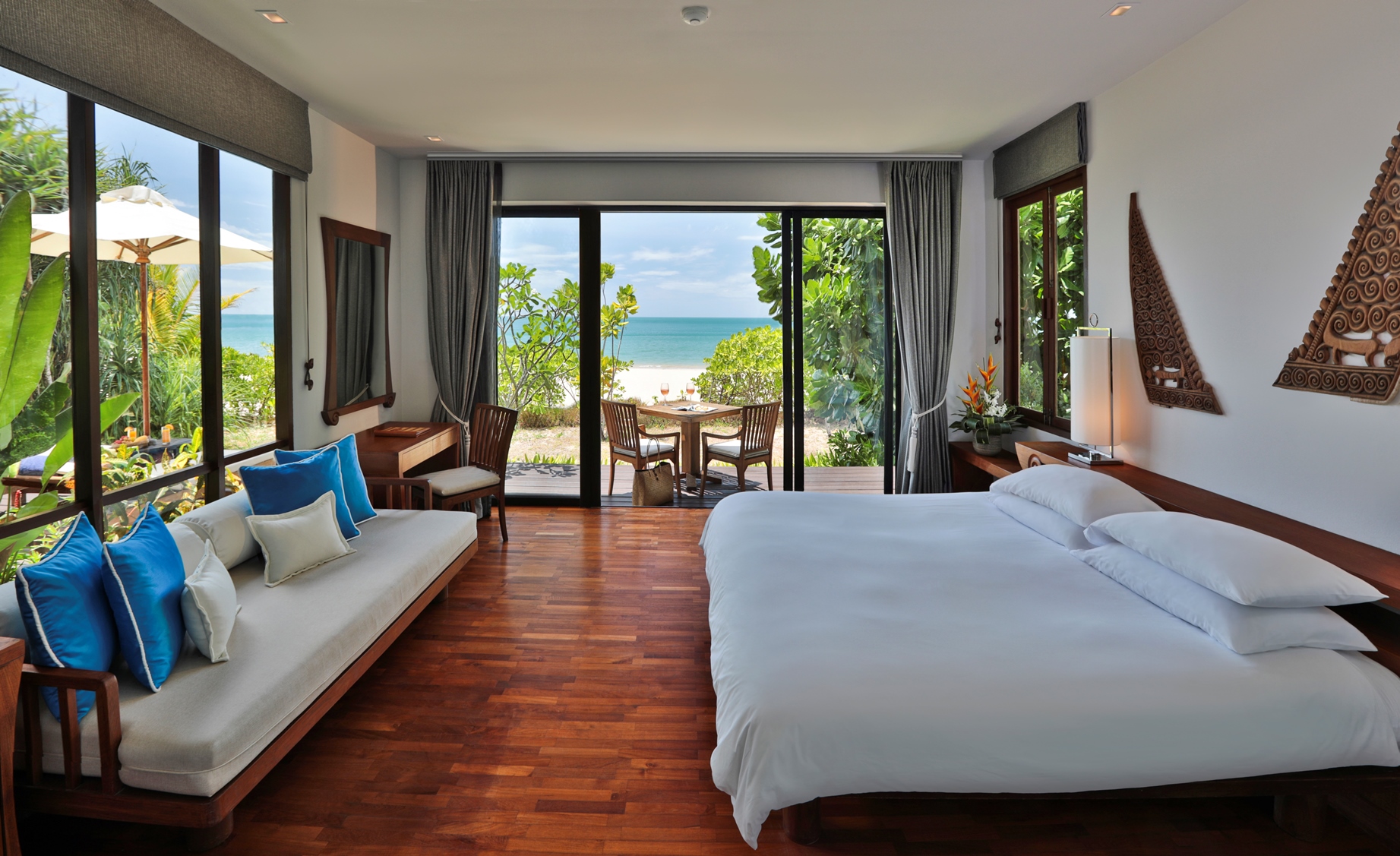 A small, yet pertinent point, is that in all my travels I have noticed that the majority of modern hotels' –whether they are 5-star luxury property or a cheap and cheerful motel — TVs have very poor reception. And, I guess with everybody able to access almost infinite entertainment through smartphones, you may say "who cares?".  Well, I care and I am pleased to note, Pimalai's reception is perfect.
The bathroom is, simply, wonderful. Featuring elegant lines and flooded with natural light and boasting a large, almost sinful, bathtub as well as both an indoor and outdoor rain showers, its easy for someone (such as my guest) to lose a couple of hours to indulgent pampering.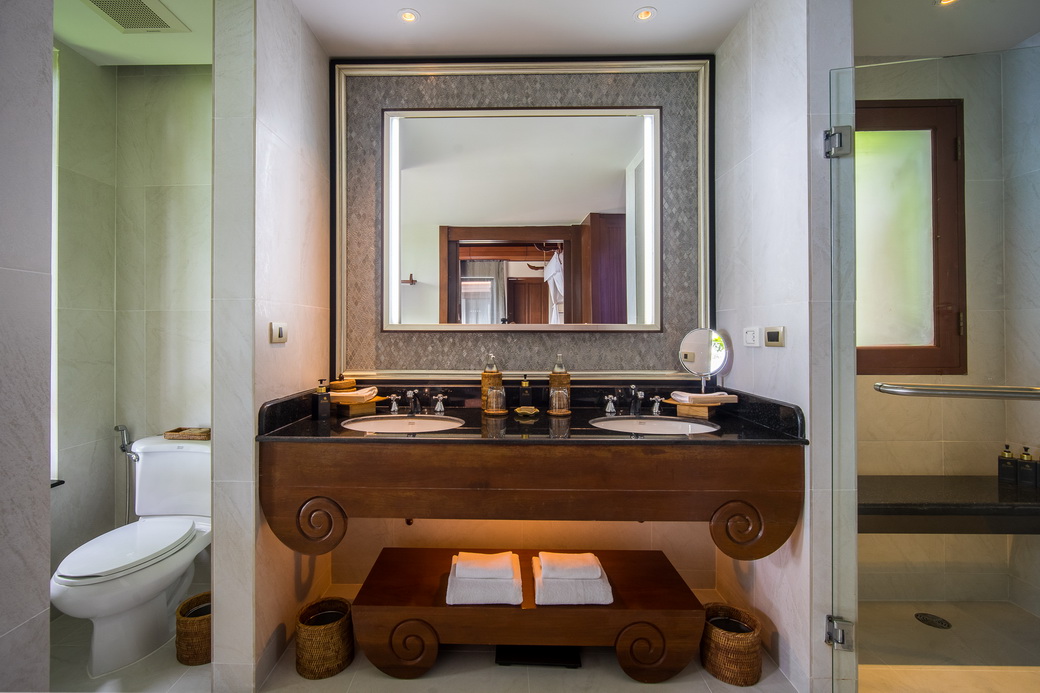 Afternoons at your villa are made more delightful by the delivery of freshly seasoned nuts and local fruit smoothies. 
When it's time to wind down and go to bed, villa guests will find a special blend of tea, designed for relaxation and to induce deep sleep placed in your room with a gorgeous ombre tea set for a soothing nighttime ritual.
Eat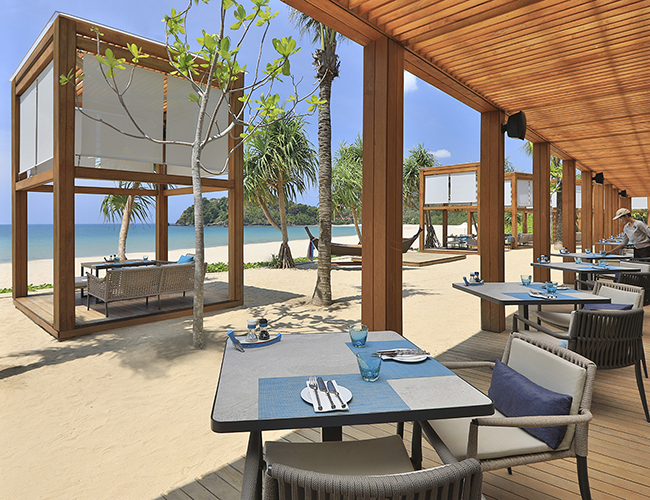 Pimalai has a deserved reputation for culinary excellence and in addition to the aforementioned hillside restaurant Seven Seas, which offers a thoughtfully constructed menu of local delicacies and international dishes, you can also opt to dine oceanside.
Moreover, happy hour at Pimalai's oval, white, minimalist Rak Talay Beach Bar beside Rak Talay (above)restaurant is a must. Fall into a beanbag chair and watch the sunset with an aperitif before dinner at the 5:30-6:30pm session, or finish up with a nightcap as the waves crash during the 8:30-9:30pm buy-one-get-one session. 
Do
A visit to Pimalai Spa is a must. It's one of the most beautiful and charming parts of the resort, featuring a maze of stairs, bridges and lantern-lit pathways around a babbling brook and waterfall. The design is reminiscent of Japan, and each walkway leads to a freestanding treatment villa, many with gorgeous outdoor showers or jacuzzi tubs. After your treatment, the spa has its own jacuzzi that's worth a visit.
We chose an aroma massage and Swedish massage. Instead of the standard jasmine, lavender and lemongrass oils, we were pleased to find blends called patience, clarity, balance and energy to choose from. Both styles of massage were deftly performed by pleasant and smiling massage therapists.
The Beachside Estate infinity pool features two shaded jacuzzis and terrific views to the horizon while you paddle. The tree-shaded Hillside Estate-side pool offers a longer panoramic view with a dramatic stairway leading to it and tower rising from it, perfect for family photos. 
For leisure facilities, Pimalai goes all-out. They offer a Muay Thai and a substantial gym as well as two tennis courts, a basketball court and even a croquet pitch, situated around a small pond surrounded by a walking track. 
Click here to learn more about one of the very best hotels in Thailand and discover the art of peace, serenity and solitude.