Global Air Sales Specialist
G Adventures
•
Salary available upon request
Work location:
Bangkok, Thailand
| | |
| --- | --- |
| Industry : | Travel Agent or Tour Operator |
| Sector : | Travel Agent (Retail/Leisure) |
| Department : | Operations |
| Employment Type : | Full-Time |
| | |
| --- | --- |
| Work Sponsorship : | Available |
| Experience : | 3 to 5 Years |
| Vacancies : | 1 |
| Job Status : | Expired |
Job Description
Please Apply directly at this link https://sforce.co/38hgGuT
Note:  Ability to work flexible hours and work from home
ROLE DESCRIPTION
G Adventures, the world's leading small group adventure tour operator, is seeking a dynamic individual to fill the role of, Global Air Sales Specialist. This challenging role will require a real self-starter who can communicate effectively across a range of stakeholders.    The role will be a strategic player on our global air team, focused on sales performance and generation and real time air support for our global sales team.   Working with the G Air management and local management teams, the position will focus on air sales with the goal of improving air attachment in the call centers through product expertise and technical support.  This position reports to the Supervisor – Global Air Sales, as well as supporting the local office management teams on all G Air matters.    The successful candidate will play a key role in supporting our aggressive global air sales goals and meeting our global air support targets.
RESPONSIBILITIES
Sales Role:
>    Assist sales team with developing a culture & confidence in selling flights with tours
>    Grow air attachment for groups through active sales support with private group teams
>    Monitor daily, monthly reporting with all stakeholders, (local, HQ) to ensure targets are achieved
>    Point of contact for the local office in G Air matters, (marketing, booking engine)
>    Main local contact for airlines in region representing BC, HQ G Air management on airline issues/matters as required
>    Possible participation in sales trade shows & company meetings outside of working hours
>    Training/support/assist GPS's for travel agents AIR sales/growth including booking engine 
Support Role:
>    Support & develop initiatives that focus on and lead to growing air attachment with tours sold in the region
>    Support local sales team with Internal Booking engine (ODY), communication with HQ  on local issues and feedback
>    Provide scheduled formalized updates and communicate issues to all stakeholders, (local & BC)
Support Role continued:
>    Coordinate with global support the actioning of all air services and support, (last minute ticketing, exchanges/re-issues, schedule changes, etc.) 
>    Review and action in coordination with global support assigned email inboxes 
>    Ensure proactive follow up with airlines on special authorizations & problem file resolutionSupport and assist air operations team with COG's flights as required 
>    Ensure real time support for local sales office team
>    Ensure all tickets due are processed/issued daily from ticketing robot
General:
>    Other duties or responsibilities as required
>    Flexibility in working hours and work from home opportunities are available with this role
>    Contribute actively to the company's performance and culture by fully embracing G Adventures Core Values
REQUIREMENTS
>    Minimum 1+ years experience with GDS, preferably Amadeus
>    Amadeus/GDS expertise on PNR's, Fares, all Ticketing options for (BSP & ARC)
>    Amadeus/GDS knowledge on Ticket Exchanges/Re-issues/Refunds
>    Preference given to those with knowledge of Amadeus systems & products
>    Ticketing Back Office System (BOS) experience and knowledge an asset
>    Air accounting (BOS) experience an asset, (ie: Travcom, Global Matrix, Trams, Unit4, etc)
>    Minimum 1-year experience in customer service & Travel Sales environment
>    Experience, enthusiasm and passion in regards to selling flights 
>    Able to work in both Mac and PC environment
>    Customer Service focused, both internal and external 
>    Experience working in any Travel Software is an asset
>    Passion to contribute to fast growing area of the business
>    Strong English, written and verbal communication skills
>    Self-motivator and able and willing to communicate up
>    Strong Social media skills and asset
>    Ability to multi task and prioritize tasks and duties
>    Excellent organizational skills and attention to detail
>    Ability to work individually and with teams
>    Self-starter mentality who is goal oriented
>    Must be able to work legally in the region where this position resides 
Location: Soi Sai Nam Thip 2 (BTS Phrom Phong/ MRT Queen Sirikit National Convention Centre)

Please Apply directly this link https://sforce.co/38hgGuT
If you want to know what's it like working at G Adventures, please check out this video 
Read Full Job Description
About The Company
---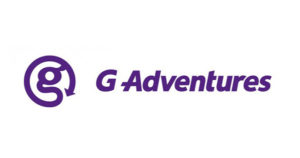 Thailand
Travel Agent or Tour Operator
Travel Agent (Retail/Leisure)
Overview

G Adventures is a small-group adventure travel company and social enterprise founded in Toronto, Ontario, Canada. It offers more than 700 different tours in more than 100 countries, and carries 200,000 travellers from 160 countries each year.
Benefits & Perks:
Competitive salaries
Professional development
Jobs available: 0
STAY UPDATED WITH THE LATEST TRAVEL NEWS, JOBS & EVENTS!
Join over 180,000 travel agents, professionals and executives subscribed to our daily newsletter.
You can unsubscribe at any time
Similar Jobs
---
Salary available upon request