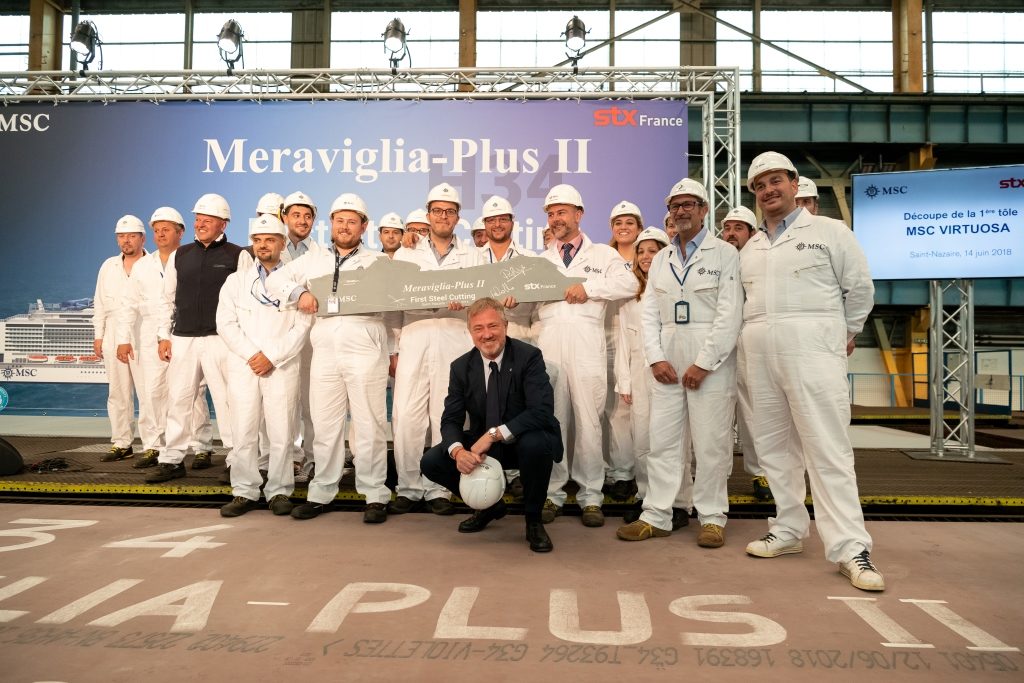 MSC Cruises is growing faster than ever as it has now announced the start of construction of its latest ship, a fifth Meraviglia class cruiser.
MSC Cruises has signed an order with STX France, to begin the construction of its next ship, set to be delivered in 2023. The vessel will be equipped with dual-fuel engines, which run on liquified natural gas (LNG). and will feature environmental technologies including an advanced wastewater system, compliant with stringent regulatory standards.
The announcement was made at a ceremony held at the Saint-Nazaire shipyard in the presence of Bruno Le Maire, the French minister of economy and finance.
"Three more next-generation MSC Cruises ships are now simultaneously under construction"
Pierfrancesco Vago, MSC Cruises' executive chairman, said: "With the announcement of yet another new vessel, the 13th under our 10-year investment plan, we are affirming our commitment to sustainable growth for our company. I say this while three more next-generation MSC Cruises ships are now simultaneously under construction."
The collaboration between the two companies is not the first, as it has recently celebrated three major ship-building milestones: the steel-cutting ceremony of the fourth Meraviglia class vessel where MSC Cruises announced that the ship will be named MSC Virtuosa; the coin ceremony of MSC Grandiosa; and lastly, the float-out of MSC Bellissima.
For the first time in Saint-Nazaire's history, three cruise ships belonging to a single cruise brand are under simultaneous construction at the shipyard.
"A new generation of cutting-edge environmental technology"
Vago added, "Our fifth Meraviglia class cruise ship will bring a new generation of cutting-edge environmental technology to the market, benefiting from a new generation of LNG-powered engines. This will help us further reduce our environmental footprint and advance in our journey of constant improvement.
"She will be joined at sea by up to four World Class LNG-powered ships, as part of our overall commitment to environmental stewardship through this and other next-generation technologies and solutions deployed fleet-wide."
Antonio Paradiso, managing director of UK and Ireland at MSC Cruises, said: "In less than nine months, she will become the new flagship in MSC Cruises' ever-growing fleet as well as the largest ship ever to be christened in the UK. We are delighted that she will depart for her inaugural sailing from the UK, and hope that many other UK & Irish guests enjoy her first season in the Western Mediterranean."
The newly-announced vessel represents an additional investment of €900 million. The cruise line has plans on doubling its capacity by 2020, and more than tripling it by 2026.