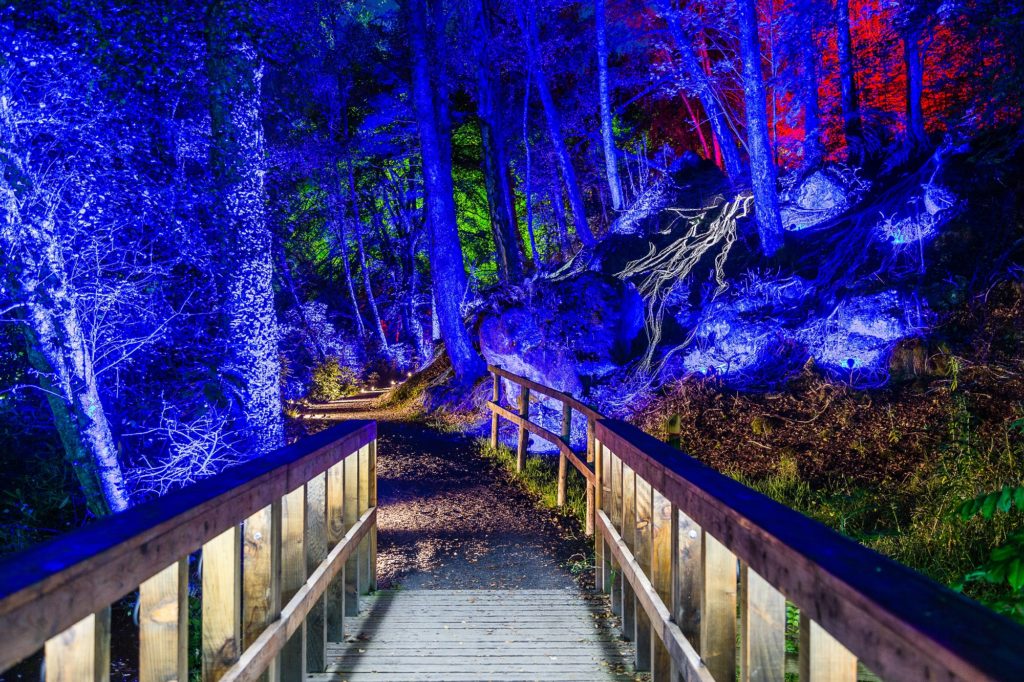 The Enchanted Forest, Scotland's premier sound and light show, has joined forces with Blair Athol Distillery to make the award-winning event as accessible as possible for visitors. For this year's event, entitled Cosmos, a brand-new accessibility bus service has been introduced which may better suit customers who have specific access needs but do not require disabled parking on site.
Accessibility bus customers will be able to park at Blair Athol Distillery on the outskirts of Pitlochry where the transfer service will run regularly into the Forest throughout the event's five-week-run.
As disabled parking is very limited in the forest, the bus offers an alternative option for guests who require a little extra help. The bus will not require people to climb stairs to board the coach and can accommodate a small number of wheelchair and specialist buggy users, subject to availability. Older patrons and families travelling with autistic children who find large crowds more difficult may also look to use the new service.
The event has also teamed up with Mobiloo, a mobile accessible toilet with adult-sized changing bench and hoist, for the second year in a row to further enhance the event's accessibility credentials. With over 80,000 people visiting Highland Perthshire annually to experience The Enchanted Forest, organisers are keen to make the event as accessible as possible.
Ian Sim, chairman of The Enchanted Forest Community Trust said: "The Enchanted Forest is working with local business, Blair Athol Distillery, to introduce our first ever accessibility bus service for visitors. We want as many people as possible to be able to experience our sound and light show up close and this new service will enable even more people, who perhaps thought an adventure into Faskally Wood may be a challenge too far, to have a wonderful time in the forest."
This year's Enchanted Forest will run from 3 October- 3 November and tickets are now on sale. Coaches with a low floor and flat, step-free entrance will be running every 30 minutes from the local distillery during the event's evening performances.