The Gay Passport CEO: Reaching out to new market segments
Contributors are not employed, compensated or governed by TD, opinions and statements are from the contributor directly
We speak to Calum Evans, CEO and founder of The Gay Passport — a gay influencer agency that allows hotels to gain exposure in gay audiences by providing quality vetted visit proposals from leading influencers.
TD: What was your background before you started this company? How does that help you in your role?
CE: I'm a hotelier who started in a boutique Scottish country hotel (The Lodge on Loch Goil) but at heart, I'm a marketing geek and a social media addict. The transition from e-business for a hotel management company to running a gay influencer agency and media has definitely been exciting with a steep learning curve, but it also made a lot of sense.
I was based in Bangkok for three years with BHMAsia (now part of Flight Centre) in digital marketing and e-business, before starting The Gay Passport. I could see first hand how powerful customer loyalty can be, so many of the skills I learned there have been key in building our gay travel community.
More than just branding, having experience as a buyer for digital advertising, we were able to develop products for The Gay Passport from the clients' point of view. Switching sides of the table weren't easy but I could understand the challenges hotels face in managing social media and especially when trying to reach new market segments online and this experience was critical in building our influencer visit program.
What was the idea behind your company?
While working in the hotel management company, the inspiration for The Gay Passport arrived.
We were always looking to reach out to new markets, and for the design-focused hotels, gay travellers are an important segment. We wanted to work with media who could reach all our key nationalities but we couldn't find the right partners who had the scale and also could work within property level advertising budgets. That was when I wondered if I could do something up-to-date and cool, that would go beyond the traditional website listing, yet be affordable for property level budgets. That is the essence of where The Gay Passport came from.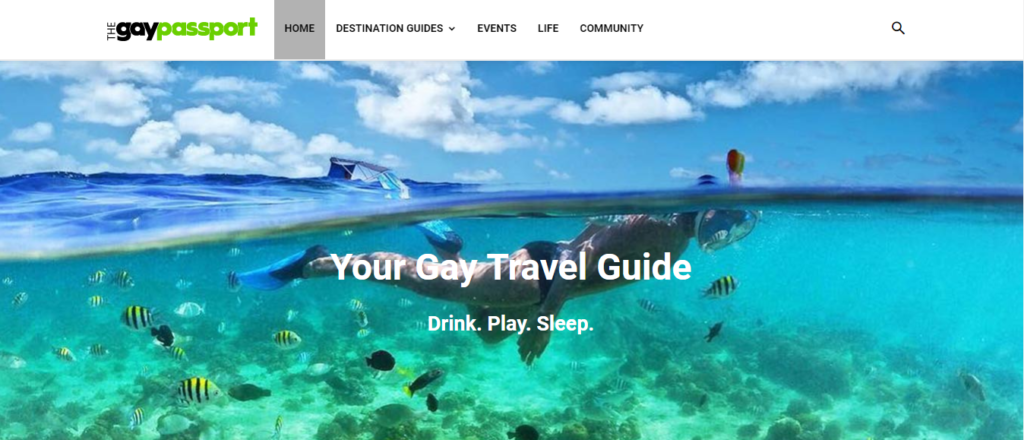 What challenges have you overcome in your career and how?
Easily the biggest challenge was starting The Gay Passport. Quitting the steady salary for the unknown is scary. Watching your ex-colleagues moving up the career path while we tried to break even to pay developers makes you wonder if you made the right choice.
"Once we started to see a loyal audience growing… the nerves subsided"
However, once we started to see a loyal audience growing and the advertisers began to arrive, the nerves subsided. Three years later, I'm delighted we have built a product that is delivering great results for over 200 partner hotels which we are connecting to 450+ gay influencers and generating over five million social impressions each month.
What problems does your product solve and how did you come across that problem?
We saw two issues when we started The Gay Passport. First, there is a large audience of gay men who are looking for reliable travel advice to help them make the most of their holiday. These travellers are seeking broad advice on which destination and hotels are welcoming and gay-friendly, to specific details on venues and nightlife while travelling.
Secondly, we saw an opportunity to help hotels advertise to gay travellers. Many hotels are actively trying to diversify their markets and they understand that the LGBT segment can be a significant part of this. But we found that often hotels struggled to find ways to reach out and engage with gay travellers at scale.
How did you go about finding the right team members and investors?
Finding the right team members is always hard. We are a small full-time team with a great network of creative part-time and freelance specialists to support our growth. To find the right talent we had to look globally which does mean a lot of conference calls at very odd hours.
"We wanted to focus on building a loyal audience, getting readership and establish a real community"
As for investors, we are self-funded and have not taken on any outside funding. Early on, we made the decision that we wanted to focus on building a loyal audience, getting readership and establish a real community rather than spending time seeking investment. Building our audience was a long journey but lucky that in the early days the gay Asian community was very supportive so we didn't need enormous budgets to achieve sizeable traction.
What has changed the most during your time in the travel industry? How do you and your company stay ahead of the curve?
I feel you could say that even our traditional hotel industry was into influencers before it was the popular kid in marketing. For decades, hotels have been hosting media from magazine editors and travel writers then onto travel bloggers all before Instagram was around. Social media influencers work today and can drive substantial revenues but social media moves fast, Instagram might be hot just now but we have to be ready for the next switch.
"Individual properties are becoming increasingly interested in this segment"
Even in the five years that The Gay Passport has been going, there has been considerable growth in the awareness and desire for hotels to advertise to the gay market. A research by WTO has shed light on the value and spending of LGBT travellers and with support from tourist boards and big brands, individual properties are becoming increasingly interested in this segment.
What trends do you think we will see in the next 3 years?
Within the travel influencer marketing space, I expect to see more hotels hosting a broader range of influencer types, moving from bloggers and more into Instagrammers and YouTubers.
Not forgetting with the growth of Chinese FIT travellers, hotels should also be learning about and considering to recruit influencers on Weibo, WeChat and other platforms (like Blued which can be described as Chinese gay Facebook). With this progression, I also expect (and really hope) to see the larger brands implement more systematic checks on the quality of the influencers their hotels are hosting.