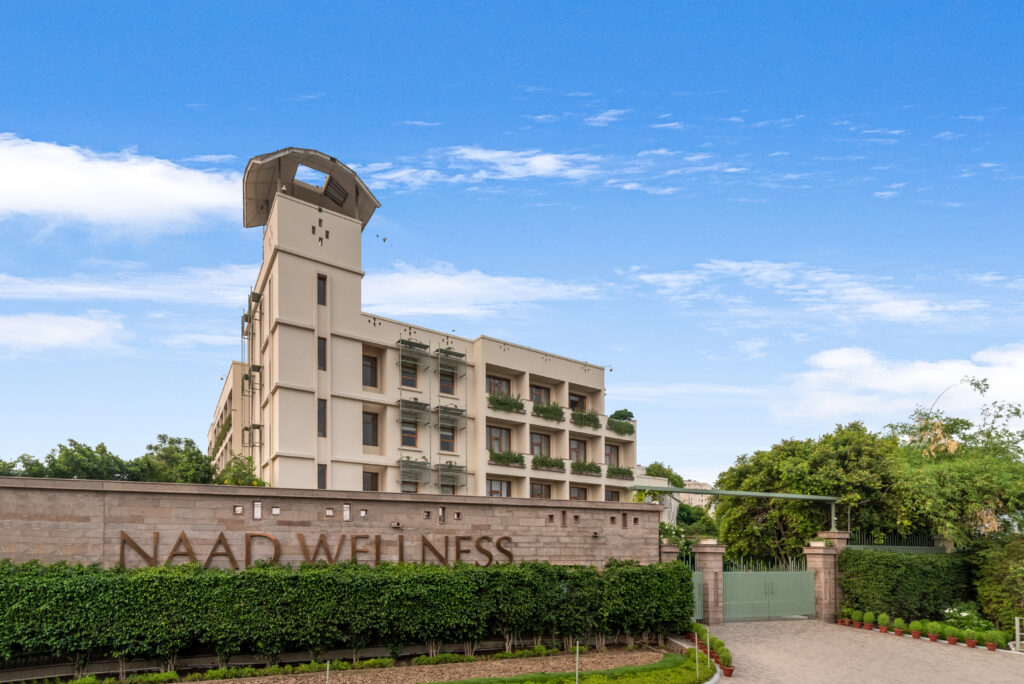 Do you want to rejuvenate your body, mind and spirit from within? I don't mean a short-term solution, rather a holistic journey that will reignite your senses and kickstart your journey to wellness. The answer is a visit to 'Naad Wellness'.
Based on the principles of Ayurveda, Yoga & Naturopathy, Naad Wellness offers residential experiences that begin at 3 nights and go up to 28 nights. These include a combination of both experiential and medical packages.
Below are listed few of the steppingstones to wellness with Naad Wellness.
1) In the midst of Nature
Located close to NCR, yet far away from the noise and pollution, Naad Wellness is the perfect green destination, to detox your body and relax your mind.  Elaborating further on the source market to the destination, Manoj Khetan, Co- Founder, Naad Wellness said:  "Our primary market encompasses Delhi, NCR, and various other Indian cities, and we are actively working towards attracting inbound travel. Our wellness Centre experiences a peak season all year round since health-related concerns have no specific time frame. Our efforts are geared towards promoting wellness and attracting guests throughout the year."
2) Calm and peaceful
At Naad Wellness, they always encourage and maintain a quiet and calm environment for the benefit of all guests. Silence and peace are the perpetual hosts of this destination. The air is imbibed with a fragrance of jasmine and calm lounge music helps heal the soul. Nature walks, blooming flowers, greenery and perpetual bird songs induce a sense of well-being.
3) Wellness Consultation
Naad Wellness offers many experiences; each experience is preceded by a one-on-one consultation with a resident doctor. Ayurvedic as well as Naturopathic doctors are available for consultation. The doctor then plans for a customised itinerary which is a combination of therapies, yoga, kriyas and nutrition. Meal plans (including the menu) and the timings are determined by the doctor for your wellness experience.
4) Ayurvedic massage therapies
Naad Wellness offers a combination of Ayurveda and Naturopathy therapies. Post covid elaborating on the importance of Ayurveda, Dr. Hrishikesh Ashok, BAMS, MS (Ayurveda), Chief Ayurveda Consultant, Naad Wellness said: "In the post-COVID era, people have realized the value of detox and destress. At Naad, we offer specialized packages for detox, destress, and various other wellness goals. Our programs provide a tranquil environment for healing and restoration, available year-round to prioritizing health and well-being."
5) Ahara
You become what you eat! To detox, the major role is played by the food that you eat. The doctors at Naad Wellness during the consultation prescribe the diet required by your body and the chef ensures it is wholesome and appetising. The food is vegetarian and seasonal, with produce sourced fresh from neighbourhood farms. In fact, the chef also maintains his own kitchen garden. Helps develop healthy eating habits, which is a gift to your future wellbeing and good food habits.
6) Yoga
Yogic kriyas such as Jal Neti, Kunjal Kriya, and Laghu Shankh Prakshalan. Pranayama, Meditation. Yoga is the stilling of the fluctuations of the mind, it takes you closer to your inner self. Yoga has been known to have a profound effect on physiological circulation and on the functions of the inner organs, glands, and nerves. It promotes greater health and vitality, better concentration, and a happier life.
7) Turkish Hamam
The steam atmosphere, scrub and bath is sure to knead out all your stress at Naad Wellness. The treatment is known to cleanse and exfoliate impurities from the body.
8) Salt Cave
Naad Wellness has a 'salt cave' which is beneficial for many skin treatments. Salt therapy, in a salt room atmosphere rich in micronized salt particles and negative ions can actually help improve your skin health The salt absorbs impurities and bacteria present on the skin, leaving a healthy glow with you relaxed.
9) Acupressure and Reflexology
Both these treatments influence the body's vital energy through the stimulation of specific points on the body. They work on energy pathways in your body to help energise you.
 10) Swimming pool and Gym
Swimming not only relax you but is also an excellent way to work your entire body and cardiovascular system. An hour of swimming burns calories as without all the impact on your bones and joints. If you are used to a regular gym routine, it can carry on smoothly here as well. The destination has a well-equipped gym.