Not to be a grouch, but to some, Valentine's Day is the saddest holiday of the year. So, instead of writing a mushy blog on where you could go to celebrate love on cupid's day, I've hand-picked some of the world's most unromantic hotels.
They might not be romantic but they sure are interesting.
DivorceHotel (The Netherlands, USA, UK)
Simply put, this hotel lets you settle your divorce over the weekend. It's like the 'Uber' of divorce. The hotel will help you settle your divorce quickly, efficiently, and affordably. You can choose from an office divorce, to a hotel divorce over the weekend, or the easiest way – an online divorce.
Getting out of a relationship is hard enough. Why not make your divorce easier?
Ryugyong Hotel (North Korea)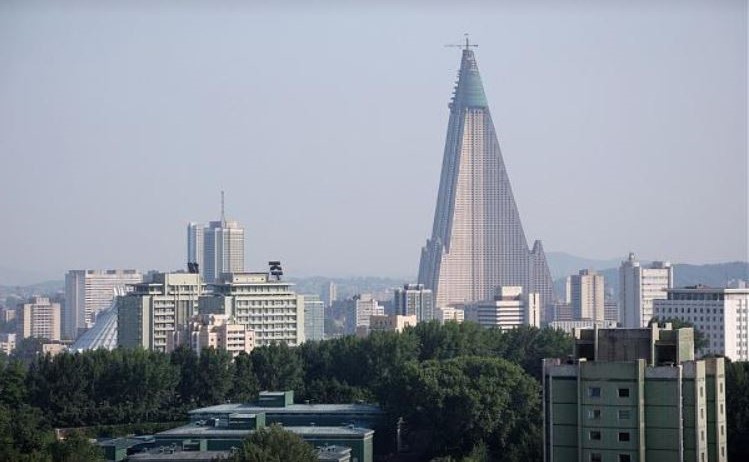 Also known as the "Hotel of Doom" the Ryugyong hotel is an unfinished hotel situated in Pyongyang, the capital of North Korea. It's a pyramid-shaped skyscraper that's planned as a multi-purpose establishment.
Its construction began in 1987 but was stopped in 1992 when the regime entered a period of economic crisis. It has an estimated cost of USD$ 552 million and according to recent satellite images – there seems to be new activity happening around the area. Tourist photos show cranes around the hotel. So, for those interested, you might be able to book a room here soon. If you dare.
SiloStay (New Zealand)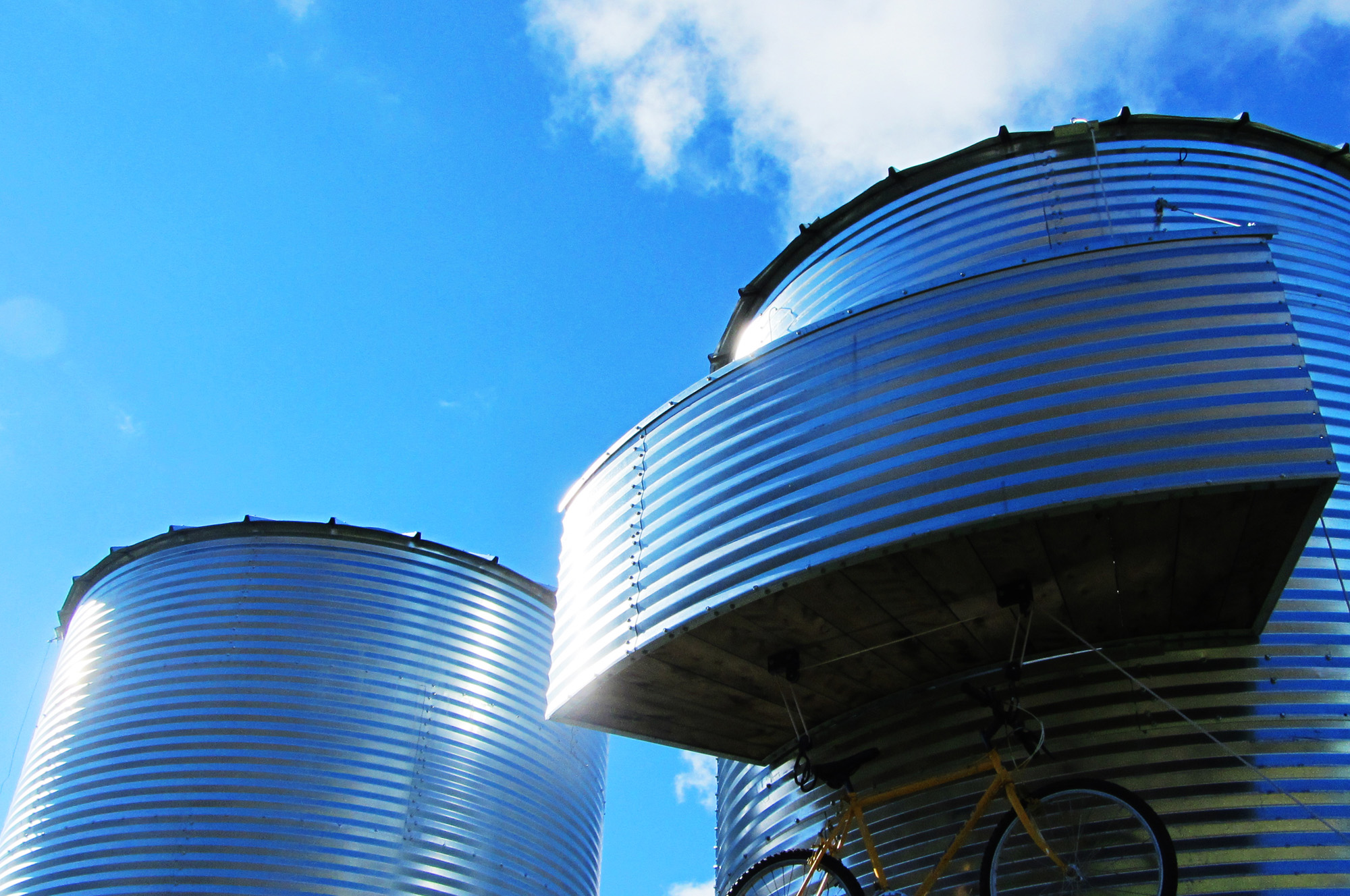 In this hotel, guests are given time to seek personal introspection. There are no immediate attractions in the surroundings but don't let this stop you from visiting the place. According to SiloStay's team, the isolation and peacefulness is definitely a plus.
Your stay here will give you an opportunity to connect with your "inner-self, de-clothed of society's convoluted outer sheath". The round silos will heighten your awareness and guide you in your personal search. Perfect for singles out there.
And by the way, gourmet microwave meals are provided upon request.
Hotel CasAnus (Belgium)
Obviously, there's something about the name that's not-so-romantic. This "anus house" is an art sculpture by Dutch artist Joep van Lieshout that resembles a giant intestine. It's a one-room hotel that lets you sleep inside a giant sculpture in the middle of a field in Belgium. The hotel is made up of wood, PU foam, and fibreglass-reinforced polyester.
Hotel CasAnus will set you back USD$ 165 a night, but it's a small price to pay if you've been dreaming of shacking up inside a huge intestine. It has a double bed, central heating, a shower, basically everything you need, including a bar called BarRectum.
The Dog Bark Park Inn (USA)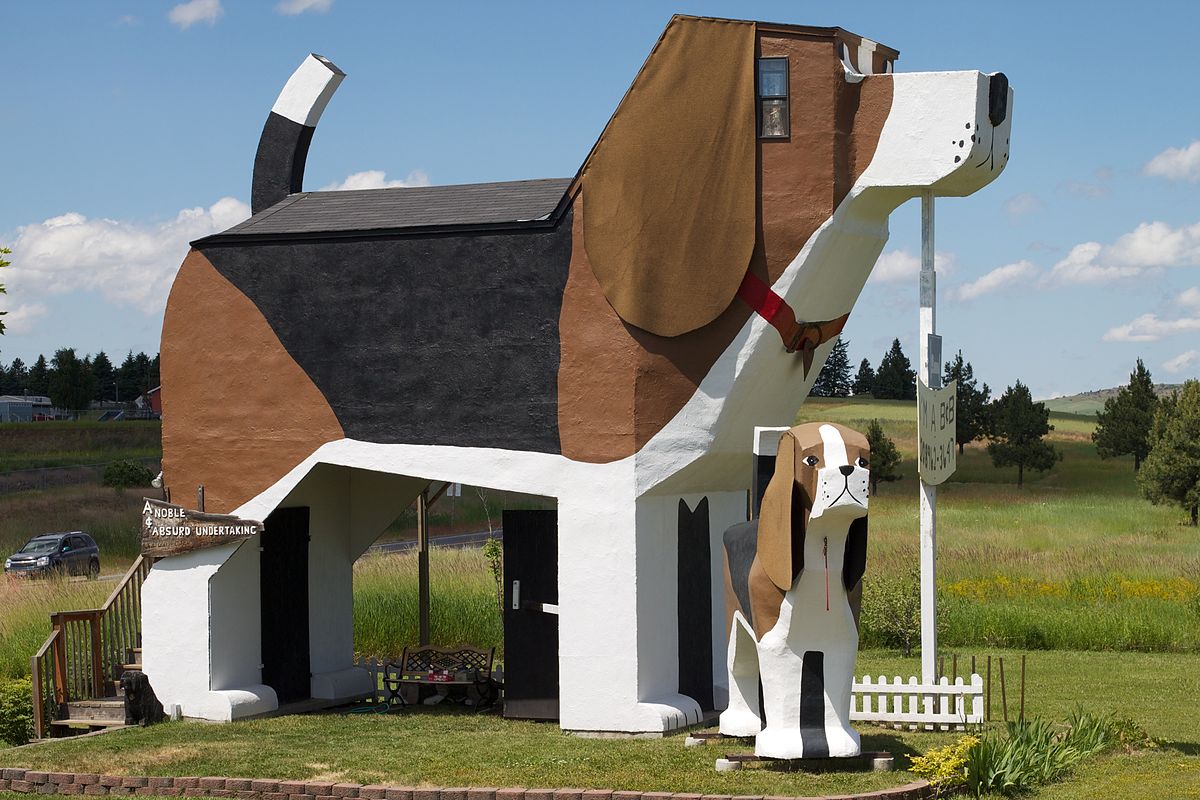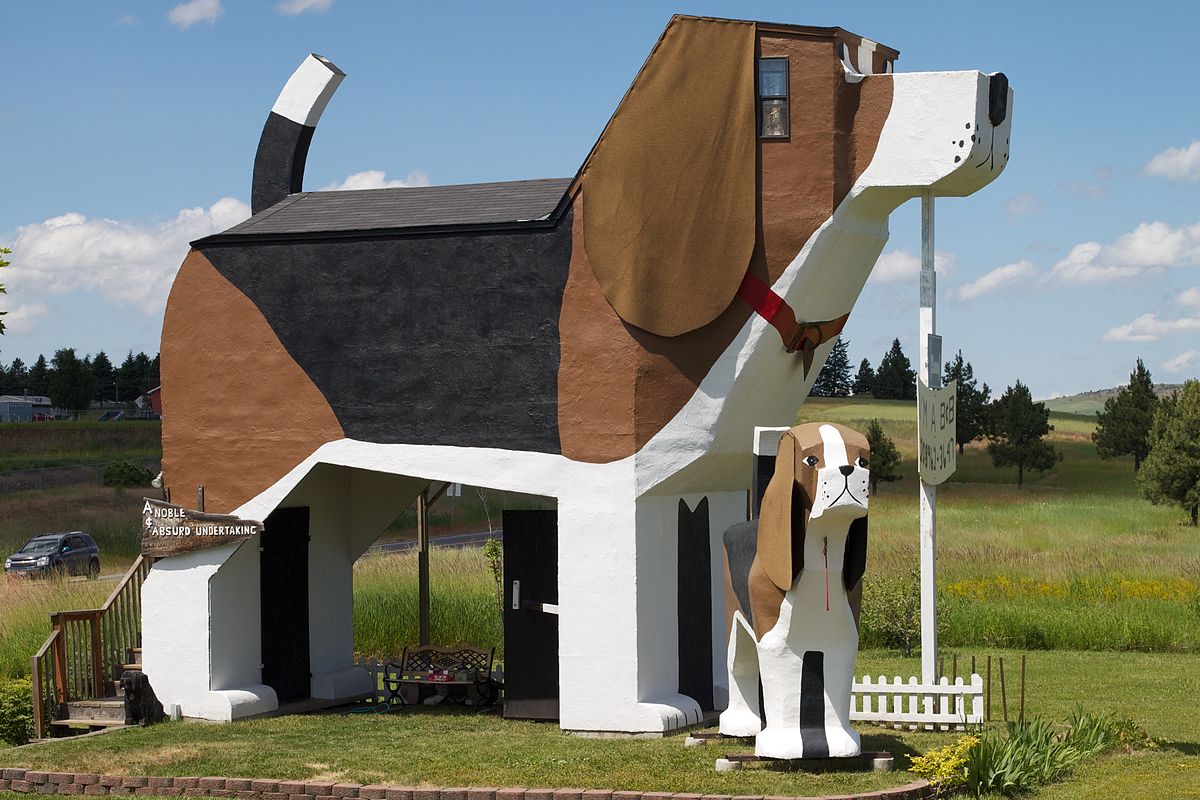 Definitely for pet lovers, this pet-friendly hotel is owned by chainsaw artists Dennis J. Sullivan and his wife Frances Conklin.
Inside the 30 feet tall beagle is a single room with a bathroom and a loft made for visitors passing through the area. It's also surrounded by sculptures of other animals like bears, fishes, and a moose. For many years, it has served as an iconic roadside attraction in Idaho and is known as Sweet Willy, the tallest beagle in town.
dasparkhotel (Austria)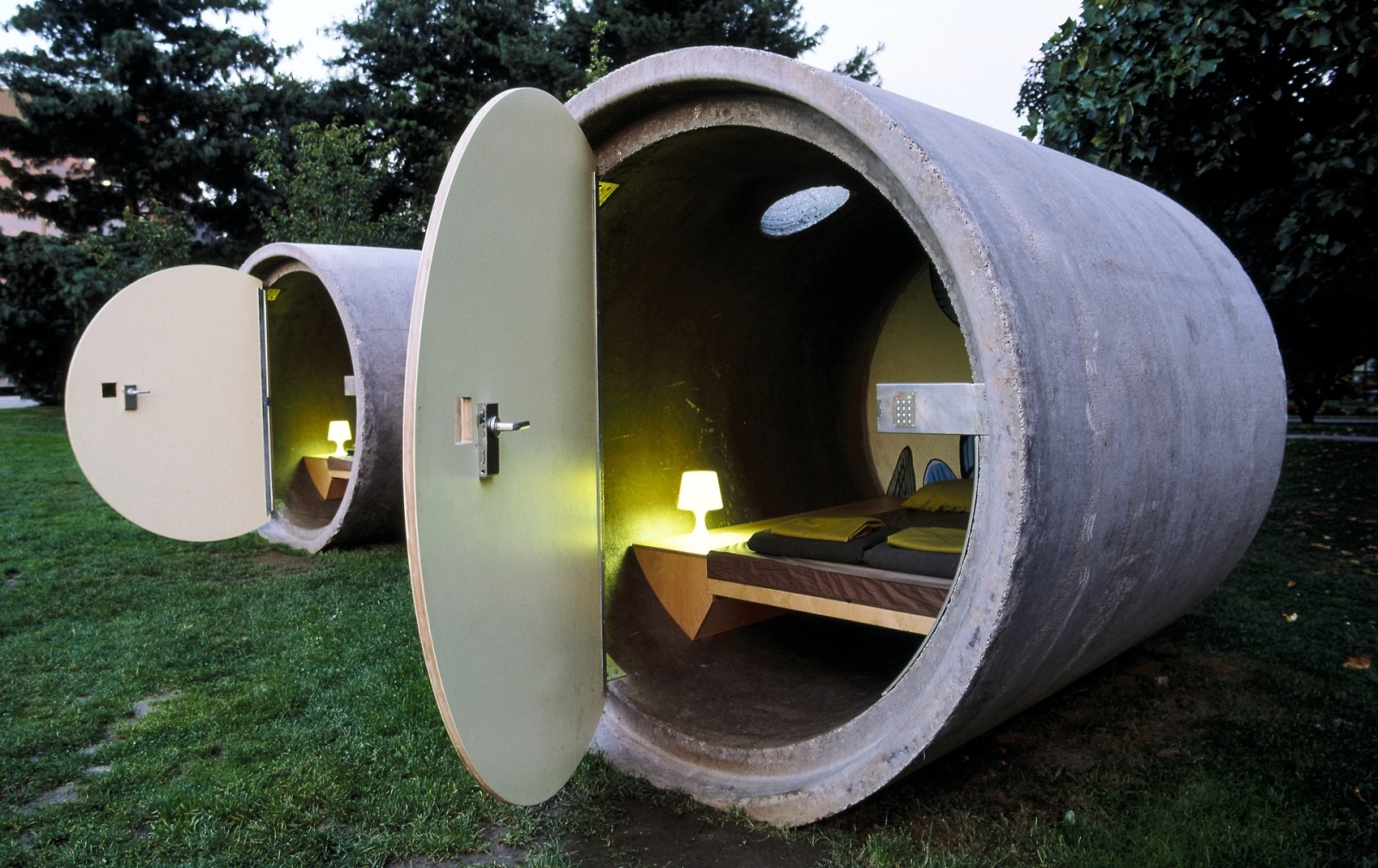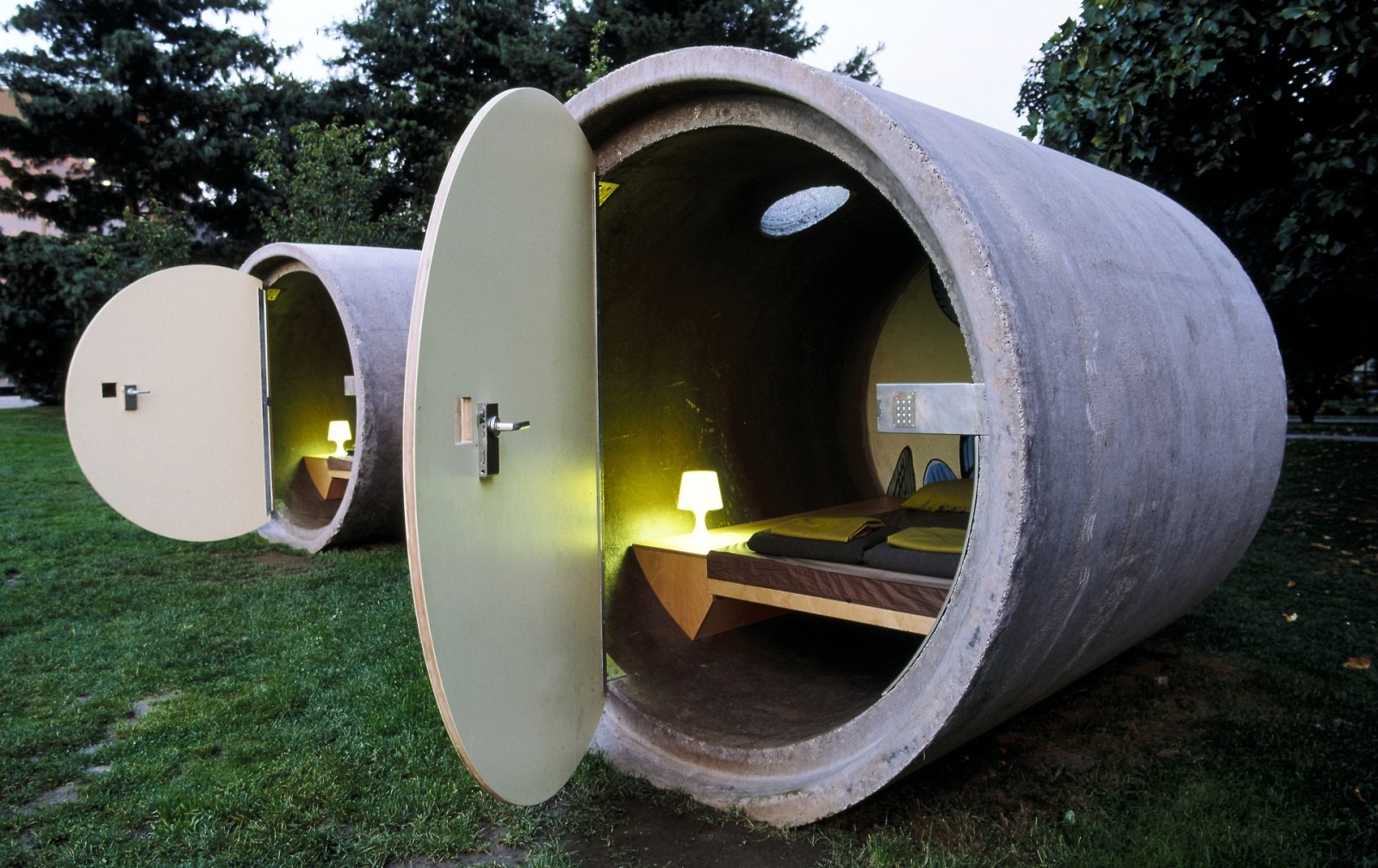 If you think sleeping in a sewage pipe is romantic, then fine, this hotel is romantic.
Anyway, dasparkhotel in Austria was built using repurposed drain pipes. Reviews say that the interior is surprisingly comfortable, although it's not designed for the claustrophobic.
The best part about the hotel is – guests can pay as much as they'd want to, or only as much as they can afford. Nice place to date if you're pinching pennies, I'd say.
Propeller Island City Lodge (Germany)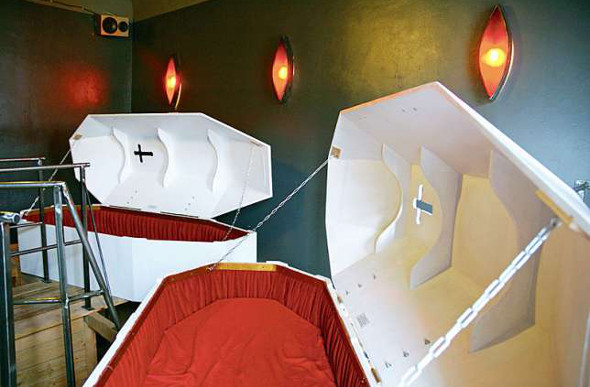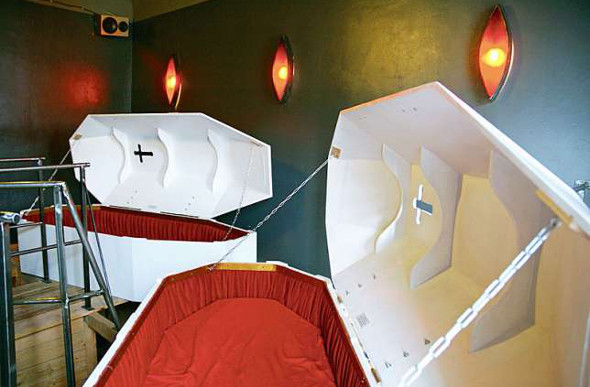 At this lodge in Berlin, you and your partner can spend the most romantic night inside coffins and say 'til death do you part.
Created by German artist Lars Stroschen, the hotel is really a museum with guest accommodations. The rooms vary from tame to the extreme, giving visitors unworldly experiences. It's designed for a variety of guests who can pick a theme according to their preference.
I hope you enjoyed my hand-picked list of the most unromantic hotels in the world. Stay tuned to our website for more awesome lists of hotels.
I've also written about 10 amazing hotels that should be on your bucket list and the hottest hotels opening this 2018.
Found your date spot yet?