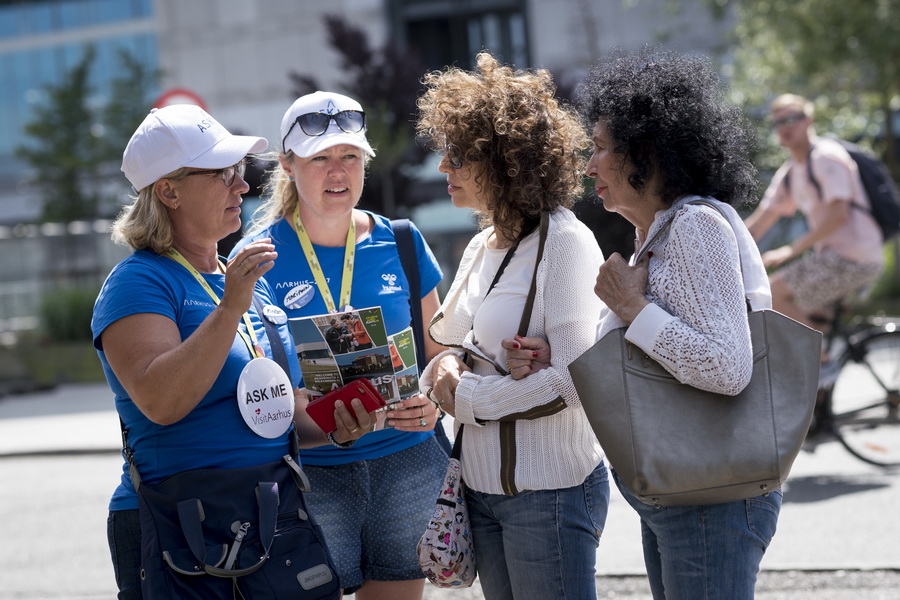 Denmark's second city Aarhus, 187km northwest of Copenhagen, has experienced a bit of a tourism renaissance over the last few years. With the town's popularity as an alternative destination to the nation's capital it is culminating as European Capital of Culture in 2017 with its year-long series of event's and festival under the theme 'Let's Rethink'.
Now, capitalising on its time as European Capital of Culture and its reputation for a thriving festival scene, numerous museums and galleries – not to mention its tip-top shopping opportunities – the Rethink gang have come up with a new campaign which sees 1,300 Aarhus residents volunteer as hosts for cruise guests traveling to Aarhus.
ReThink Aarhus
Decked out in blue t-shirts and 'Ask Me' badges, the hosts will welcome cruise passengers in the port, show them around the city and assist at concerts, festivals and other cultural events. In this way, the volunteers will actively support the significant growth of tourism that Aarhus has experienced since 2011.
"We are extremely happy that 1,300 locals have said yes to continue volunteering as hosts for the city's guests. Not only because it is a good story and strengthens a good guest experience – but also because it demonstrates the unique unity and dedication we have created in Aarhus. We have a reputation of doing things in our own way and ReThinkers is a perfect example of this," says director of VisitAarhus, Peer Kristensen.
"ReThinkers assist in ensuring a positive development for Aarhus as a cruise destination"
The initiative in Aarhus is the only one of its kind in Europe, as volunteer teams traditionally are recruited mostly for special events. Globally, there are similar city-based volunteer efforts in Vancouver and Melbourne, but with far fewer volunteers. The fact that 1,300 locals are ready to welcome guests in Aarhus all year round and completely without payment is therefore unique.
"Since 2010 Aarhus has evolved considerably as a cruise destination. In 2010, only two cruise ships and 4,300 guests called in Aarhus. This year, the number of cruise ships is expected to be 41 and the guest number to increase to almost 100,000. ReThinkers assist in ensuring a positive development for Aarhus as a cruise destination as they, in addition to cultural experiences, beaches and beautiful nature, provide guests arriving in Aarhus with an authentic and personalised service and welcome from the local community," says chief commercial officer for the Port of Aarhus, Nicolai Krøyer.