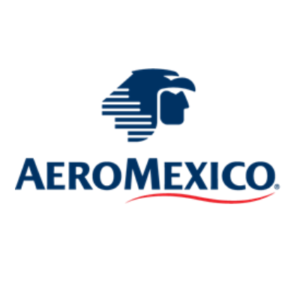 Aeroméxico
Mexico City, Mexico
Airlines and Aviation
Airlines and Airport services
Overview
Grupo Aeromexico, S.A.B. de C.V. is a holding company whose subsidiaries are engaged in commercial aviation and the promotion of passenger loyalty programs in Mexico. Aeromexico, Mexico's global airline, operates more than 600 daily flights and has its main hub in Terminal 2 of the Mexico City International Airport. Its destinations network features 89 cities on three continents; including 43 destinations in Mexico, 18 in the United States, 17 in Latin America, 4 in Europe, 3 in Canada, and 3 in Asia.
The Group's operating fleet of 133 aircraft is comprised of Boeing 787 and 737 jet airliners and next generation Embraer 170 and 190 models. In 2012, the airline announced its most significant investment strategy in Mexican aviation history, purchasing 100 Boeing aircraft including 90 MAX B737 jet airliners and 10 B787-9 Dreamliners.
As a founding member of the SkyTeam airline alliance, Aeromexico offers customers more than 1,000 destinations in 177 countries served by the 20 SkyTeam airline partners rewarding passengers with benefits.
Our vision
Be the #1 choice for delivering the best-personalized flying experience with a spirit of warmth and service.
Our Values
Deliver sustained growth by providing consistent service from the heart and creating unique experiences with safety and discipline.
Our Behaviors
Put safety first- Fully comply with norms, policies and procedures
guaranteeing the safety and well-being of our customers and employees.
Serve with excellence- Provide best-in-class quality service, taking care of the details that are important for your customers, and offer a personalized experience every step of the way.
Collaborate as one- Work as a team, creating synergies and integrating different perspectives to be more efficient and unleash Aeromexico's potential.
Live with unshakable integrity- Be an ambassador for Aeromexico, acting with discipline and responsibility at all moments according to our values and Code of Conduct.
Company Size:
1000+ employees
Head Office:
Mexico City, Mexico
Perks & Benefits:

Paid maternity / paternity leave

Paid sick days

Professional development

Vacation time
STAY UPDATED WITH THE LATEST
TRAVEL NEWS, JOBS & EVENTS!
Join over 180,000 travel agents,
professionals and executives
subscribers in our daily newsletter.
You can unsubscribe at any time