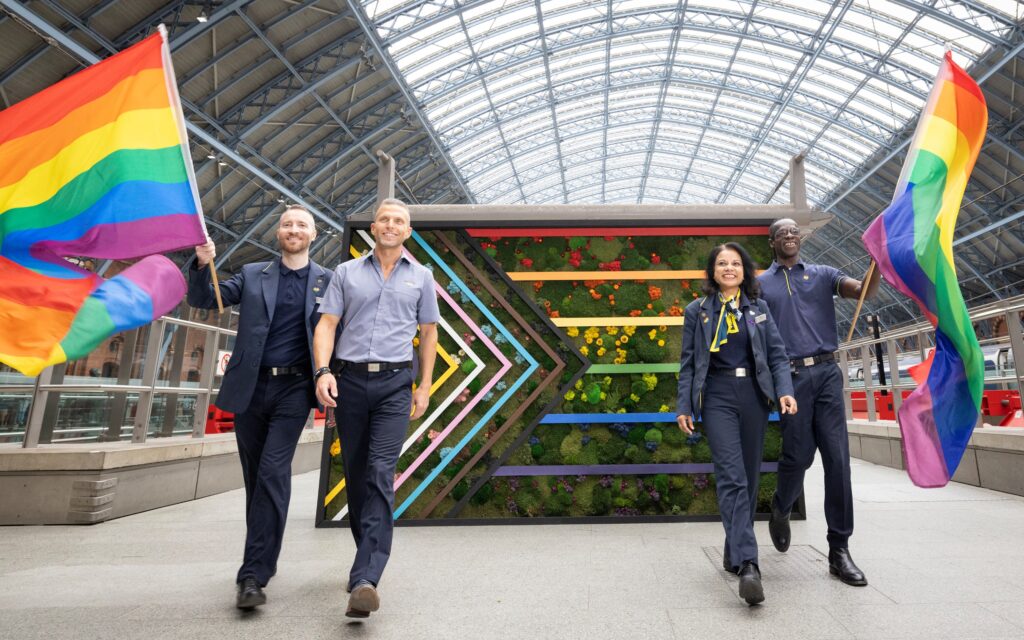 Eurostar Group the backbone of sustainable travel in Europe, has installed a three-metre structure depicting the Progress Pride flag to welcome nearly 50,000 customers from the Continent to London this weekend (29 June – 1st July 2023) during the London Pride celebrations. The flag made of 200 flowers also marks Eurostar's partnership with The National Railway Museum to record and preserve LGBTQ+ history in rail.
Eurostar has diversity in its DNA. As an international train operator, Eurostar connects countries and cultures, helping its passengers' cross borders in one trip. To celebrate those who identify as LGBTQ+ and within the rail industry and educate all, The National Railway Museum has partnered with Eurostar to help record intergenerational interviews from the LGBTQ+ community. This is part of the museums recently funded People, Pride & Progress project to preserve LGBTQ+ rail stories for future generations.
Ashlynn Welburn, Archivist for The National Railway Museum says: "Our recently funded project made possible thanks to the National Lottery Heritage Fund, will create up to 70 oral history interviews with people from the rail industry, including from Eurostar. We plan to document the experiences of LGBTQ+ people, including Eurostar employees, and so fill a gap in our understanding of the rail industry before it is lost. We're excited that so many people will be travelling to London Pride by rail this year, using a network that has enabled LGBTQ+ individuals' access to a wider community."
Gwendoline Cazenave, Eurostar Group CEO says: "Eurostar Group connects customers to Prides across Europe. Our business reflects our cities with its diverse cultures and communities. We are very proud to be supporting the National Railway Museum's project in preserving the rail industry's LGBTQ+ history for future generations."
Customers can take pictures of themselves with the floral Pride flag that will be on Eurostar's platform in St Pancras during London Pride weekend.