Grab x Cargo to set up retail stores in cars
Ride-sharing company Grab has thought of a way to further monetise a cab ride by partnering with US start-up Cargo in creating Grab&Go, a retail service inside the vehicles of Grab partners.
Grab passengers will be able to buy various snacks and other consumer goods from the Cargo display box installed inside the vehicles of Grab driver-partners. They can order items through their smartphones from Cargo's online menu that will be added to their fare.
Grab&Go has partnered with several brands to offer a range of complimentary samples to passengers ranging from Kellogg's nutty chocolate bars to Biore's BB creams. Passengers can also receive free samples that will encourage them to patronize the new service.
The new service was launched in Singapore earlier this week. According to a Grab statement, drivers can only give the customer their purchases wants the vehicle is "safely stopped". Users of Grab&Go can already use the company's GrabPay wallet for their in-car purchases.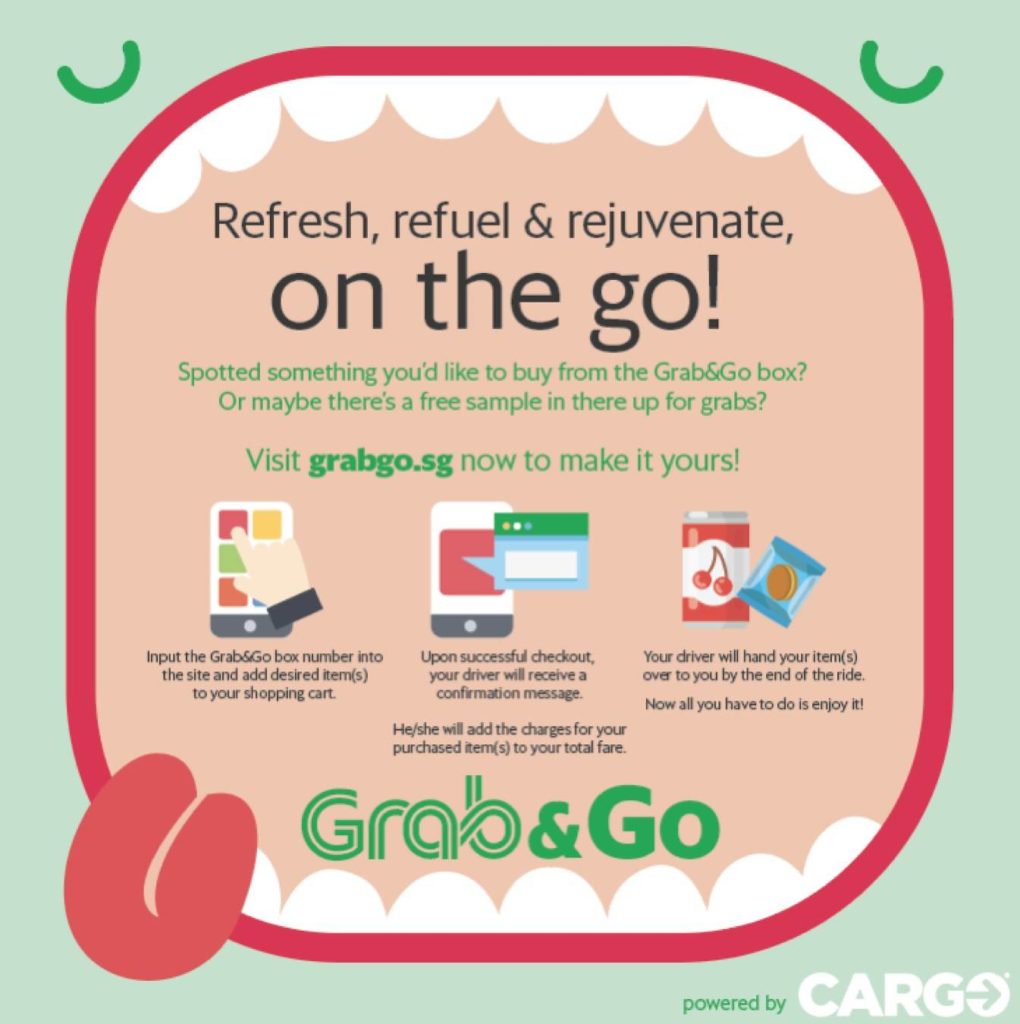 What's in it for the driver-partners? Grab&Go drivers earn 20% commission for every paid sale and a US$1 bonus on every transaction. Grab&Go will provide additional income between US$56 and US$187 per month to Grab driver-partners. There has been a decline in the drivers' income due to a number of factors, such as road congestion, increased competition, and national regulation.
This is not a novel idea, as some smart drivers have already been stocking merchandise in their cars for their passengers. Grab said that "hundreds" of GrabCar drivers have signed up to offer the service, but the company hopes to bring the service to its two million driver-partners.
Grab has been keen on finding various ways to increase the revenue of driver partners and this is one such opportunity. Another potential revenue generator that Grab is looking into is advertising space both in the exterior and interior of the vehicle. 
Grab recently partnered with Singaporean start-up Display Science that provides digital screens installed on the rear of seat headrests broadcasting ads and other content for passengers in the back seat. These income-generating ideas may keep driver-partners to stay onboard.
However, Grab may face opposition from the vehicle owners to install advertising paraphernalia on to their cars unless there is a big incentive for them.