Hunger pangs, no more: Red burger on AirAsia menu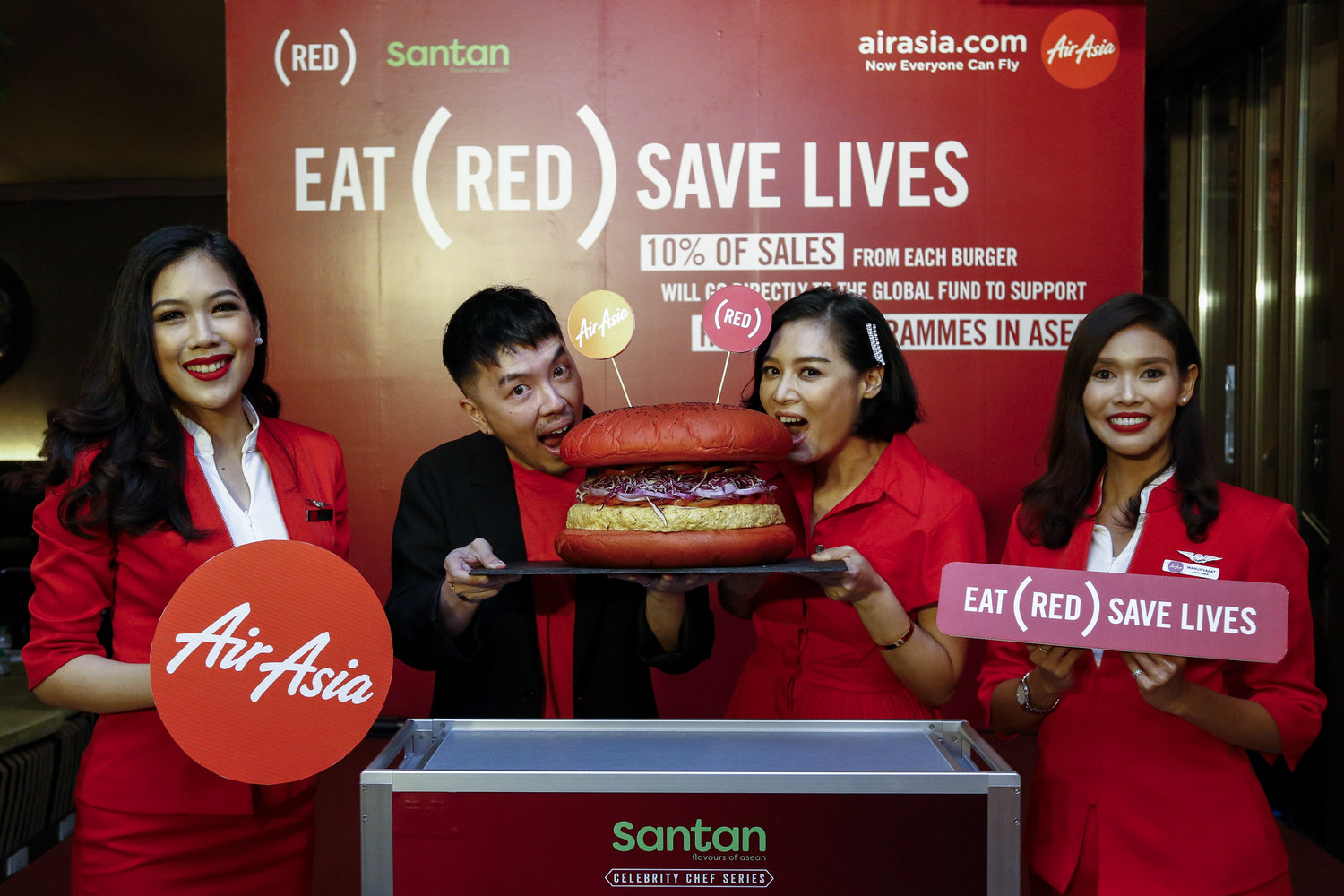 AirAsia carrier has now partnered with non-governmental organisation (RED) and New York-based celebrity chef ambassador Hong Thaimee to support the fight against AIDS. And with this partnership, the INSPI(RED) Burger, a Thai-American fusion burger created by Chef Thaimee will be the newest addition to AirAsia's inflight Asean menu called Santan.
Chef Hong Thaimee, who hails from Chiang Mai, Thailand, is known as one of the most celebrated Thai chefs in the US and an icon of her homeland's culinary culture.
The burger features a chicken patty infused with fish sauce, kaffir lime leaves and lemongrass, topped with nam prik noom mayo (a green chilli mayonnaise), shredded purple cabbage and tomato on a red beetroot bun.
According to AirAsia, 10% of sales from every INSPI(RED) Burger sold will go to The Global Fund – which (RED) is a partner of – to support HIV and AIDS testing, counselling, treatment and prevention programmes in the Asean region.
For every INSPI(RED) Burger sold, 10% of sales will go to the Global Fund to support HIV/AIDS testing, counselling, treatment and prevention programmes in the Asean region.
Rudy Khaw, head of brand, AirAsia Group said, "We are now introducing our latest Santan meal, the INSPI(RED) Burger, created by celebrity chef and (RED) Ambassador Hong Thaimee for our guests. Having started her culinary career later in life, Chef Hong was a latecomer to the field, but with hard work and sheer determination she carved out her own space and made a name for herself, much like AirAsia has. With our common 'dare to dream' mindset and shared heritage, working with Chef Hong felt like an ideal marriage of two Asean personalities in support of the region."
The INSPI(RED) Burger is available for pre-booking on all flights except for those operated by AirAsia India and AirAsia Japan, the airline said.
AirAsia has also created a special line of co-branded (AirAsia)RED inflight merchandise to spread the (RED) message, including a remix of the iconic AirAsia cap, an aircraft model for collectors and others, with USD 2 from the sale of each item to be donated to the Global Fund.