MICE advice: The top four Bangkok hotels you need to know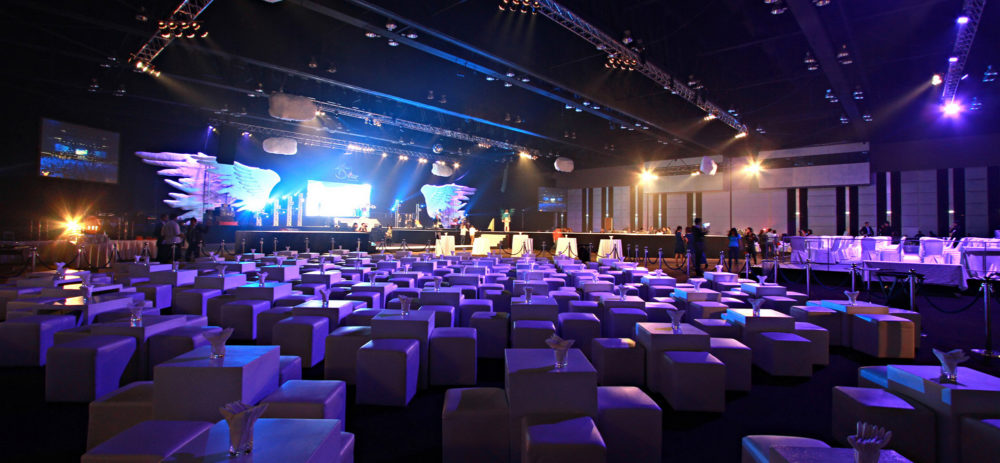 When it comes to MICE locations, BKK is spoilt for choice but deciding which is the right venue, to make your gala luncheon pop or your trade show snap, can be more than a little time consuming. 
In order to make selecting the right space for your Bangkok bash less of a brain drain, I've put together my list of the city's best MICE venues.
Centara Grand
First up is the Centara Grand & Bangkok Convention Centre at CentralWorld (main picture). As the Thai brand's flagship convention centre, Centara have really pushed the boat with their Siam locale.
Its state-of-the-art facilities, backed up by the formidable experience and expertise of the event staff, make this the primo choice for any occasion in the Big Mango.
Conferences, seminars and exhibitions can all be handled with ease, and its full range of 30-plus function rooms is staggering. But, if it's the main Convention Hall, the pillarless behemoth of a room can house up to 7,000 people and is perfect for plus-size events. If you are after something a bit more intimate or unique, the 23rd floor is home to M23, where you can entertain guests in the cocktail reception area, or even sink some balls at the putting green found on the 50-metre patio.
The 505 rooms and suites of the hotel are spread over nine floors, fuelled by nine food and beverage choices including RedSky perched on the roof. These are matched by the five-star hotel facilities and unparalleled service standards.
The hotel and the convention centre connect directly with CentralWorld, one of the largest shopping malls in Southeast Asia, which has a flashy multiplex cinema, with first rate acoustics, which can be used for presentations, and as an area for organising exhibitions and public presentations.
Marriott Marquis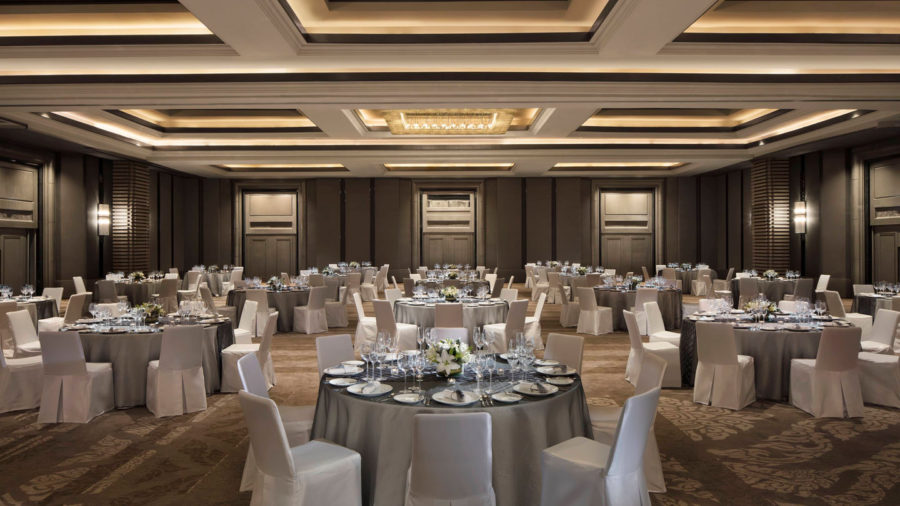 Next up is the Bangkok Marriott Marquis Queen's Park.  Opening at the back end of 2016, it immediately hit the ground running with guests and the MICE industry, as GM Bob Fabiano explained to me.
"Bangkok Marriott Marquis Queen's Park has been spot-on from day one; we are the only hotel in Thailand that is able to offer such a large amount of accommodations to our MICE partners and corporate groups, and at the same time provide them with enough meeting space and dining venues."
He's not kidding either, the 1360 rooms of the high-end, downtown Sukhumvit hotel often put up 2,000 and 4,000 room nights, with its biggest event topping out at 5,000 room nights.
The ballrooms are the definite highlight, Thai Chitlada Grand Ballroom (above) exudes charm and can accommodate up to 1,300 guests – a fine choice for weddings, corporate functions and luxury entertainment.
Whereas the Sala Thai Ballroom's extensive business facilities and floor-to-ceiling windows make it ideal for team-building and work-based activities.
Athenee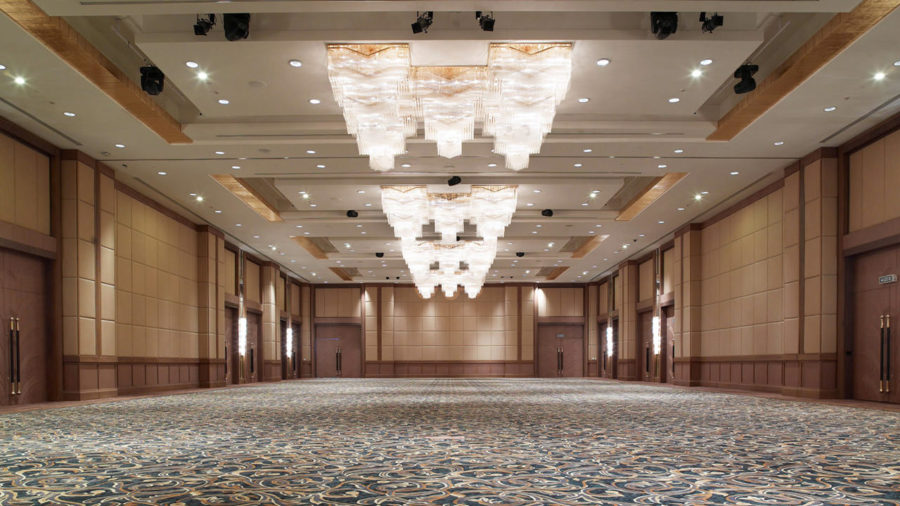 Number three in the four pack is The Athenee Hotel, a Luxury Collection Hotel, Bangkok. Also found in downtown BKK, the hotels 5,600 square metres of event and work space includes three ballrooms and 25 meeting rooms. With its flexible, responsive staff, geared up for all types of events; from group meetings and large trade shows, to conferences, conventions and exhibitions, the Athenee has become a personal favourite of mine.
On top of the 1,020 square metre, chandeliered Athénée Crystal Hall (above), which adds a sense of occasion and glamour to any function, I am always impressed with the level of expertise on hand, whether it's help with audio-visual matters, or advice on flower-arranging and photography, the hotel staff are a fundamental component of the Athenee's MICE success.
Grand Hyatt Erawan
Last, but by no means least, is self styled "Bangkok convention hotel of choice", the Grand Hyatt Erawan Bangkok. Located in the city's Ratchaprasong district, the Grand Hyatt provides 3,300 square metres of MICE space, made up of 14 adaptable function rooms.
Like the rest  of its compatriots, the Grand Hyatt is designed to handle anything; whether it's weddings, fancy dinners or mega events, the refined style of the Grand Ballroom, with a capacity of 1,500 people and state of the art audio-visuals, high-speed Internet connections, video conferencing capabilities — copes with ease.
The stand out here however is the Campus (above). Located on the lower lobby floor, covering 891 square metres, this professional space was created as a dedicated MICE  zone "specifically designed to inspire creative thinking".
The Campus styling channels university living and though not quite right for events, it's bang on for team-building, workshops and small meetings.