Palma 365 unveiled its new gastro tourism strategy and tourism ambassadors at World Travel Market this week.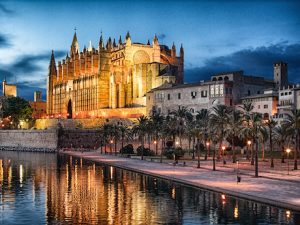 In 2016, UK travellers accounted for in excess of 593.000 room nights in Palma, making the UK the second biggest international visitor market (after Germany).
During the 2016/2017 low season, it registered an 8.4% increase in the number of room nights in the tourist centre of Palma compared to the same period the previous year, reflecting a growing appetite for cultural city breaks rather than fly and flop, and contributing to the tourism board's objective of growing the number of out-of-season travellers.
With a  vast tourist offering outside of the high season, the destination acts as a driving force to encourage low season travel to the island of Mallorca, with many visitors opting to use Palma as a base to explore other destinations in Mallorca.
Palma 365 also revealed that 51% of those travelling there to visit with the main objective of discovery the city, 44% to relax and 22% to indulge in the city's varied shopping offering.
Under the slogan 'Passion for Palma', the tourist campaign focuses on four themes including gastronomy, sport, shopping and culture, with the aim of strengthening Palma's position as an attractive, year-round city break destination.
The new tourism strategy will target frequent travellers between the age of 35 and 65, interested in short cultural city breaks and four and five-star hotels.
This demographic coined by Palma 365 as 'cosmopolitans' would typically come from urban centres and would spend on average €104 per day throughout their holiday.
The tourism strategy will also focus on cementing Palma's status as a leading short-haul destination for food-lovers raising awareness of the variety and diversity of gastro offerings in the city from fine-dining experiences to traditional tapas bars.
This strategy will be bolstered by Palma's new gastro tourism ambassadors to strengthen its image as a European culinary hub and to promote some of the lesser-known culinary concepts in the city.
The ambassadors – revealed at WTM – are two of the destination's most renowned chefs:
Mark Fosh: owner and founder of the fine-dining restaurant 'Simply Fosh' in Palma and Tomeu Caldentey: the first Mallorcan chef to be awarded a Michelin star for his inspired cuisine and culinary concepts at Bou Restaurant.
Pedro Homar, general director of Palma 365 said: "At Palma 365, look forward to working with Mark and Tomeu to further develop Palma's gastronomy offering for visitors and to propel Palma to the top of the list of desirable foodie destinations in Europe".