Sustainable South Australia: Inspiring experiences for conscious clients
Conscious clients looking to include sustainable and regenerative travel experiences in their holiday itinerary will be inspired by Adelaide and regional South Australia.
According to the latest statistics, over 53% of people want to travel more sustainably in the future and people will have a more eco-conscious mindset as the coronavirus pandemic has heightened people's awareness of their impact on the environment and local communities.
Over the last year, the South Australian Tourism Commission has been building on its sustainable strategy, working with accommodation providers, winemakers and tour operators across the state to identify a huge number of quality experiences that make a positive impact on the environment and local culture. These have been captured on a new consumer-facing website, which will also help you plan more sustainable itineraries for your clients.
This focus on promoting sustainable tourism product dovetails with the wider government commitment to sustainability. Just this year new legislation, the first of its kind in Australia, came into force in South Australia banning single-use plastics which is part of the over-arching objective to make Adelaide Australia's first carbon-neutral city. In the arts sector, a new AUD 200 million Aboriginal Cultural Centre is being built (due to open 2024) which will house over 30,000 anthropologically and spiritually significant works from across Australia – celebrating Aboriginal culture and sharing the stories and songlines of indigenous communities. And from an environmental perspective, a Nature-Based Tourism Co-Investment Fund incentivises operators to develop quality sustainable tourism experiences across the state.
Sustainability in South Australia is more than a checkbox, it is a way of life. Here is just a snapshot of some of the commissionable sustainable products and experiences, which you could include in client itineraries.
Sustainable stay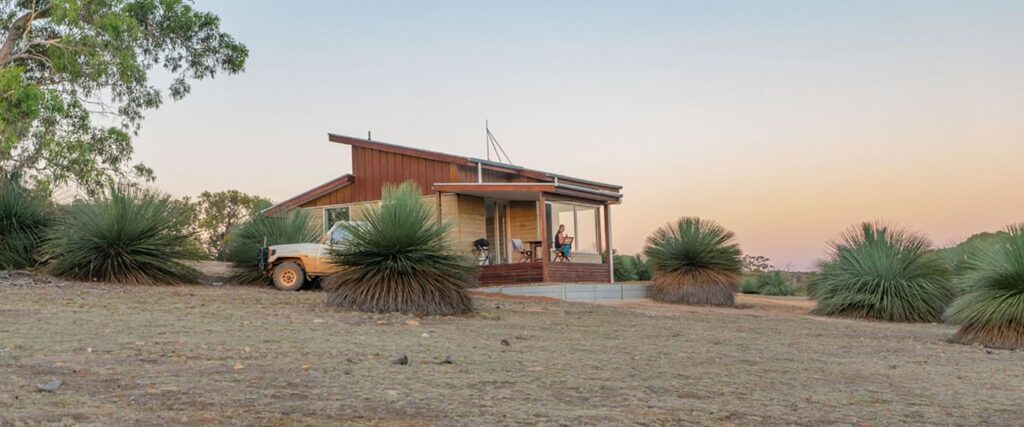 A sustainable holiday in South Australia starts with choosing an eco-friendly accommodation. From luxury villas to glamping tents, there is a lot of choice for clients on all budgets. In the Flinders Ranges, about a five-hour drive from Adelaide is Rawnsley Park overlooking the majestic Wilpena Pound which is steeped in Aboriginal significance. Their eco villa accommodation, designed to complement the natural environment and featuring many sustainable features, has Advanced Ecotourism accreditation.
Further South, experience luxury off-grid living at Oceanview Eco Villas on Kangaroo Island. Owned by locals Tim and Tamsin Wendt, their two fully-hosted eco-luxury villas are set on a 500-acre rural property offering stunning coastal views and five-star interiors showing how even off-grid cabins can boast a real wow factor. Solar-powered and made from recycled jarrah timber and limestone paddock stonework everything about the villas is sustainable.
Also on Kangaroo Island, Ecopia Retreat boasts a meticulous design that allows it to achieve a low carbon footprint. The retreat relies 100% on rainwater, while its owners are committed to restoring the habitat of the rare Glossy-black Cockatoo by planting more than 500 native trees.
Guilt-free sips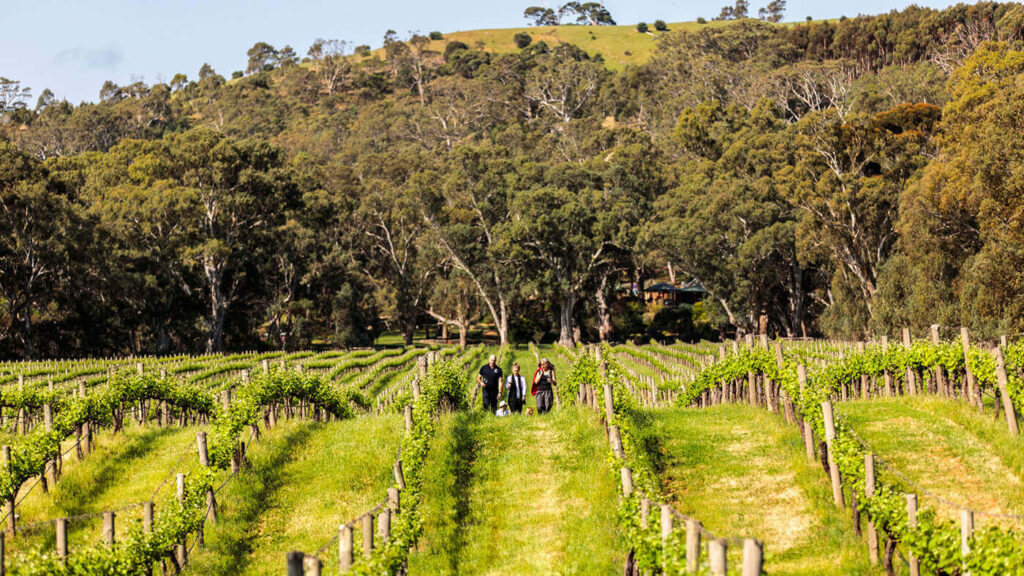 With hundreds of wineries in the region, Adelaide is one of the Wine Capitals of the World and the vineyard city of Australia. The city launched Sustainable Winegrowing Australia which later became Australia's national sustainability program for the grape and wine sector, and today, the state is home to exciting wineries run by innovative winemakers which your clients can visit on tours and at cellar door tastings.
Gemtree Wines, just a 40-minute drive from Adelaide, takes sustainability seriously. It has three separate solar energy systems to power its winery, cellar door and vineyards and has built its cellar door using recycled materials. Co-founder and viticulturist Melissa Brown said Gemtree opened its sustainable cellar door in 2013 as "a showpiece of how you can run a business without having a huge impact on the environment". Their eco-trail (former scrubland which they rewilded) is a gorgeous walk to take after a tasting.
For clients looking to delve deeper into Australia's sustainable wine story, check out this link for more brilliant South Australian winery experiences.
And for foodies looking to consume consciously, there are opportunities right across the state. South Australians take the provenance of their produce very seriously and in cafes, markets, restaurants and food trucks across the region brilliant chefs and growers are serving up delicious dishes using local ingredients. Click here for more sustainable dining locations in South Australia.
Leave nothing but footprints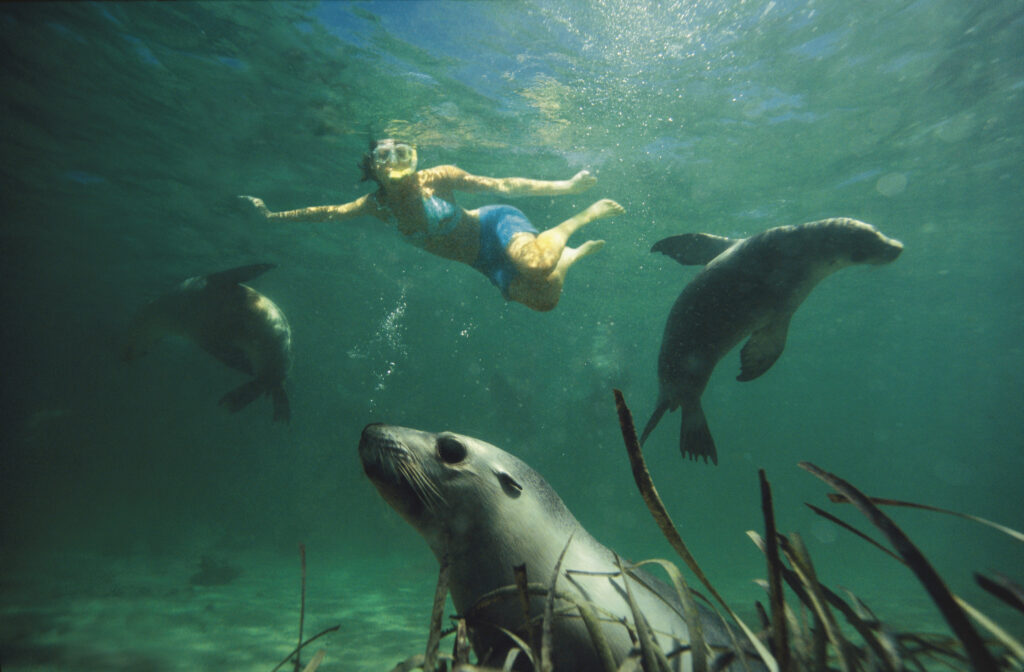 "Take nothing but pictures, leave nothing but footprints, kill nothing but time" is a popular slogan for responsible tourism, and many tour operators in South Australia live by this. Exceptional Kangaroo Island pursues the idea of "shared space" and imparts an ethos of "observation not interaction" to their guests. Their eco-friendly tours focus on seeing wildlife in their natural habitat.
The Eyre Peninsula is South Australia's ultimate aquatic playground with its pristine waters and striking coastlines. Australian Coastal Safaris offers sustainable aquatic wildlife adventures that will enable your clients to enjoy the amazing diversity in the region, learning about the species which make it so special.
Arkaba is a protected wildlife conservancy nestled in South Australia's Flinders Ranges & Outback which has delivered an incredibly successful rewilding programme. When you book guests a stay here (either in the Homestead which is one of the Luxury Lodges of Australia or on the guided walk), you are contributing to the conservation programs to help protect Arkaba's (and Australia's) biodiversity.
Preserving the culture and history so it can be enjoyed by future generations is also at the heart of a sustainable holiday in South Australia. Wilpena Pound Resort delivers unique and memorable Aboriginal experiences with Adnyamathanha guides to visitors to the Flinders Ranges – about a five-hour drive north from Adelaide.
South Australians across the state are looking forward to when they can welcome your clients again, sharing the amazing natural wonders and rich Aboriginal culture which they strive every day to protect for future generations.
LEARN MORE ABOUT SOUTH AUSTRALIA