Othmane Amrani, general manager at Hotel G Singapore, believes that hotel guests should enjoy the same level of 'technology comfort' when travelling as they have come to expect at home. As such, he has shaped the approach at his property around this ethos, to benefit not just guests' enjoyment of the stay but their productivity. We spoke to him to learn more:
TD: In a world where technology has become a necessity, what is the place of technology within the hospitality industry and at Hotel G Singapore?
OA: These days, the simple word 'technology' encompasses so many notions, techniques, skills and processes, and has led to an exponential increase in the availability, type and accessibility of goods and services.
Technology today is intrinsically embedded in modern lives. A simple example would be that of mobile devices, originally invented for communication purposes which has now evolved to include practical functions including alarm clock, camera, calendar, calculator, contact book and more; essentially making so many of these other inventions redundant.
Other examples include the workplace with computers, meetings and conferencing tools to leisure tech including audio and visual equipment, games and apps.
There is no denying that so many aspects of our daily lives rely mostly on technology in terms of our comfort, practicality, efficiency and productivity.
All industries without exception have embraced technology and the travel industry even more so. Today, travellers use technology in their daily lives and, of course, expect to do so whenever they are travelling and wherever to.
While this is not only about comfort, which remains essential, technology as mentioned above also provides practicality – easily finding what to visit, where to eat, efficiency for a quick reservation process, and even productivity, for example through connectivity to quickly access emails, and work remotely.
"97% of millennials own a smartphone"
Hotel G Singapore is a lifestyle hotel and our main customer base is millennials. Several studies have shown that 97% of millennials own a smartphone – and they spend an average of four hours per day on social media.
Without a doubt, technology has to be a key factor and unique selling point of a hotel. It is paramount that customers should get all the technology comfort they would at home.
How Hotel G Singapore adapts to demand
OA: We pride ourselves on offering connectivity throughout the hotel with plugs and USB ports everywhere – a move that the group implemented first in Hong Kong, which was a major success, with IPTV with mirroring options from an iPhone or android device.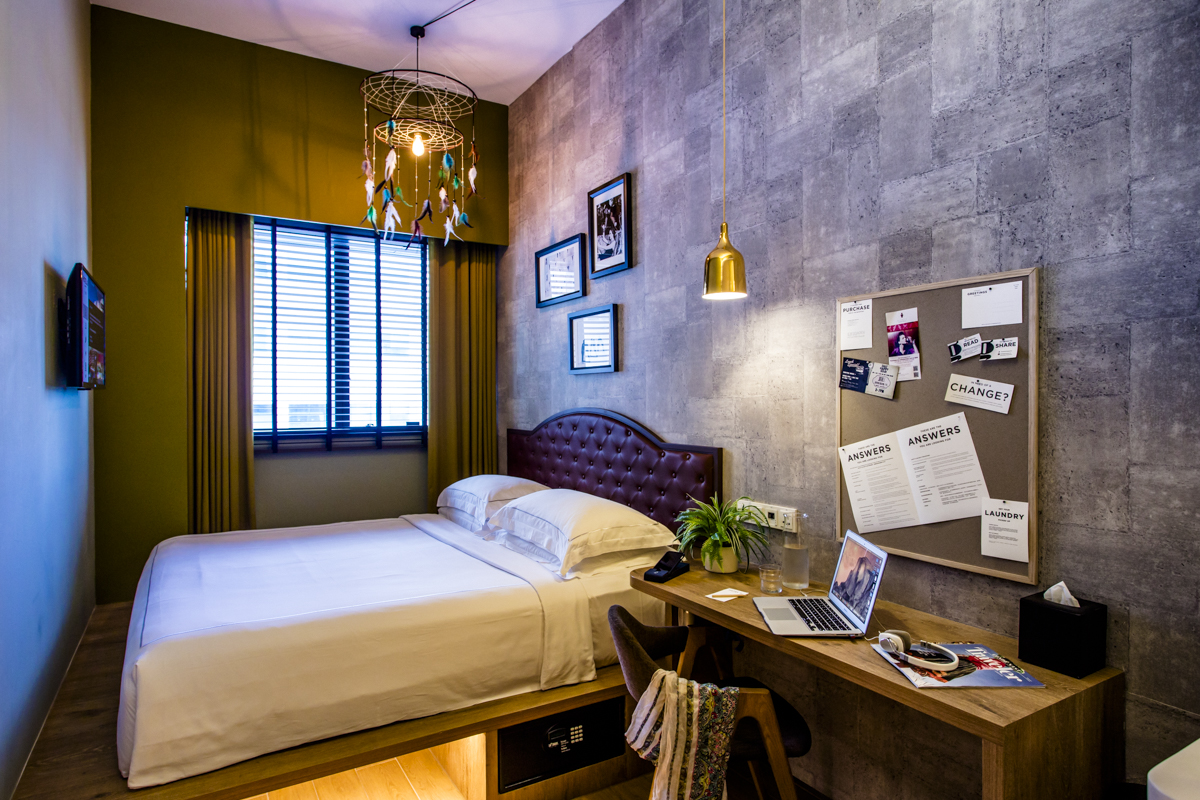 Hotel G Singapore also provides a smartphone in-room that offers our guests complimentary data and calls through the city as well as a guide on what to do while our guests are out and about.
"7,000 newspapers and magazines in over 70 languages"
Another interesting feature that gets rave reviews from our guests is an e-reader app that provides access to over 7,000 newspapers and magazines in over 70 languages for free.
Just log onto the Wi-Fi at Hotel G Singapore and read or download whatever publications you fancy – it is that simple. Going further, the lifestyle hotel also partners with tech companies and startups to always be ahead of the curve.
TD: How does Hotel G Singapore see the evolution of their product in the years to come?
OA: As the focus is, and will always be, our guests' experience and satisfaction, understanding them requires data and analysis. Therefore being able to track customers' habits, interests and preferences is crucial to the evolution of our product.
To gain this understanding, AI-driven technology will prove more important than ever. As technology products and derived services keep evolving, consumption of such products will also change with time, hence the necessity for Hotel G Singapore to be flexible enough to adapt and cater to the new demands of our guests.
More information
To learn more about Hotel G Singapore visit hotelgsingapore.com or see the website of the hotel's management company, GCP Hospitality, at gcphospitality.com.