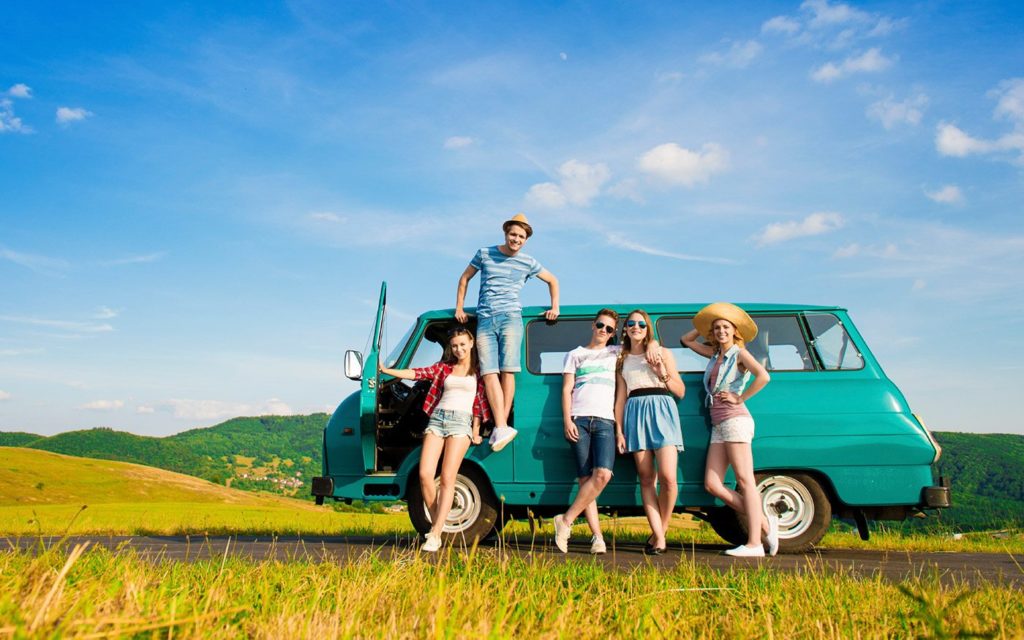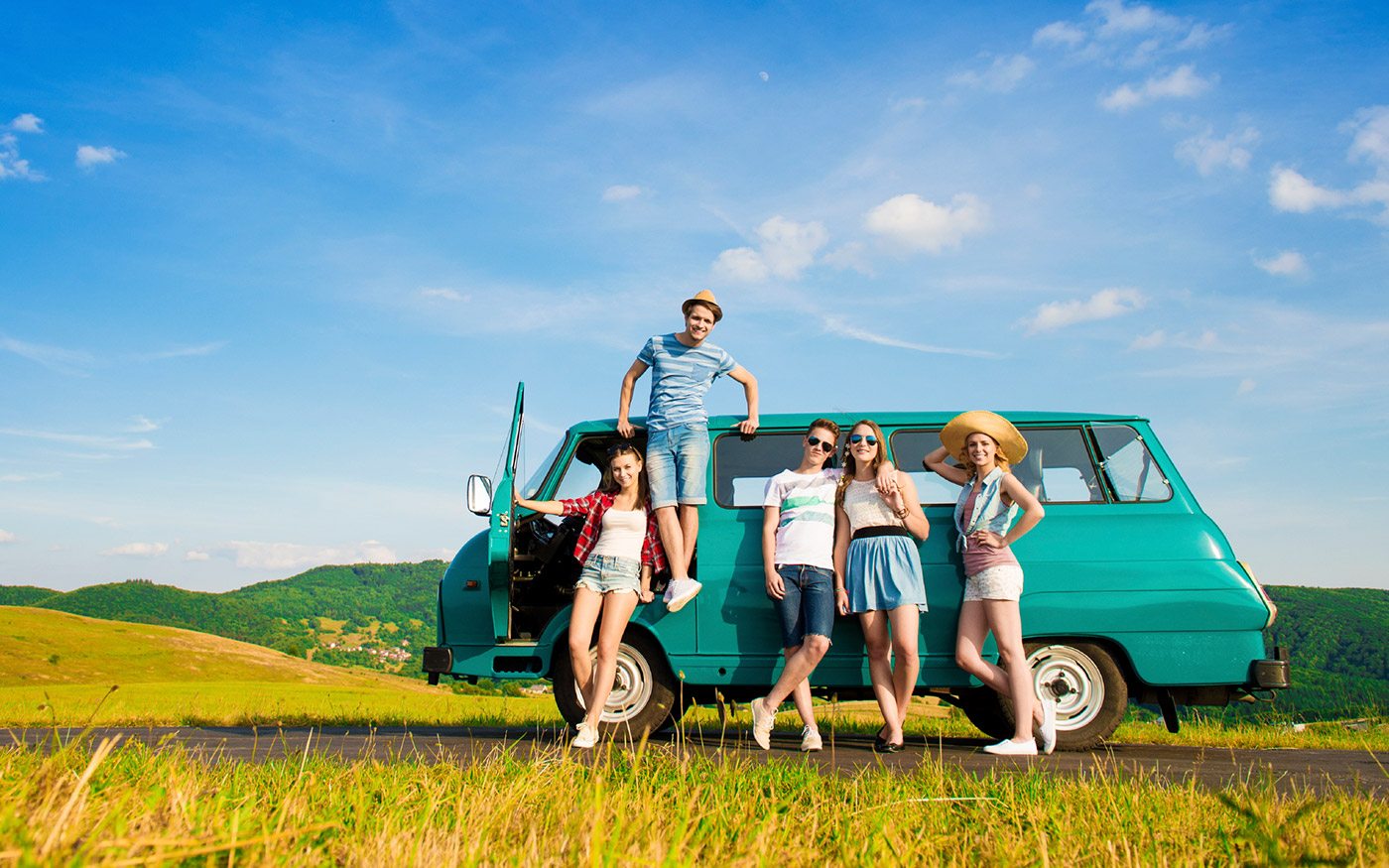 From movies like Almost Famous, Little Miss Sunshine and the classic Thelma and Louise, road trips are a great way to see the world.
Comparethemarket.com used Google Maps to plot the longest route possible across each continent.
Here's a selection of the longest trips you can take in your car, as well as some of the best sights that you can see on your journey.
Europe (South-North) – Total Distance: 4,704 miles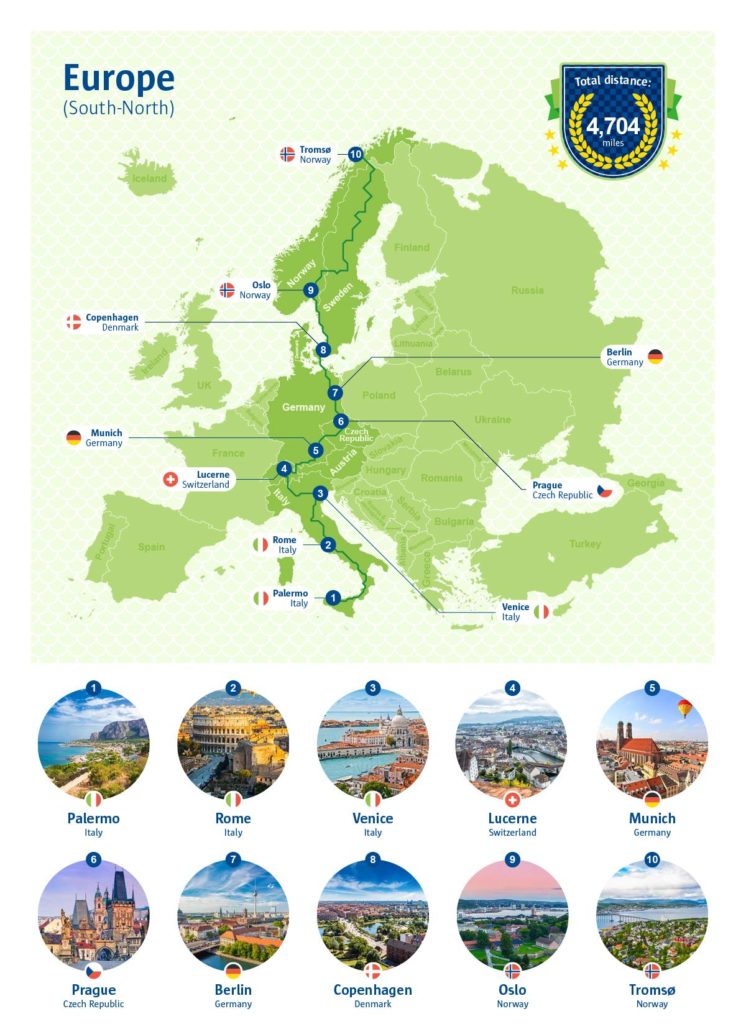 Palermo – Rome – Venice – Lucerne – Munich – Prague – Berlin – Copenhagen – Oslo – Tromsø
This trip takes you from the sunny shores of Sicily up to the Arctic Circle in the far north of Norway, taking in some of the continent's major cities en route.
Starting in Palermo, Sicily, the route takes you via a short ferry crossing through the whole of Italy, including the gorgeous region of Tuscany and a potential detour along the stunning Amalfi coast.
From there you head into central Europe, through Switzerland, Germany and the Czech Republic, before hopping onto another ferry to Copenhagen.
The final stretch takes you right through Scandinavia up to the very top of Norway, and if you don't mind adding an extra few days on, you can take a detour through the western fjords.
South America – Total Distance: 7,615 miles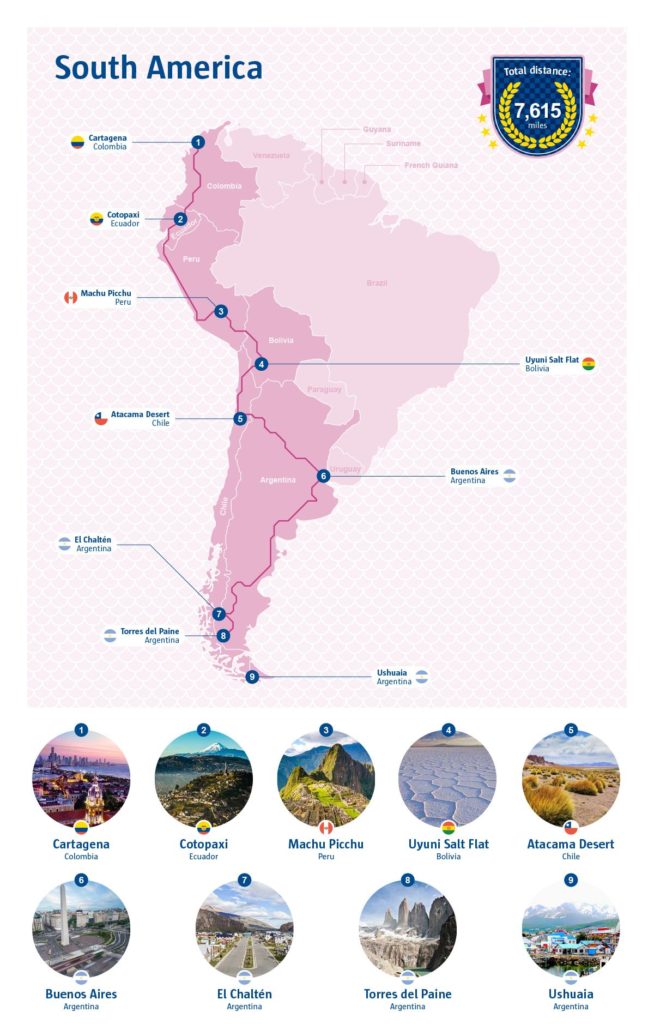 Cartagena – Cotopaxi – Machu Pichu – Uyuni Salt Flat – Atacama Desert – Buenos Aires – El Chaltén – Torres del Paine – Ushuaia
Whether you've managed to ship your car across the Darién Gap or you just want to split this huge trans-continent trip in two, the South American leg begins in Colombia, before heading past the ancient city of Machu Picchu in Peru, the Uyuni Salt Flats in Bolivia and the Atacama Desert in Chile.
The final leg takes you right down to Patagonia and the Cape of Good Horn at the very southern tip of the continent.
Africa – Total Distance: 8,723 miles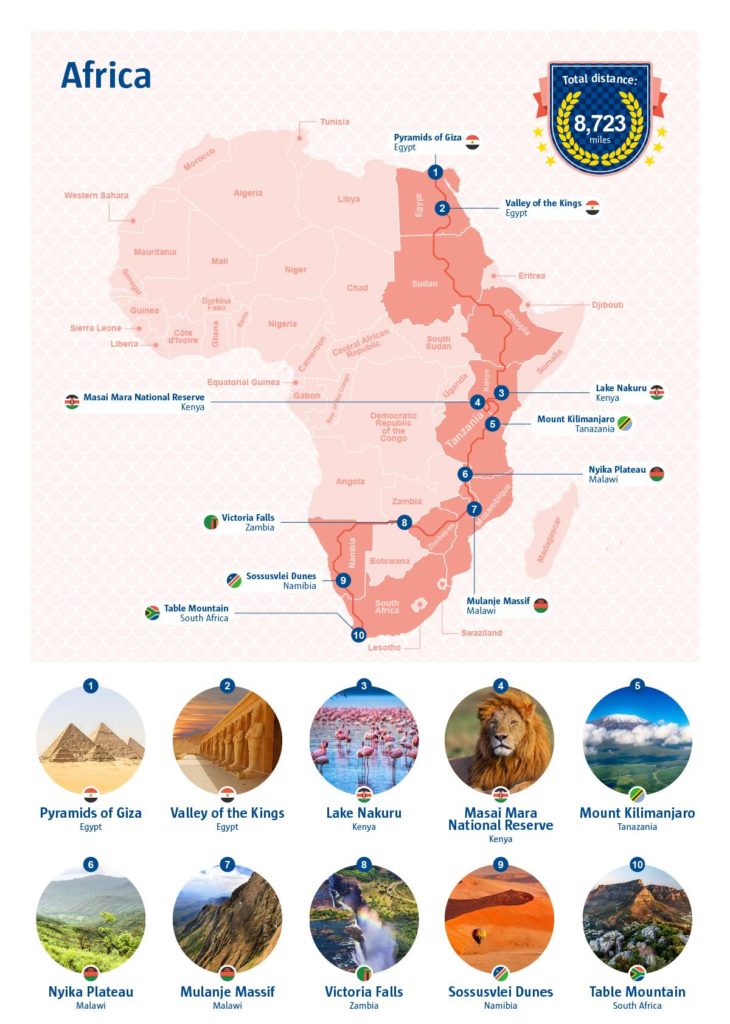 Pyramids of Giza – Valley of the Kings – Lake Nakuru – Masai Mara National Reserve – Mount Kilimanjaro – Nyika Plateau – Mulanje Massif – Victoria Falls – Sossusvlei Dunes – Table Mountain
A trip from the very top to bottom of Africa would allow you to see some of Africa's most iconic sights, such as the Pyramids of Giza, Mount Kilimanjaro and Victoria Falls, as well as a variety of incredible landscapes.
From the deserts of Northern Africa, through rainforests and the Serengeti, as you make your way down to South Africa, this road trip would take in a number of diverse habitats, all with their own wildlife to spot along the way.
North-Central America – Total Distance: 9,098 miles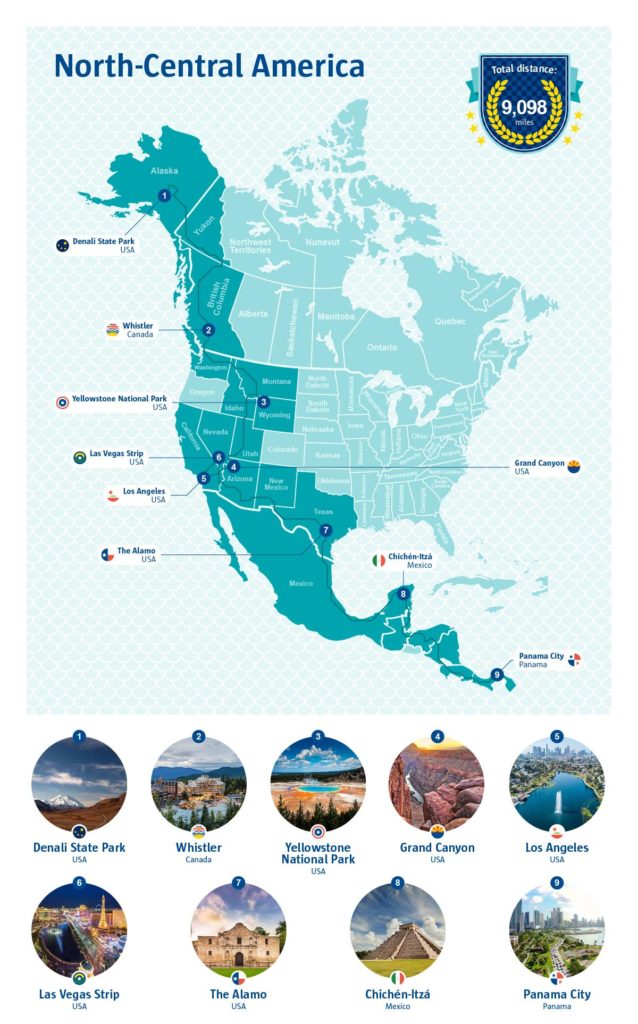 Denali State Park – Whistler (Canada) – Yellowstone Park – Grand Canyon – Los Angeles – Las Vegas Strip – The Alamo – Chichén Itzá – Panama City
Route 66 is the road trip most closely associated with North America, but it's possible to head all the way from Alaska, through Canada and the US, right down to Mexico and almost into South America via the Pan-American Highway.
The route allows you to take in amazing scenery as well as cities such as Los Angeles and Las Vegas, and was it not for a 66-mile section of swampland and forest in Panama known as the Darién Gap, it could take you to the southern tip of South America too.
Australia – Total Distance: 9,264 miles
Sydney – Fraser Island – Great Barrier Reef – Daintree National Park – Kakadu National Park – Kimberly – Perth – Uluru-Kata Tjuta National Park – Great Ocean Road – Melbourne
One of the world's most iconic road trips, Australia's Highway 1 (also known as the 'Big Lap'), completes a circuit of this vast country.
We've largely stuck to that route with this trip, with a detour through the centre of the country to take in Uluru-Kata Tjuta (formerly known as Ayers Rock). A trip around Australia also sees you visit major cities such as Sydney, Perth and Melbourne, as well as the Great Barrier Reef, various national parks, and the famous Great Ocean Road.
Europe-Asia (West-East) – Total Distance: 9,597 miles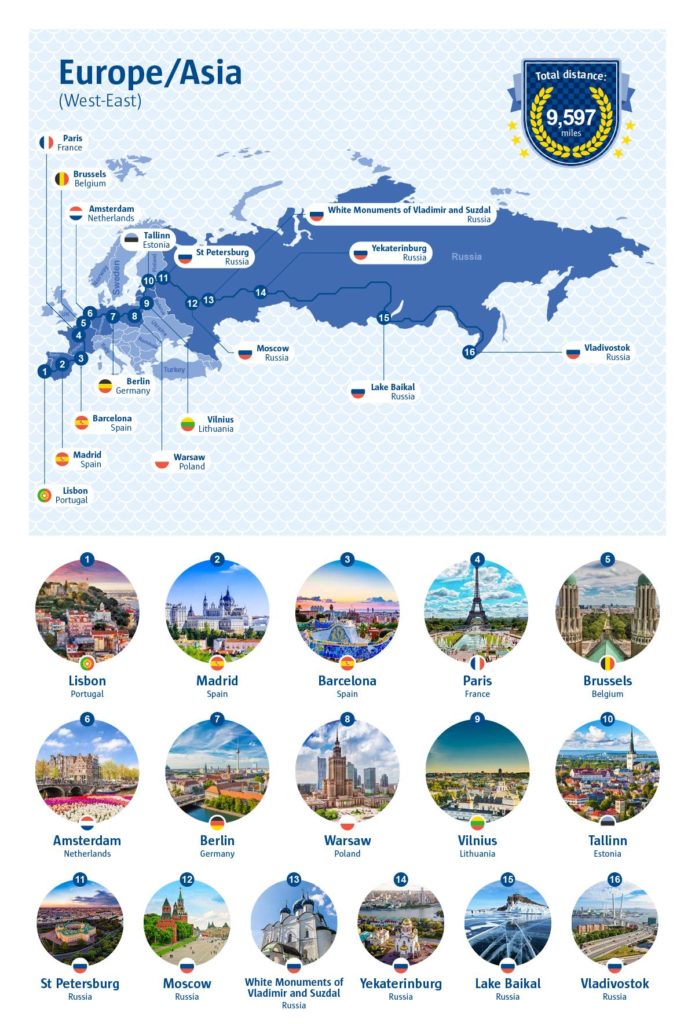 Lisbon – Madrid – Barcelona – Paris – Brussels – Amsterdam – Berlin – Warsaw – Vilnius – Tallinn – St Petersburg – Moscow – White Monuments of Vladimir and Suzdal – Yekaterinburg – Lake Baikal – Vladivostok
This mammoth trip takes you from mainland Europe's western tip to the far eastern reaches of Siberia and the Sea of Japan.
From the Portuguese capital Lisbon, you can check off cities including Madrid, Paris, Amsterdam and Berlin before heading up through the Baltic states and onto St Petersburg in Russia.
This is where the trip becomes something of an endurance test, heading from one end of Russia to the other via the Trans-Siberian Highway to Vladivostok. This takes you all the way to the Sea of Japan and is a huge undertaking in its own right.