10 million reasons for Thai tourism to celebrate 2018
Ever since an unfortunate incident in Phuket last year led to 47 Chinese nationals being killed in a boating accident, Thailand suffered a dramatic drop in visitors from the country, as outbound tourists cancelled trips to the Kingdom in record numbers.
However, following months of crisis management and initiatives from the Tourism Authority of Thailand (TAT), there are reasons for the market to be cheerful as the year draws to a close, when the number of Chinese visitors to Thailand reached 10 million for the first time.
This landmark means that the country has exceeded the 9.5 million Chinese arrivals of 2017 and reached a forecast of 10 million visitors from China for this year– generating about THB 509 billion in revenue. The number also sets a new record for Thailand's No 1 source market, where TAT has five offices, Beijing, Shanghai, Kunming, Chengdu and Guangzhou.
Historic milestone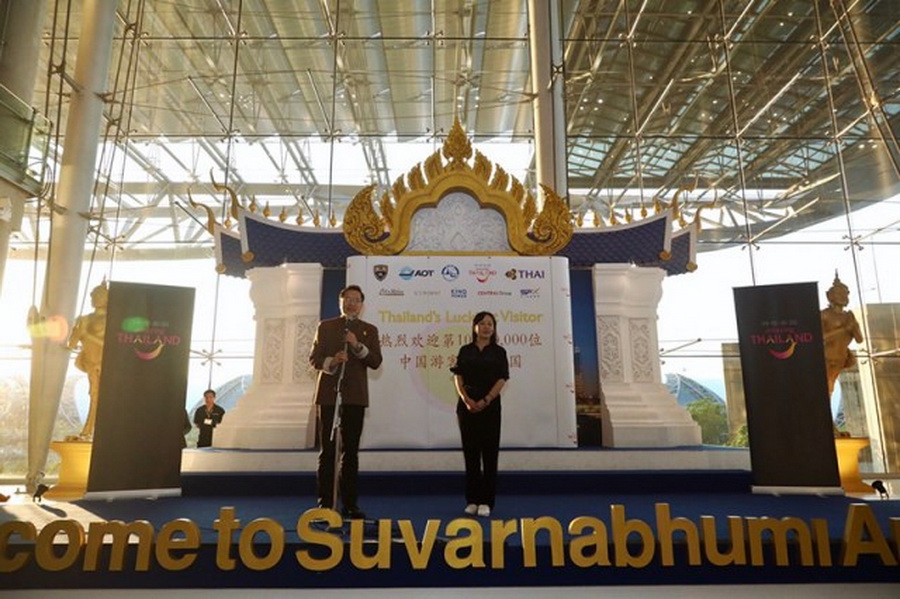 TAT along with VIPs from  the public and private sectors of the industry hosted a special welcoming ceremony to Ms. He WeiXin, the 10 millionth visitor from China, who arrived in the Thailand on board Thai Airways International (THAI) flight TG613 from Kunming, which touched down at Bangkok's Suvarnabhumi Airport at 5:00 pm on Wednesday.
Presiding over the airport welcome ceremony, H.E. Weerasak Kowsurat, minister of tourism and sports, said: "This marks a historic milestone between our two Asian neighbours, and we are confident that she will enjoy her local Thai experiences and will feel inspired to become a good ambassador of the kingdom.
Kowsurat then went on to share his hopes that Chinese tourists were no longer put off in coming to Thailand, and it was once again seen as safe destination– the number one prerequisite for the average outbound travel from the all-important source market.
"Amazing Thailand' remains the preferred holiday destination"
"We hope that she will help spread the word about her memorable experience during the trip in Thailand to family, friends and everyone in China that 'Amazing Thailand' remains the preferred holiday destination. This will help strengthen the positive image of Thai tourism."
Chattan Kunjara Na Ayudhya, TAT's deputy governor for international marketing in Asia and the South Pacific, said: "China is Thailand's largest market with Chinese arrivals constituting one-third of the overall number of visitors to Thailand. The welcoming of the 10 millionth Chinese tourist for 2018, for the first time ever for Thailand, reiterates the Thai tourism industry's ongoing efforts to strengthen the awareness of Thailand as a top destination."
Here at TD, we put our best efforts to provide the latest and most valuable content to our readers. It is a true labour of love - where we work hundreds of hours each month - to make sure we offer meaningful content. If you value what we do, please consider a donation of any amount.
This would mean the world to us! Thank you and click here to proceed!