Asian cruise destinations join forces to drive growth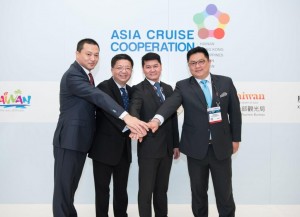 Five Asian cruise destinations have teamed up to jointly promote and fund the growth of the industry.
The newly-formed Asia Cruise Cooperation (ACC) includes tourism authorities in Hainan, Hong Kong, the Philippines, Taiwan and Xiamen. They will now work together to provide support to cruise lines wanting to develop Asian cruise products and itineraries.
The ACC initiative follows the launch of the Asia Cruise Fund in 2014.
According to the partners, the project will "provides a one-stop platform to support cruise lines' strategies in Asia including facilitating itinerary development, sharing industry and market insights, enhancing cruise lines' marketing efforts with funding support and creating consumer demand for cruising".
Anthony Lau, executive director of the Hong Kong Tourism Board (HKTB), commented; "The prospects for this burgeoning sector are unlimited, and it's no exaggeration to say the future of cruise tourism lies in Asia. Hong Kong… is determined to continue to play a pivotal role in the ACC in initiating joint promotions to attract more international cruise lines and yield greater mutual benefits for all members of the ACC."
International cruise lines have also expressed their support for the ACC. Jan Swartz, president of Princess Cruises, said; "We are very proud of our close working relationship with the Asia Cruise Cooperation and we look forward to continuing to work with them to grow cruise tourism in Asia."
Dr Zinan Liu, Royal Caribbean's president of North Asia & China, added; "When planning an itinerary, cruise lines tend to choose attractive ports of call in the same region. As a result, we believe it's essential to collaborate with our ACC partnering destinations in order to attract international cruise companies and develop new itineraries."
In 2015 an estimated 1,000 scheduled cruises operated in Asia, featuring more than 3,500 port calls.