Bath time: Francis Hotel celebrates its home city with new 'indulgent' offfer
One of Bath's finest hotels – Francis Hotel, has launched a new package which will allow guests to fully immerse themselves in a relaxing overnight stay. The new Indulge in Bath package is inspired by the spa town and the hotel brings it life through a luxurious in-room bath experience.
 Guests will be gifted a luxury bath time box for two, which includes a selection of bath salts, bath bombs, bath bubbles, face mask and body lotions. The package will offer an overnight stay in a sumptuous room with bathtub and those who wish to have a lazy lie-in can enjoy the late 2 pm checkout.
Situated in the heart of the Bath, a UNESCO World Heritage Site, the Francis Hotel is a perfect spot for those seeking to explore the historical city, which is why the hotel created its own Lazy Guide to Bath. The guide will be aimed at guests who are looking for a peaceful escape but also wish to explore the city at their own pace. The Lazy Guide will include all of the best places to visit from cultural sites to and shopping all within a 10-minute walk of the hotel. The guide features recommended visits to the Royal Crescent & Botanical Gardens, Bath Abbey, Sally Lunns Tea room, the Fashion Museum and Green park station for time browsing the independent boutiques or dining in its cafes and restaurants.
The 98-room boutique property was the first property to launch as an MGallery Collection hotel in the UK in 2012. First opened by Emily Francis, a leading entrepreneurial lady of her time, as a boarding house the property became a hotel through the integration of seven Georgian townhouses and today stands as a luxury hotel with sympathetic contemporary interior design.
The hotel offers vibrant décor and provides a modern yet, historically charming welcome. The bedrooms have their own unique style and design, complemented by many quirky & artistic features, such as guests can quite literally count sheep to sleep, with the help of a painting hung on the ceiling above the bed when staying in a Feature bedroom. Guests can also spend time enjoying one of the 6 specially commission pieces of artwork, by artist Duncan McKellar, that depict typical Regency Queen Square, with a few hidden surprises that the guests are invited to spot.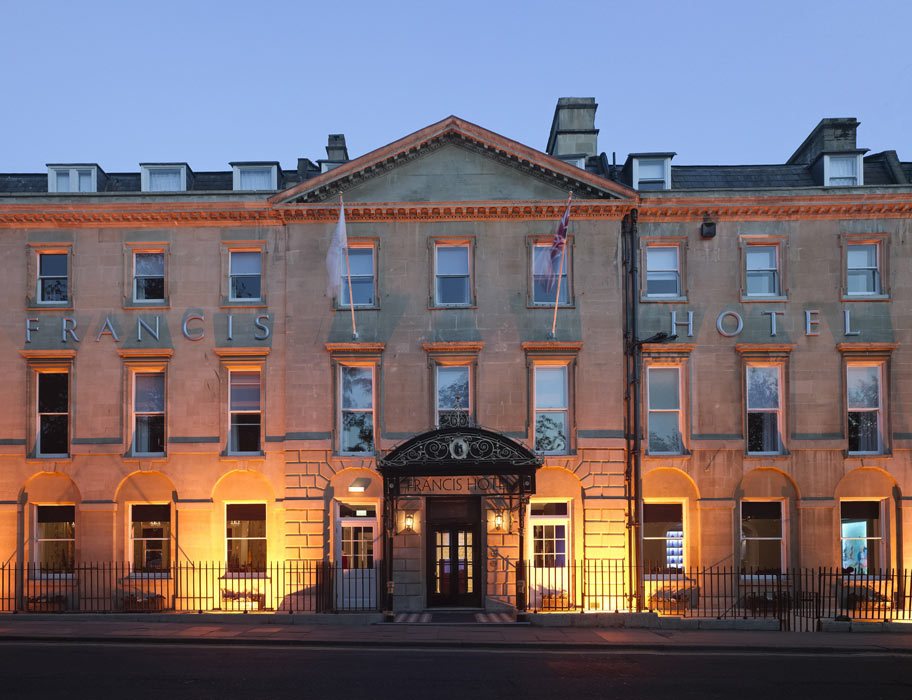 The Indulge in Bath package starts from GBP139 per room based on two adults sharing a room with breakfast, the Bath time box, late 2pm check-out, and a Lazy Guide to Bath, subject to availability.