Have faith, will travel: A trip to Buddhist hotspots in Maharahstra
Maharashtra Tourism Development Corporation (MTDC) is offering its land bank to Buddhist countries for developing Buddhist theme parks and monasteries.
Promoting the Buddhist Circuit by conserving the cultural inheritance of Aurangabad, the MTDC, in association with Ministry of Tourism, organised an International Buddhist Conclave in Aurangabad on 24 August 2018 with an aim to enlighten the people on various destinations associated with the Buddhist culture in the state.
The idea is to highlight and promote Ajanta and Ellora as a tourist hotspot on the international Buddhist Tourism map.
MTDC is working to create new avenues in the state for Buddhist Tourism by strengthening their ties with Buddhist nations around the globe. To propel this mission it is also planning to offer its landbank to Buddhist countries for developing Buddhist theme park and monasteries near the Ajanta Caves, the UNESCO heritage site in Aurangabad.
It will tie up with KJ Somaiya Centre for Buddhist Studies to introduce new tour packages to promote Buddhist Tourism in the state.
The Ministry of Tourism has selected Ajanta and Ellora, UNESCO heritage sites under the Iconic Destination Project, to offer world-class amenities to the tourists. The Ministry of Tourism is also joining hands with the Ministry of Highways to develop the roads in Aurangabad for better connectivity of the iconic caves with the airport so that it becomes convenient for tourists coming in from other locations in the country.
Land of Buddhism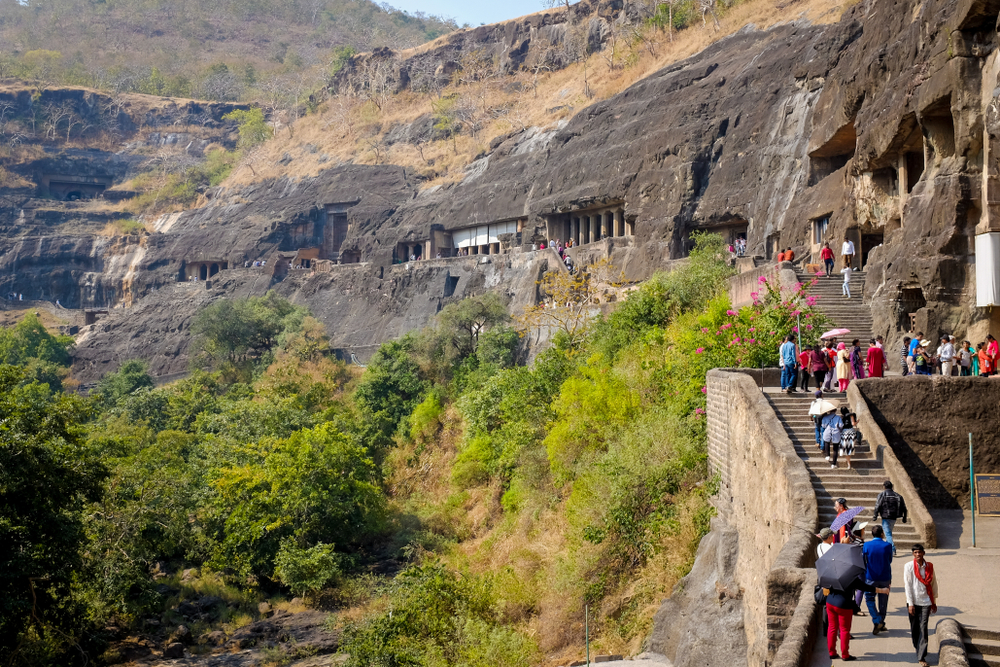 Maharashtra has rich Buddhist heritage and culture and the MTDC is now encouraging local bodies to build Buddhist Circuits in the state of Maharashtra.
Some of the Buddhist Circuits include Stupa in Nalasopara, Global Vipassana Pagoda in Gorai, Mandapeshwar Caves in Borivali, Chaityabhoomi in Dadar, Elephanta Caves and Kanheri Caves in Sanjay Gandhi National Park, Karla and Bhaja Caves in Pune, Pandavleni Caves in Nashik, Deekshabhoomi in Nagpur, along with the UNESCO heritage sites at Ajanta and Ellora in Aurangabad.
"The significant locations where Lord Buddha preached"
Commenting on the occasion, Jaykumar Rawal, minister of tourism in Maharashtra said: "It's a privilege to be part of the International Buddhist Conclave in Aurangabad which offers an excellent opportunity for us to come together with all Buddhist countries under one roof and discuss mutual prospects and develop new opportunities.
"The main aim is to highlight the significant locations where Lord Buddha preached, taught and attained enlightenment or nirvana in the state."
"Help in attracting visitors from other Buddhist nations"
Suhas Diwase, managing director, MTDC, added: "Our objective is to widen the potential of Buddhist Tourism across the globe by encouraging tourists from Buddhist nations to experience its rich legacy through Buddhist monuments and centres in the state.
"I am certain that this step will prove to be of great interest to the tourists who wish to explore more about Lord Buddha's journey and self-discovery and help in attracting visitors from other Buddhist nations like Japan, Sri Lanka, Thailand among others."