Carnival Corporation unveils OceanView Mobile – first ever travel content app
Leisure travel company Carnival Corporation has launched OceanView Mobile – an industry first travel content app from a travel provider that enables users to watch the most popular U.S. travel series and other original travel shows at home, on the go and at sea.
The app also allows people to explore the most popular destinations wherever and whenever they choose.
Users can select from a slate of more than 150 full episodes from favourite "Ocean Original" shows like The Voyager with Josh Garcia (which airs weekly on NBC); Ocean Treks with Jeff Corwin and Vacation Creation with Tommy Davidson and Andrea Feczko (both of which air weekly on ABC); and Good Spirits, as well as 30 short-form episodes of original series, "GO" and "Local Eyes."
OceanView will also showcase video collections from the corporation's cruise brands, and users will be able to check out memorable new-ship christening ceremonies featuring royalty and celebrities, as well as the process of ship design and construction, elaborate culinary creations from world-renowned chefs and ever-evolving ship attractions.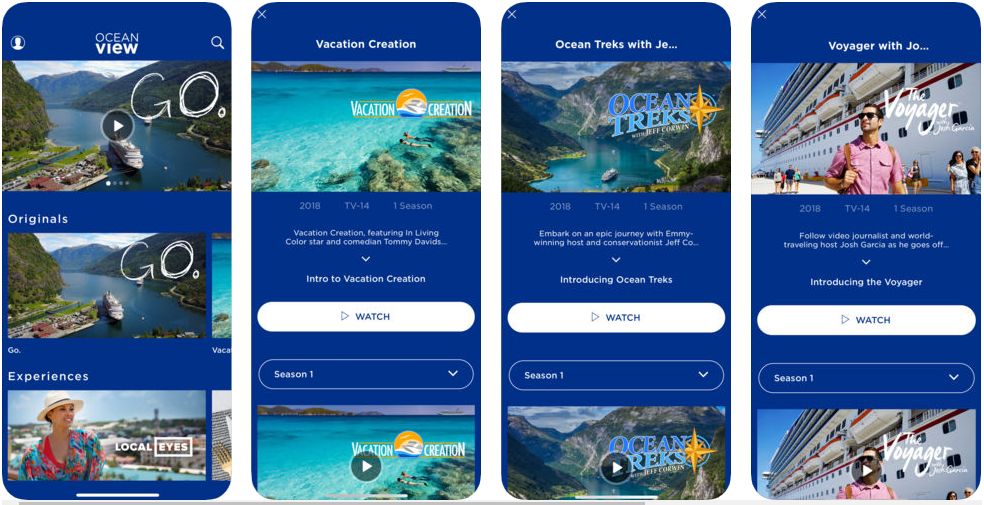 John Padgett, chief experience and innovation officer for Carnival Corporation, said: "Our Ocean Originals already are the most popular travel series on TV in the U.S., and now travel fans around the world can watch their favourite shows anytime they want, from wherever they are – whether that's at home, on the go or on our ships.
"Unprecedented in the travel industry"
"Our ability to extend consumer brand engagement from broadcast TV to all major video-on-demand platforms, all major over-the-top platforms and all major mobile platforms is unprecedented in the travel industry. This allows us to showcase the extraordinary experiences available on cruise vacations to millions of potential guests, and to help them get excited about where they'll go next, whenever they prefer."
Carnival Corporation's new app is part of its efforts to increase awareness and demand for cruise vacations. With cruise vacations growing 20% faster than land-based vacations and with more people than ever taking cruise vacations in 2018, the strong ratings are further evidence that global interest in cruise vacations is becoming more and more popular.
OceanView Mobile is available for download on the Apple App Store and Google Play, and features free content from Carnival Corporation. OceanView also will be available in late October on the company's Ocean.com website.