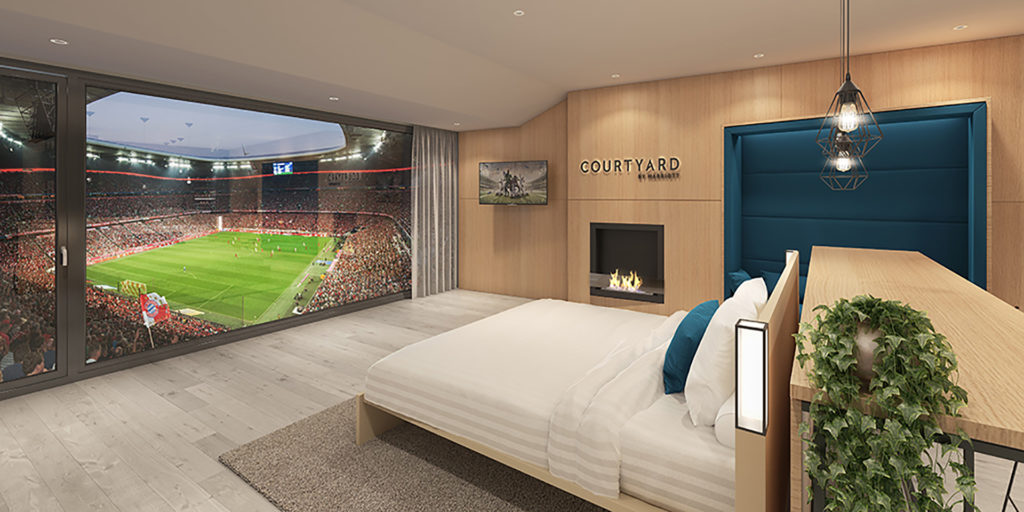 Marriott International's brand that pioneered the select service category, Courtyard by Marriott, is set to further grow its European footprint of 63 hotels by almost 50% over the next two years.
Courtyard by Marriott already welcomes travellers in more than 1,100 locations in over 50 countries and territories around the world. With nearly 30 hotels anticipated to open in Europe by the end of 2020, Courtyard hopes to continue offering business travellers an "elevated experience that meets the generational shift" with bleisure seeking travellers.
"Offer more choices in new and convenient business hubs"
John Licence, vice president of Premium and Select Brands at Marriott International, Europe, said: "Our guests are passionate, hard-working and success-driven. As such, Courtyard by Marriott has adapted its growth strategy to offer more choices in new and convenient business hubs, combining innovative technology with style and comfort to meet the demands of the next generation of global business travellers."
The accelerated growth of the brand is largely driven by franchise partners who recognise Courtyard as a dependable product that offers quick entry to the market, access to world-class global sales platforms and the backing of Marriott International's loyalty programmes.
Carlton Ervin, chief development officer at Marriott International, Europe, said: "Travellers know they know they can count on our Europe-based development teams and in-house expertise in areas such as special planning, design efficiency and construction costing. This winning combination allows us to collaborate on new, adaptive re-use and conversion opportunities whilst still achieving speed-to-market."
In addition to strengthening its portfolio in the established markets of Germany, France and the UK, Courtyard is continuing its first-to-market approach with anticipated debuts in seven emerging destinations including Armenia, Finland, and Iceland.
This growth announcement is enhanced by two new flagship properties in the dynamic destinations of Paris and Hamburg. Courtyard Paris Gare de Lyon opened in October while the Courtyard Hamburg City is scheduled to open in Spring 2019.
Courtyard Paris Gare de Lyon

Courtyard Paris Gare de Lyon brings to life the brand's new design vision for its properties and is ideally located in the city centre. The 19-story tower incorporates a contemporary look and feel, and offers exceptional views of Paris and its iconic landmarks throughout its 249 guest rooms. The property is conveniently situated close to the Gare de Lyon station, a key travel hub and international gateway.
Courtyard Hamburg City
Located in the heart of Hamburg, this 276-room property will be just moments from the Central Station and will be well-equipped to host a range of business and conference events while catering to the needs of the passion-led business traveller.
Coming soon
In addition to these two openings, Courtyard by Marriott expects to continue to grow its robust pipeline in Europe over the next two years. Here's what its expansion plans look like:
UK – The UK market already boasts of seven Courtyard hotels and is slated to further expand its portfolio with the addition of five hotels in key cities such as London, Glasgow and Oxford.
France – Following the opening of Courtyard Paris Gare de Lyon, the footprint in France is expected to grow to 10 hotels with eight in Paris.
Germany – The upcoming opening of Courtyard Munich Garching will pave the way for a further three properties anticipated to open in Hamburg, Munich and Darmstadt. Once open, these hotels will bring the Courtyard portfolio in this market to 18 hotels.
Debutantes – The brand is also expected to make its debut in numerous markets over the next two years, including Romania (Cluj-Napoca, Bucharest Floreasca), Armenia (Yerevan), Croatia (Split), Finland (Tampere), Iceland (Keflavik), Georgia (Batumi) and Macedonia (Skopje).