Boutique is the way to go as cruise lines take every effort to customise their experience with off beat attractions and onboard design. Addition of vessels in the industry and more…this week!
Heritage Cruises' maiden voyage to Halong Bay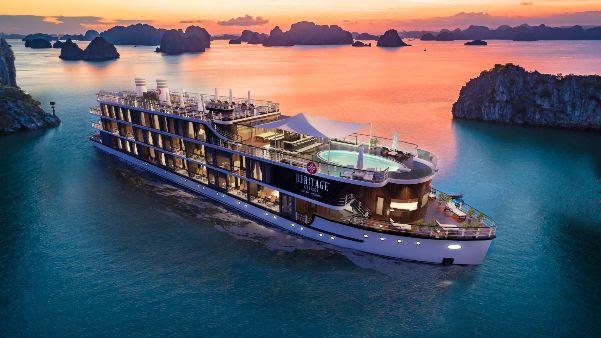 Heritage Cruises, a member of the Lux Group under the five-star Emperor Cruises brand, announced at ITB Berlin that it is set to launch its first boutique cruise in the Cat Ba Archipelago in the Tonkin Gulf. The prices for maiden voyages starting from USD 400 per suite per night.
Launching in May 2019 it will offer cruises for 40 guests aboard an architecturally-designed boutique river and ocean cruise ship. Amenities include an art gallery, wine cellar, luxury spa, movie under stars, two restaurants, indoor and outdoor lounges, pool bar and its first swimming pool in the Halong Bay region and 20 suites with picture windows, offering full ocean views.
Currently operating in Vietnam's Nha Trang Bay and Bai Tu Long Bay, CEO and founder of Heritage Cruises, Pham Ha wishes to extend boutique hotels-like charm with his boutique cruises "characterised by their intimate atmosphere and idiosyncratic style". He said: "We want to create memorable moments that focus on the local culture and arts encountered on the way."
Aside from offering a cosier atmosphere, the small size of this ship allows easy access to remote, less-visited places that larger vessels just can't get to. This provides the chance to cruise the Gulf of Tonkin (Lan Ha Bay, Bai Tu Long Bay, and Halong Bay), complemented by personalised service and on-request limousine transfers, which Heritage Cruises offers.
Thrice the glory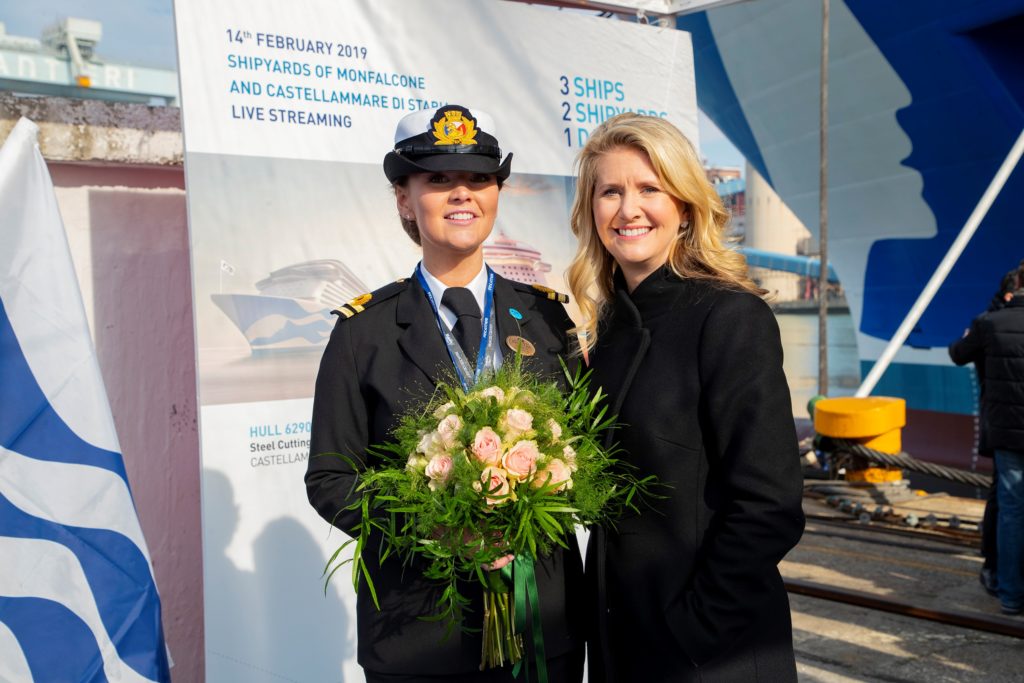 At Fincantieri shipyard in Monfalcone, Italy, Princess Cruises marked the construction progress for each of the 3,660-guest Sky Princess, Enchanted Princess and a sixth Royal-class ship yet to be named.
For Sky Princess, to launch in October this year, a 'Madrina' ceremony was held. The ceremony saw Kerry Ann Wright, a Glasgow-based second officer for Princess Cruises, wish the ship a safe onward journey with a blessing at the shipyard.
For Enchanted Princess, set for a June 2020 launch, a keel laying ceremony took place. Following a traditional blessing, executives from Princess Cruises and Fincantieri kicked off the countdown to completion of the fifth Royal-class ship by ceremoniously lowering a 500-tonne keel – the bottom-most part of the ship – into position in the drydock.
Finally, a steel-cutting ceremony was held for the final Royal-class ship. The ceremony took place during a live broadcast from Naples, Italy, and marked the cutting of the first plates of steel. These signalled the beginning of construction of the ship scheduled to launch in 2022.
With two further ships on order for delivery in 2023 and 2025, Princess Cruises will increase its capacity by 32% over the next six years.
Jan Swartz, Princess Cruises and Carnival Australia group president, said: "As we continue to grow our fleet with five new ships arriving by 2025 – maintaining our position as the fastest growing premium cruise line in the world – we're proud to not only celebrate these three major construction milestones in the same day but also to continue to innovate our product with cutting-edge technology and elevated guest experiences that will be offered on all of these ships."
A bird in hand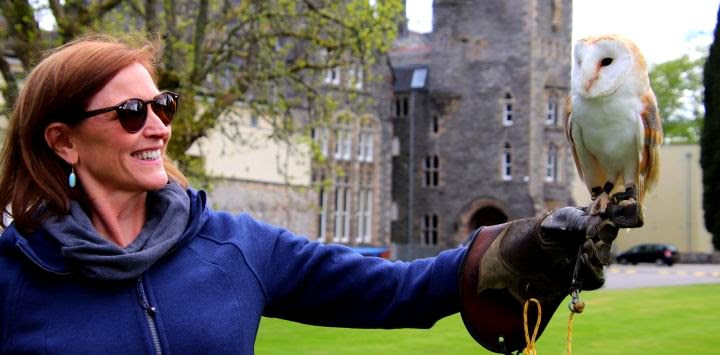 Experiential excursions are not just for land anymore. European Waterways continues to invest in them aboard their hotel barges. Guests can now enjoy a demonstration of the medieval sport of falconry at the Château de Commarin, where they will have the opportunity to get up close and personal with hawks, owls and eagles, all under the watchful eye of a trained falconer. After the birds have returned to their nests, Count Bertrand de Vogue, will regale guests with tales of the château, after which they will be treated to a private tour of the building.
The rare falconry display at an aristocratic estate has now been incorporated into the 2019 itineraries for L'Impressionniste and La Belle Epoque, both of which cruise the Burgundy region. Called "the Grand Dame" of Burgundy, La Belle Epoque was acquired by European Waterways in 1993 and transformed into one of the regions first "floating boutique hotels," complete with marble en suite cabins, a wood-panelled saloon and a sundeck with hot tub. In addition to the falconry experience, La Belle Epoque's extensive array of excursions includes a visit to the town of Chablis, where guests will enjoy an upgraded private wine tasting at the prestigious Domaine Laroche.
"Guests will enjoy some of the most unique experiences in Europe"
Derek Banks, managing director of European Waterways, said: "Whatever the cruise region, guests will enjoy some of the most unique experiences in Europe."
Six in a row
Royal Caribbean Cruises Ltd. has entered into an agreement with French shipbuilder Chantiers de l'Atlantique to order a sixth Oasis-class ship for delivery in the fall of 2023.
Richard D. Fain, chairman and CEO, Royal Caribbean Cruises Ltd, said: "This order is a reflection of the exceptional performance of this vessel class and the extraordinary partnership between Chantiers de l'Atlantique and Royal Caribbean Cruises Ltd."
It's the twenty-third cruise ship that RCL will be building at Chantiers de l'Atlantique, based on their long-term co-operation there is scope to see some innovation to meet customer expectations. This order is contingent upon financing, which is expected to be completed in the second or third quarter of this year.