Irish visa application centre to provide "seamless convenience" for UAE-based expats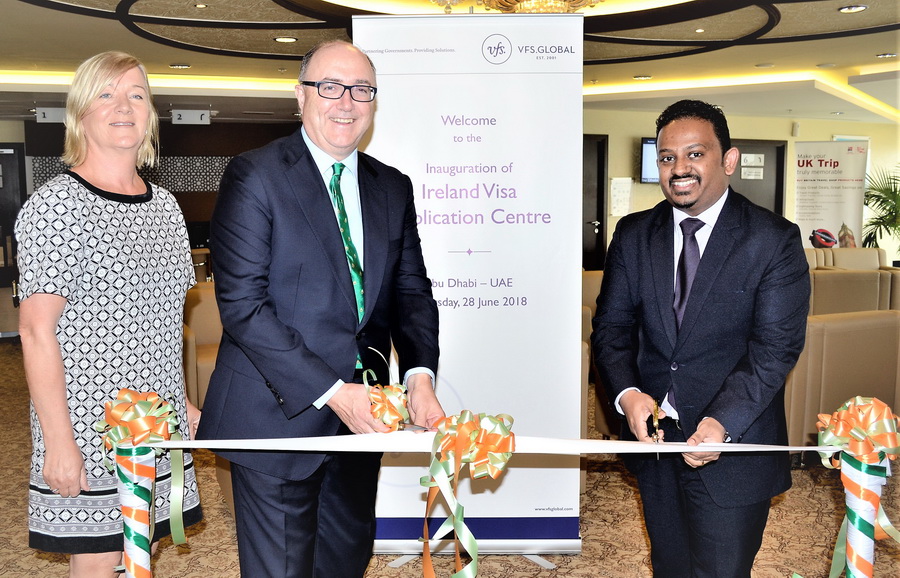 The Embassy of Ireland, in partnership with international visa and diplomacy tech specialists, has opened the UAE's first external visa application centre.
The application centre, located in Abu Dhabi, means that all non-UAE nationals based in the UAE, and who require a visa in order to enter Ireland, will no longer need to visit the embassy and can instead take advantage of the speedy document processing provided by  the application centre.
Speaking at the opening ceremony, ambassador of Ireland to the UAE, HE Paul Kavanagh (main picture, left), said: "The new external visa application centre located in downtown Abu Dhabi and operated by VFS Global will provide an excellent streamlined service for non-UAE nationals who are based in the UAE and who require a visa in order to enter Ireland."
Some of the key features of the centre include automated queue governance for smooth flow of applicants and a dedicated website for easy access to information, including visa categories, requirements, check-list and applicable fees. Doorstep delivery of passports is also available to VFS Global customers.
"Seamless convenience to expatriates based in the UAE"
Commenting on the launch, Vinay Malhotra (main picture, right), regional group COO for the Middle East, South Asia and China at VFS Global, said: "The VFS Global visa application centre for  Ireland will offer seamless convenience to expatriates based in the UAE. Applicants based in the UAE account for a predominant share among all visa applicants from the entire GCC. Our endeavor will be to offer best-in-class visa services with utmost efficiency to ensure a delightful customer experience."