"Let`s talk about Lufthansa Group": Stefan Molnar spills the beans on Lufthansa Group`s plans in Southeast Asia
Contributors are not employed, compensated or governed by TD, opinions and statements are from the contributor directly
With the recent launch of Lufthansa's new direct Munich-Bangkok service, I tracked down Stefan Molnar, general manager of sales for Lufthansa Group Airlines in Thailand, Vietnam, Philippines and the Mekong Region, to discuss the new route, flying chefs, the digital evolution of the industry and a whole lot more.
TD: You guys launched a new direct flight service to BANGKOK from Munich on 3 June, how has the service developed in the few months it has been operating?
Stefan Molnar (SM): We are very happy. We have experienced a capacity increase since it began in the Thailand market. I have to say, looking back to the start of June, we have had a very satisfactory beginning to this route. And, there has been great demand, especially from Germany and other European markets, to fly to Bangkok, as well as flying from Bangkok to Germany and onto Europe via this great hub Munich.
TD: How often does it operate?
SM: Daily; we offer seven flights a week. It is a night flight from Munich to Bangkok, but a day flight from Bangkok back to Munich, leaving here in the morning and arriving in Munich in the afternoon. With this new — and the existing services — we are offering a wide variety of Lufthansa Group products, great flexibility and connectivity to our customers.
This time pattern enables passengers to perfectly connect via our hub Munich, considering that the majority of our passengers using this new service are transfer passengers, flying further on into our network.
By choosing Lufthansa Group, customers have a choice as all our products (Lufthansa, Austrian, SWISS and Eurowings) are fully combinable.
Timing it right
TD: Why did Lufthansa decide that now was the right time to begin this new service?
SM: It's pretty simple. Over the past few years, we have seen that there has been a general increase in demand [to the region]. Secondly, Munich is a perfect transfer hub being the only European Five Star Airport, awarded by Skytrax. It's one out of four Lufthansa Group hubs in Europe – besides Frankfurt, Vienna and Zurich – our customers can choose to fly to.  
We launched in June as we must prepare for the European winter, because during the colder months we see the biggest influx of Europeans coming to Thailand, and we need to be ready for that busy period. But I have to say, already [just 3 months in] we are very happy with the way it has developed.
TD: Who has been the main market in the service?
SM:  Well, of course, it's predominantly a tourist business, but we also have a lot of corporate travellers on the flight. And, we have seen constant growth, and if we talk about passenger figures then we have very satisfying load factors on this flight, which confirms that this was the right time to introduce the additional service.
TD: Starting in spring next year, Lufthansa will introduce your Business Class product onto the route, can you tell me more? 
SM: Yes, that's correct.  We operate the route as Lufthansa but the flight is operated by Sun Express Germany in an aircraft with Eurowings livery which is the reason that we are not offering a Business Class by now. As of April next year, we will reconfigure all Eurowings long-haul aircraft; all aircraft will get a state of the art Business Class with a fully flat bed and many other features, similar to what we offer on Lufthansa. We are planning to introduce a Business Class on our Bangkok – Munich flight as from April 2020 and will then offer a three-compartment product on that route.
TD: What are you expecting from the introduction of this Business Class?
SM: When talking about our network airlines, Lufthansa, Austrian and SWISS, all our aircraft are equipped with a Business- and First Class (Lufthansa Airbus A380 and SWISS Boeing 777-300ER). We have seen great demand — especially for Business Class and that`s why we are happy to offer a Business Class on our new Bangkok – Munich service as from April next year.
TD: Lufthansa is the only European carrier to operate the A380 into Thailand, what advantages does this give you over other operators into the region?
SM: Quite simply, it's one of the greatest aircraft ever built. It is our flagship aircraft, and when it comes to comfort it offers four compartments and all possible comfort for the customer.
First & Business Class
TD: What is so special about Lufthansa's First Class product on the A380?
SM: We have eight seats only in First Class. This, as you can imagine, offers passengers great privacy and unique travel experience. We also have features like the noise-reducing curtains, which makes the compartment even more contained; we have the two-metre-long bed with a comfortable mattress, a temperature-regulating duvet and a lot of other services which have given it a five-star rating on Skytrax, with five-star service.
TD: How does this compare to Lufthansa's Business Class offering?
SM: The Business Class is, of course, excellent. It is made up of 78 seats (Airbus A380) and it also features a fully flat bed in Business Class, which is one of the most important features, especially on long haul flights. There is also great entertainment system with over 180 films, more than 270 TV programmes, Live TV, up to 8 languages per film and TV programme, a wide range of music, 60 audiobooks and much more content.
There is internet on board too — which, by the way, is free for First Class customers –both products are great but First Class is exceptional.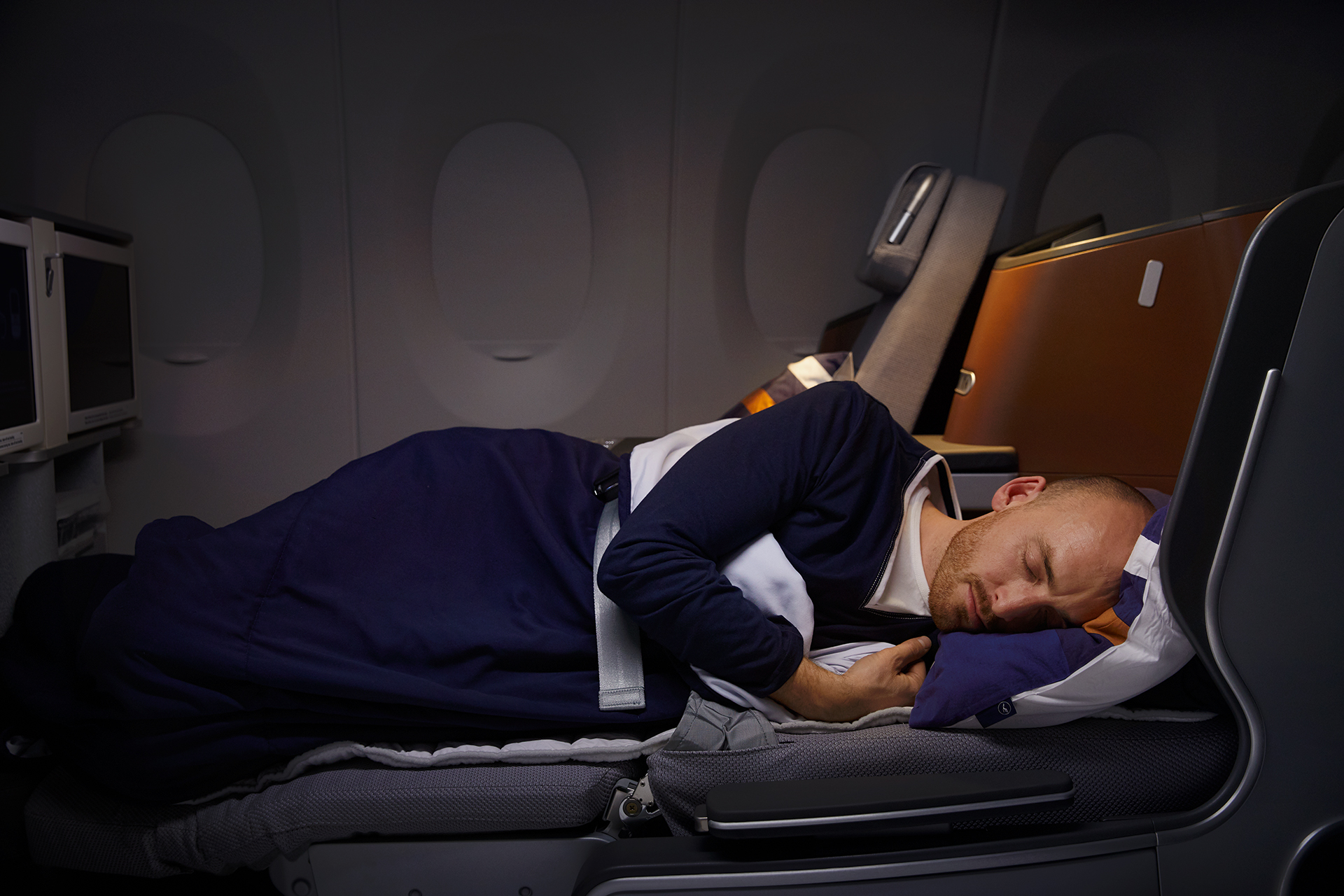 TD: Six million dollar question. Would you pay for it with your own money?
SM: Absolutely.
TD: Circling back to business class, which of your competitors is your main rival?
SM: At Lufthansa Group, we usually don`t comment on our competitors. We focus on our products and try to have the best products in the industry. We are constantly investing into our products and services and I am proud to announce that we are planning to introduce our new Business Class together with the introduction of our new Boeing 777-9 which is supposed to be delivered by end of 2020.
TD: Can you tell me more about that?
SM: We are planning to introduce the new Business Class, along with the new Boeing 777-9, we have on order. What I can say, as a teaser, is that this brand-new aircraft will offer a unique seat configuration (3 and 4 seats per row) in Business Class and all Business class seats will have direct aisle access.
So far, I don't know any other airlines which offer such configuration. You can imagine the greatness of this product.
TD: How can you afford to do that?
SM: It is for our customers. If you introduce a new product it has to be something special and outstanding and that is what we are trying to do.
SWISS Boeing 777-300ER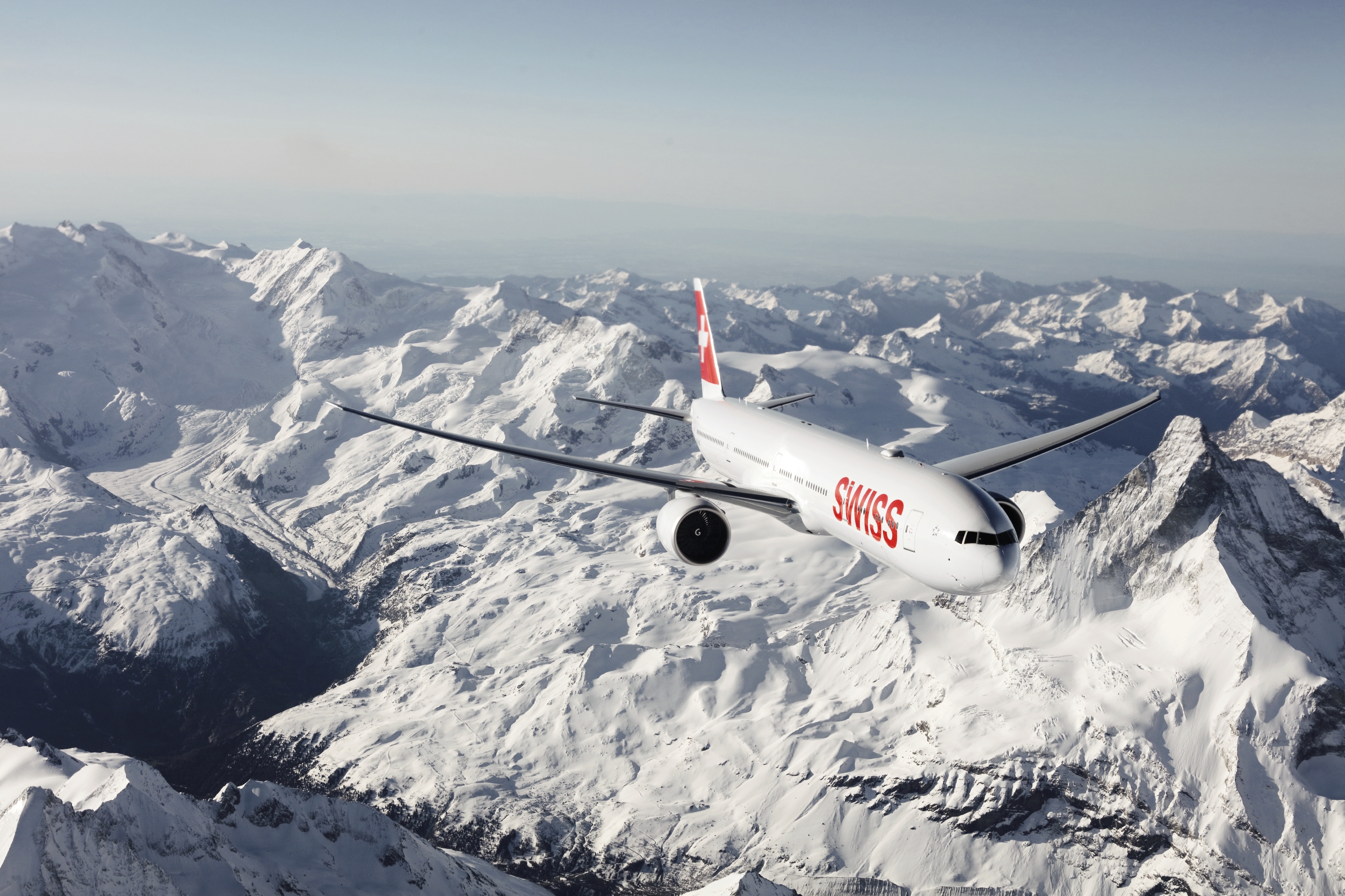 TD: What kind of experience can passengers look forward to with the introduction of this plane?
SM: This is something we really want to highlight. The Boeing 777-300ER is the newest, intercontinental aircraft of the SWISS fleet, and we have this state-of-the-art aircraft on the Bangkok – Zurich route.
It is a new aircraft and on SWISS we are offering a First Class product all year round.
We spoke about the First Class product on Lufthansa and I can say the very same for the First Class on SWISS, it is like a whole personal suite. We have the biggest TV screen in the industry (32 inches), electric window shades, plus a separate screen for the moving maps and the entertainment. All-in-all, it is a great product and we have seen significant demand out of Thailand for this product.
After having introduced a Premium Economy Class on Lufthansa and Austrian, SWISS will introduce a Premium Economy Class from 2021.
Premium Economy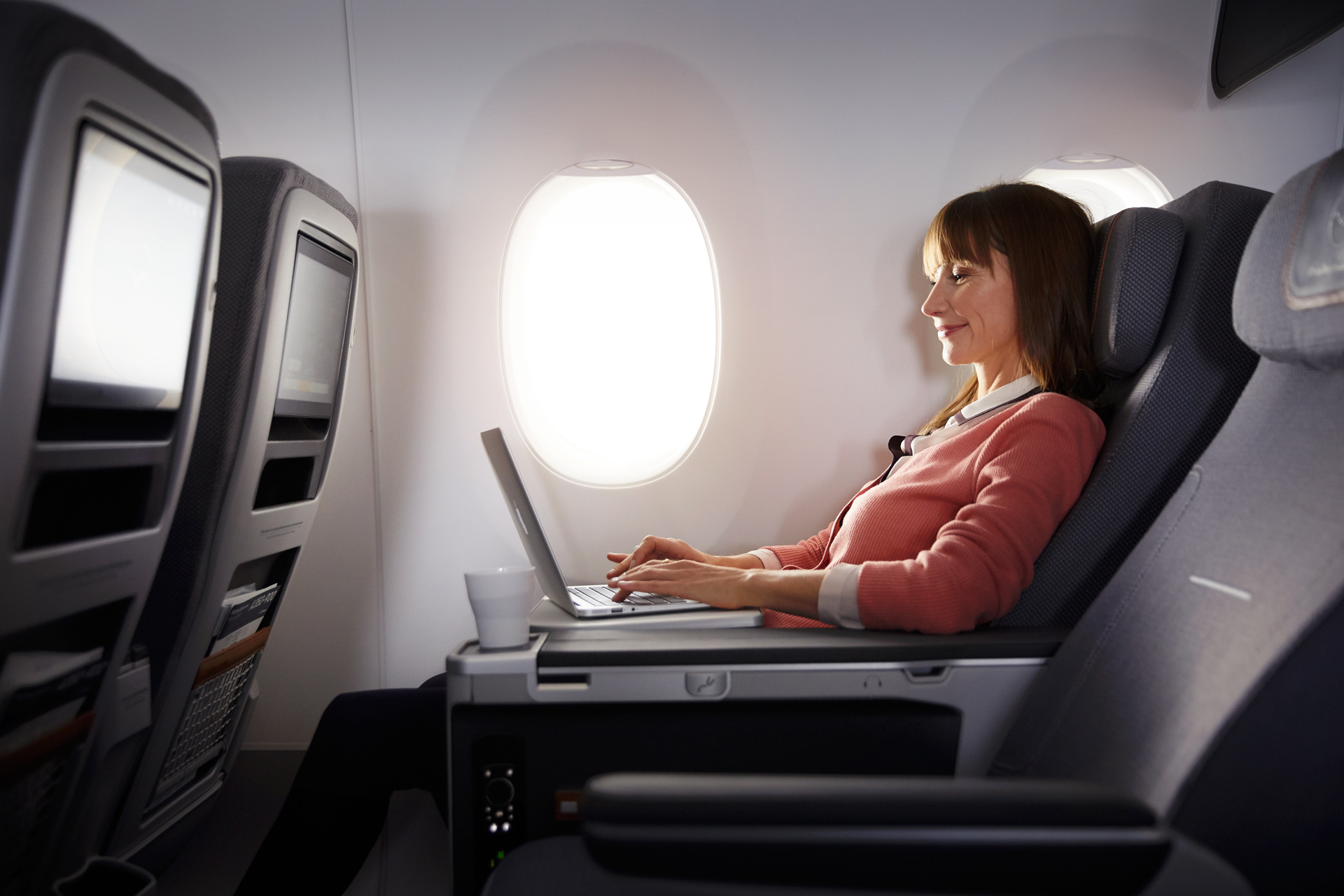 TD: How does your Premium Economy differ from Economy, sometimes the difference can be so negligible that it's barely with forking out for it?
SM: In that case, you'll be glad to know it's a completely different product. Some premium economy products are not much more than added legroom, it is basically the same seat as in economy but with a bit more space. In our case, it's very much its own product. It is a completely different seat than Economy, with a different service package.
With a width of as much as 48.3 cm and a reclining angle of 40°, our seats provide an extra comfortable travel experience. A convenient footrest offers additional comfort. Adjustable headrests provide support for your neck and thus offer even more relaxation. For example, if you fly Premium Economy on Lufthansa or Austrian you get a welcome drink, a hot towel service, special tableware and additional baggage allowance.
We have seen great demand since the introduction on Lufthansa and Austrian and that`s why SWISS has decided to introduce such product by 2021. SWISS will get a new and even greater version of the Premium Economy Class and we can`t await launching this great product on our Bangkok – Zurich route.
TD: Tell me more about flying with chefs and how will this enhance the inflight experience of passengers?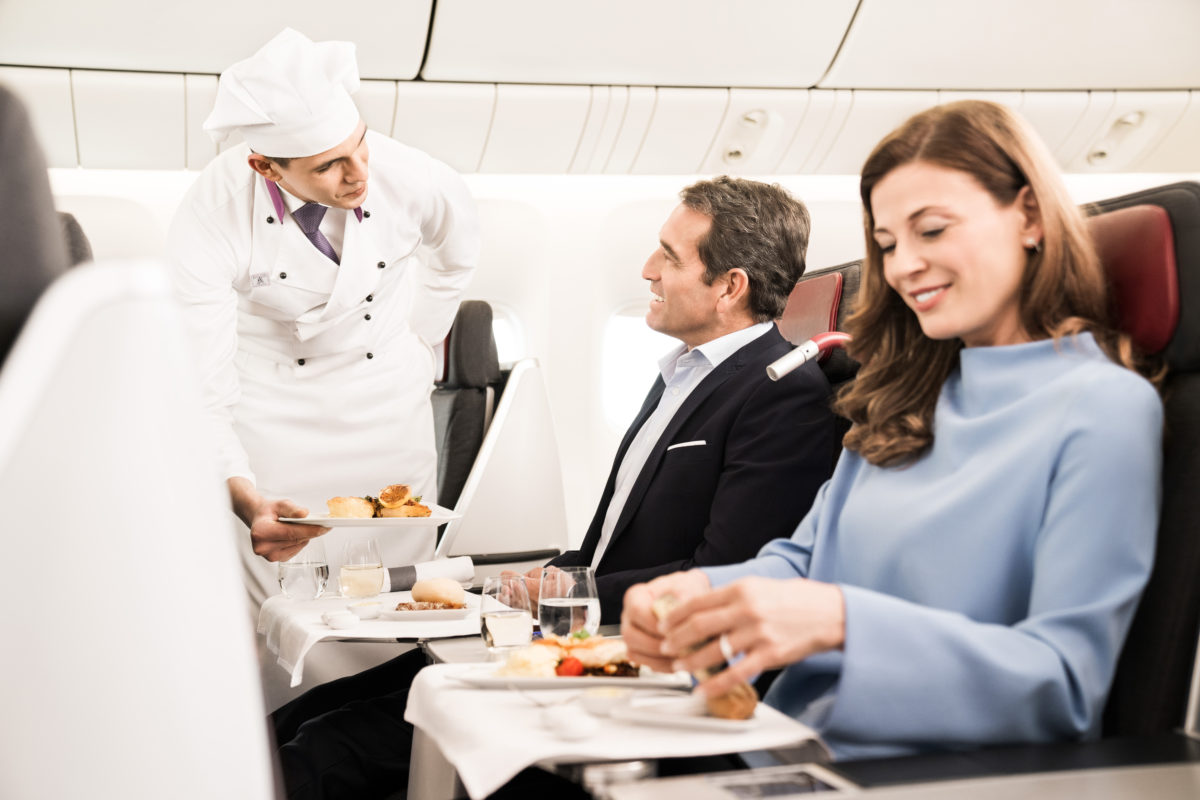 SM: Let me tell you, it's quite something special to have a chef on board and it has been very well accepted by passengers choosing Austrian. When you are sitting in Business Class and you get welcomed by a chef, it makes guests feel special and cared for, it's great!
The chefs on Austrian are very hands-on and are directly involved with the preparation- and presentation of the menu. Not only that, they also add the finishing touches to meals, for example in the morning, if you have eggs for breakfast, the chef will personally create them exactly as you want them. It's a special, little flourish that makes for distinct and personal service.
New technology
We are seeing digital innovation across our industry and we want to shape and lead the industry!
TD: NDC has been a hot topic, for a while now, what do you think are the main benefits of the technology?
SM: It is great to see the development of NDC in the region and we recently celebrated our first NDC API partner in Thailand. Besides that, we have over 80 travel agencies connected via [local Thai agency] SPARK.
For us, NDC is extremely important, it's about content differentiation and about individualized offering to meet the individual customer needs in the best possible way. It`s great to see that NDC gain more traction in the Thai and other Asian markets.
TD: Have you encountered any challenges with the roll-out of NDC?
SM: Well, its new and it takes a bit of time for all the distribution partners to get used to it, especially after decades of using the classic GDS system, but we have put a lots of efforts into presenting the new technology and running practical, useful training sessions, and it is now very well received.
TD: Tell me more digitalization and how and where, you think, it enters the industry?
SM: I think we will see it everywhere; it is the topic off our time in the industry. In the past, a passenger booked a ticket, went on the flight and then the journey ended, that was an airlines involvement.
Today, our involvement begins much earlier [in the booking process], ends much later and it all runs through digital technology.  Digitalization drives the perfect customer experience along the travel journey. When talking about digitalization and innovation we are talking about "check-in via voice", "biometrics", "digital baggage service", "social servicing", "inflight entertainment", "seamless payment" and many other innovations.
We are seeing digital innovation across our industry and we want to shape and lead the industry! We have put a lot of efforts into digital development and, in fact, sunk EUR500 million worth of capital into digitalization and innovation. We have just opened our second innovation hub in Singapore, which follows our first one in Berlin and we will soon open a third in China.
TD: It's like NDC, right? This is the natural evolution of the industry.
SM: Absolutely, it started with having the internet onboard aircraft but has now spread further into the infrastructure of airports. We have seen the introduction of biometrics and even robots; we are already trying to use robots at Munich. When you arrive as a passenger a robot will tell you where you need to go, the way to your gate, that is just one of many examples, where digitisation and innovation can step in and smooth the customer experience.
TD: How do you set yourselves apart from the competition?
SM: We very much focus on our own products. The difference comes from the product you are offering, we have two segments in Thailand; on one hand, our network airlines where we have a clear premium positioning and, at the same time, we also operate Eurowings to Dusseldorf where we have a more value-based positioning.
We also offer, and I think this is unique here, a hub system for our customers to choose from. They have the choice of four different hubs and can choose between- and combine the different products, day or night flights and this level choice helps give our customers the best available product on the market. For example, you can fly out with Lufthansa and return with SWISS, or fly out with Austrian and return with Lufthansa. All Lufthansa Group products are fully combinable and are therefore offering a wide choice of premium products, flexibility, connectivity and an outstanding network with over 270 destinations in 86 countries.